| | |
| --- | --- |
| The early ZKM 452 Model 2 with a few idle thoughts on the ZKM 573 | |
Join Team RFC to remove these ads.
01-25-2008, 11:07 AM
Join Date:

Apr 2007

Location:

New Zealand

Posts:

710

TPC Rating:

0% (0)
The early ZKM 452 Model 2 with a few idle thoughts on the ZKM 573
---
Hi Guys, I am going to try and post a bit of an article I have prepared, there are upward of 80 photos so be warned, I can only post 10 per reply so please refrain from posting anything if you could until you think I have finished the post, probably about 10 replies to myself, cheers Paul
Hi, I am a keen collector/shooter of the pre-1960 Brno 22's and I would like to lay the ground work for a comprehensive thread on the Model 2.This mainly to dispel some of the inaccuracies I have seen in print and to form a reference for other like minded members of the forum with an interest in the earlier Brno's and the path to the modern CZ 452.
I am certainly no expert on Brno's and certainly don't claim to be, but I do have a healthy interest, an inquiring mind and a keen eye for detail…. and a publication that most of you will probably not even be aware of, a 1960ish (my guess) parts manual. Don't fret, I'm going to share. Please be aware that this article is referring to 1950's proofed Brno made Model 2's almost exclusively. Toward the end of the post I may offer a few thoughts on the CZ made Model ZKM 452's. As to the model name I will refer to it as a Model 2 or ZKM 452 interchangeably, as Brno seemed to, as seen on the first words of the first page from the parts catalogue.
Possibly the only reference many Americans have seen to the Model 2 is this short description written in "Blue book of gun Values" where it is described as "similar to model 1, with checkered deluxe walnut stock". This is just wrong, similar as in same maker and calibre, but different barrel, sights, action, trigger mechanism, magazine, what else is there, oh yes same sling swivels and one type of stock on the model 2 had the same butt-plate, to me that is not very similar at all! Here are the respective cover pages of the two models so that you may compare the major features.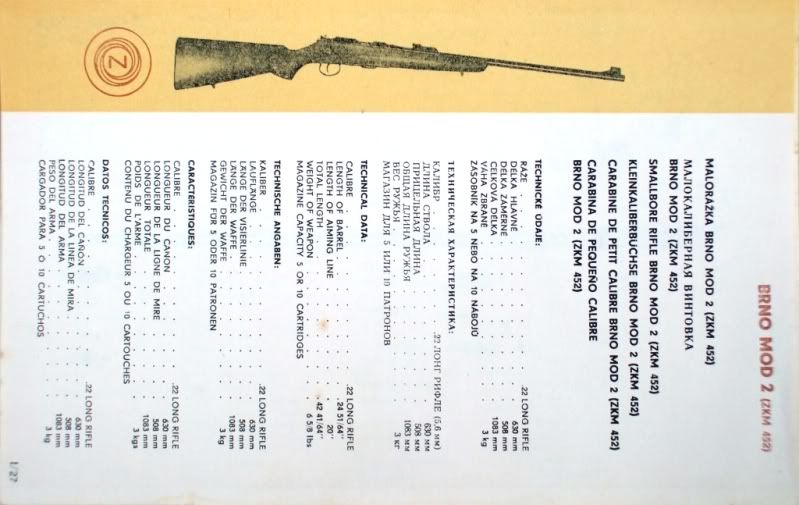 And here are the two models out of the wood; they really are two quite different weapons, look at the safety, ejection port, and trigger assembly and rear sights. Finish is a more subtle difference but quite apparent also. Notice also the gas port just behind the Serial Number of the Model 2 (Top).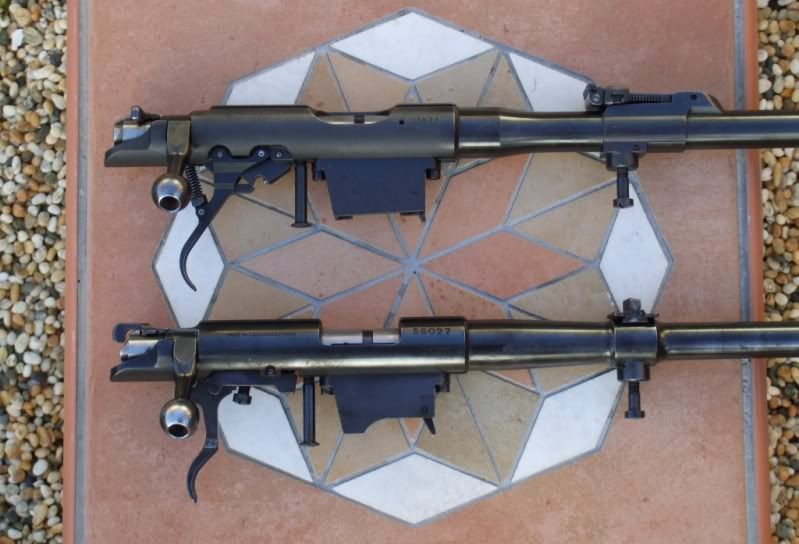 The single most distinguishable feature that marks a Brno as a Model 2 is the military style tangent rear sight, most any Aussie or Kiwi rifle enthusiast would look at your Brno and know instantly that it was a model 2. If it wore the tri-leaf sight they would have to look a bit closer (longitudinal or perpendicular safety catch) to decide between a Model 1 and a Model 5. The Model 2 was the only commercial .22 model that wore the tangent sight and you would have to agree that even in the catalogue pictures above it is readily discernable.

Here also note the different barrel inscriptions and the placement of the Model 2 atop the barrel as opposed to the Model ones 45 degree orientation. The calibre has also been moved to the top of the chamber.
Here is the Model 2 (top) with its Winchester model 70 type of over-ride trigger and the Model 1 (below) with its Mauser type levered sear trigger. This is the later of two types of Model 1 trigger, there has been some good stuff written on the adjustment of both these triggers so I won't repeat anything here, a search within the forum will get you the good oil. Notice also how the receivers are machined completely differently to accept the respective triggers.
And here's one more Photo in case any body is still thinking the black horse is the same as the white horse.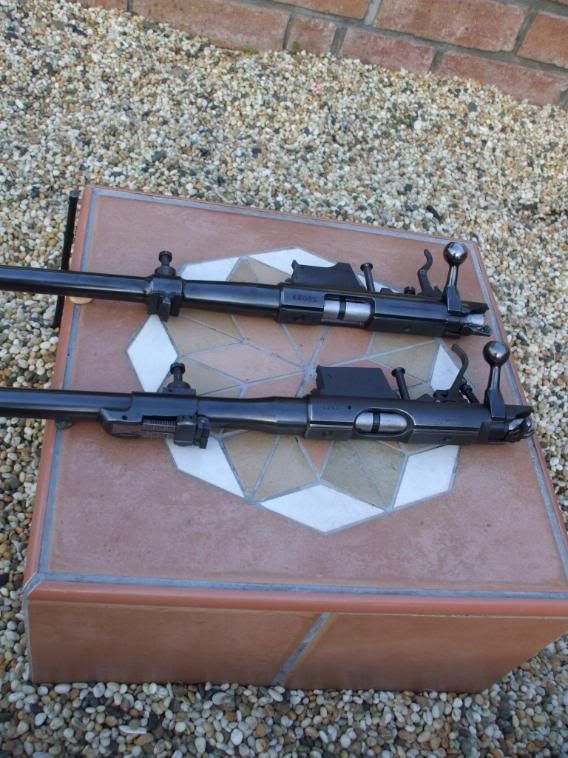 Lets tick off all the differences again, sights, action port, trigger assembly, safety lever (in line on the Model One, perpendicular on the Model Two), gas port holes on the Two, Better polish on the One. Less obvious things like different firing pins to take the different sear types (over-ride versus drop down), magazine guides (Model one is cut away and stock recessed for better access while retaining flush lines), and most of the inscriptions are different as well, you may be able to make out the single line "Made in Czechoslovakia" on the Model One is two lines on the Model Two.
We had better take a quick look at the flip side as well:
You guys should be able to tell which is which by now. Note the "N.P" abbreviation on the Model 2 and the full spelling of "narodnf podnik" on the Model One (can't type the correct character, though I understand it means "National Enterprise" thanks to postings on this site), also the gas port hole on the ZKM 452 only, although you can't see the same spot on the ZKM 451, I assure you it is not there. The glossy shine of the Model One is also apparent next to the matt finish of the Model 2.
As for the second part of the sentence "similar to model 1, with checkered deluxe walnut stock", here is an excerpt from the model one pages:
So we can see that the Model 1 was available in 3 stock variations,
1: standard beech, semi polished, without checkering.
2: standard walnut, semi polished, without checkering.
3: De Luxe, only walnut wood, highly polished, with checkering
So when we see a Model 1 with a checkered walnut stock it is a "De Luxe" Model 1, I have stated the obvious to many but I have seen the comment made on the forum that, upon viewing a photo of a "De Luxe" Model 1 that "it must be a model 2".
I can only presume that this is an error caused by people taking the "Blue book" description of the Model 2 as fact, when in fact it is quite wrong! I hope I don't have to see that "Blue book" line quoted on this site again.
---
Last edited by 35WCF; 01-28-2008 at

03:02 PM

. Reason: spelling
01-25-2008, 11:15 AM
Join Date:

Apr 2007

Location:

New Zealand

Posts:

710

TPC Rating:

0% (0)
2nd page
---
This next parts catalogue page shows the barrelled action and trigger assembly
The most remarkable thing about this page is the fact that it is almost exactly the same as the CZ Standard Model of today, from about 1954-6 thru to now, that's a solid 50 years, an enduring design in anyone's book. From the action the only changes that I can see are that part # 27, the sear spring pin, here a ball headed pin riveted into place so that it, the spring, and the sear become one unit for hassle-free removal/replacement of the sear assembly. This is completely at odds with the later design where the pin has become a 4mm diameter steel ball and reassembly is best accomplished with either a large jar of the correct sized spare ball-bearings and springs on hand or done in the middle of a large empty white swimming pool so that you may have some chance of finding the **** spring propelled ball when it does the inevitable. The only other change I note on the action is part # 19, the magazine guide, here a nice machined and blued steel part, later a plastic part.
I believe the first Model 2's came with the very attractive, though labour intensive, blended in front sight carrier shroud. A piece of eye candy here, a 1957 Model 2 serial numbered 26673.
What we are looking at here is the way the shroud is blended into the barrels muzzle, not all the talc all over my bench-rest gear! Another view and you can now just see the joint, more a change of colour just behind the ramp but with no hint of a joint at the muzzle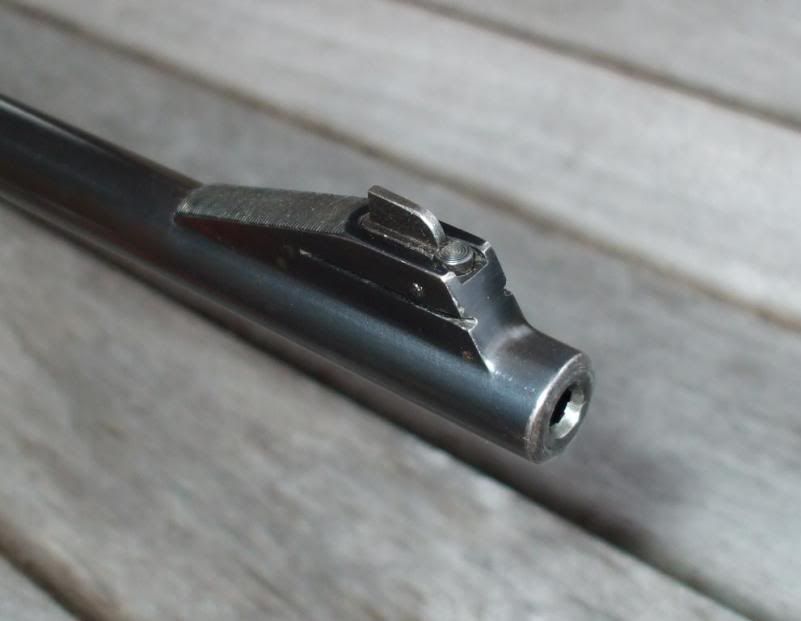 Still not sure what I am on about, here a 1977 CZ muzzle and also a loose 1995 shroud, this part is called a sight carrier in the parts catalogue and is soft soldered into position. There is a lot more effort by Brno to blend it into the barrel than is evidenced by the CZ built 452's later.
Those of you more familiar with the Model ones may note that the profiled into the barrel look is similar to the earlier 1947 model 1 style, but that the foresight is removed as per the later 1950's model Ones, a spring loaded detent in front of the blade which is depressed to allow the foresight blade to be slid forward to change to another blade. A word of warning to those of you that are inclined to check it out, stick some penetrating oil in there and depress the detent only half way, work it again and again till you are confident that it will spring back before pushing it right in, what we are trying to avoid is the detent going in flush or below, hanging up on all the rust and crud, and then not springing back. This can be extremely frustrating to remedy. If all goes well I would then knock the retaining pin out and give it a good clean and oil before sticking it all back together, another 50 year service complete.
For those of you that are thinking that the muzzle shown has a non standard crown I believe you are correct. I am only referring to the arris between the bore and the face of the muzzle, not the whole muzzle. This is practically the only modification to this rifle, over 50 years I think it has survived very well. As far as the performance goes it wouldn't be my ideal crown, it's probably been done with a 60 degree centre drill by the look of it. On the target range where the important measures are taken however it performs very well. The best 5 shot 50 meter group I have shot with this rifle is 4.5mm centres or .31 moa. This in the factory bedded beech stock, the bad news was that it was with Lapua Scoremax, a 48 gr. bulleted round for silhouette shooting, this rifle seemed to really hum with them, the bulbous round nose engraving in the leade of the factory chamber was probably the X factor, sadly Lapua have chosen to discontinue this brand. I have about 600 rounds left!
Another excerpt from the parts catalogue pertains to the options available for the foresights and I have presented it here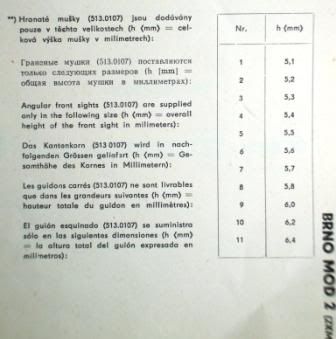 I would presume that the rifle was sold with a Nr. 5 or Nr.6 front sight being the middle of the range, though that is just a guess, the one pictured above is 5.8mm high and I believe a Nr. 8, the width is 1.7mm. If my maths is correct, and there will be plenty of you that will correct me if it's not, we take the catalogue sight radius of 20" (508mm) and the sight blade increment of 0.1 mm (just less than 4 thousandth of an inch), Then over 25 meters forward of the front-sight datum (not yards) we change the group centre by just 5mm (0.197")! That's got to be fine enough to satisfy the most exacting customer (I wish I was that good with open sights!). Note also the last 3 blade increments are 0.2mm. There is no mention in this catalogue of optional rear sight blades; perhaps somebody out there has additional information relating to the sighting options of this early period (late 1950's) Model 2. I must quiz Denny as to stocks of additional blades, I guess there are a few of you out there that like me just wouldn't feel complete if you knew there was an accessory available for your pet rifle and you didn't have it.
The Model 1 and Model 5 blade inserts for this type of sight (longitudinal as opposed to transversal, both of which were available on the Models 1 & 5) will physically fit but are made in a less high series i.e. 4.1mm thru to 5.3 mm in 0.2mm increments, numbered Nr.1 thru Nr.7. For these two models you had a choice of angular front sight (a square blade in profile) or a bead profile for each height.
There is no Front Sight Cover in the photo as I do not have the original. Denny is coming to the rescue but they will be a little while coming as they are in Czechoslovakia. The cover does not share the rakish side profile of the later CZ but is very similar to the Model 1 and Model 5 cover in side profile and a little higher in the front profile to clear the higher bead. If any of you have a 1956-60 Brno Model Two that you are quite confident has the correct Sight cover and can take a digital picture I would really appreciate hearing from you, please PM me.
Also included in the ZKM 451 (Model 1) and the ZKW 465 (.22 Hornet) sections of the Parts book is reference to two of the Meopta telescopic sights of the period. Brno made the mounts, one set with 22mm rings for the Malov 2.5X and the same mount again though with 25mm rings for the Lesar 3X. I'll quote a paragraph from Page1/25 of my parts manual (ZKM 451)
"The mount complete (512.0009 according to AZ 33 468) destined for the Telescopic Sight LESAR 3X as well as the mount complete (512.0009 according to AZ 33 467) destined for the Telescopic Sight MALOV 2,5X may be ordered also as units and it is possible to use them for all Rim Fire Rifles of the mark ZKM and for the Hunting Rifle of mark ZKW."
The 519.0009 is the part number and no, I haven't made a typo by using the same part number for both mounts, the "AZ 33 468" or AZ 33 467" is at a guess a BRNO Factory or a Meopta Works specification further describing the part, correct me if I am wrong here, Denny. Well there you go folks, you heard it here first, if you're after a bit of correct period dressing for your pre 1960's Brno's these are what you are after. And as a picture is worth a thousand words this is what to keep an eye out for at your next gun-show, here the 22mm diameter Malov posing on my 1956 Proofed No 2.
And another of the 25mm diameter 3X Lesar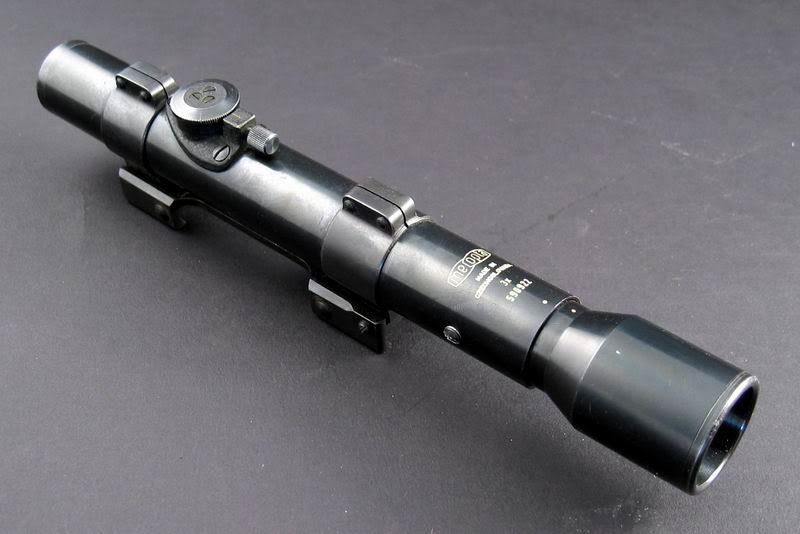 I believe these were often sold as a package; the Malov above belonged to a Brno model 1, proofed 1950, although I can't confirm that they were bought as a unit. I see all these scopes are individually serial numbered, perhaps there is a lot more information out there… any body. They both feature on the Meopta web site, check out history. On the web site they are just given a manufactured date of 1959, period. Mine is serial numbered 3,011,325, I doubt they made them all in 1959, and so was 1959 the beginning, middle or end of the manufacturing period? Any old adverts, either product brochures or magazine advertisements that you may have, please, if you have a digital camera either post a picture on the end of the thread or pm me. I am sure they would be of great interest to many of us here.
01-25-2008, 11:23 AM
Join Date:

Apr 2007

Location:

New Zealand

Posts:

710

TPC Rating:

0% (0)
3rd Page
---
Page 1/38 of the catalogue and we have the bolt components,

Again the similarities to the modern CZ are quite obvious, but those of you more familiar with your new CZ's will be wondering what parts 6, 7 & 8 are. They form a spring loaded pawl that keys into a detent in the receiver, here seen just above the bolt cut in the receiver.
The purpose, to lock the bolt down; lock being too strong a word, in reality it just adds a bit of "shlick" to the cycling of the action. Also seen in this photo the other variations mentioned earlier, the steel magazine guide, and you can see the head and tail of the sear spring pin poking out of the sear.
There are a number of marks on the root of the bolt handle, a 3mm high reduced copy of the proof mark seen on the barrel and receiver and also the last two digits of the rifles serial number. I guess a lot of you guys from around the commonwealth, familiar with the changeable boltheads on the various .303 models to control headspace may have thought as I did, that the bolt handle would be available in incremental steps, and that there would be an inspection of headspace prior to proofing, any discrepancies adjusted by substituting bolt handles, then the proofing and marking of the barrel, action & bolt handle would be done. Denny tells me this is not the case and all the bolt handle are completely interchangeable, good news for all of us that have been buying up the ex-service Model 1's that have been selling for the last decade of more, as finding one of them with matching numbers would be a bit of a lottery.
Here is a close up of the markings on the featured rifle. You will notice the 70 being the last 2 digits of the serial number of the rifle, 3970. Immediately below the 70 is one of a pair of locking lugs, the other being diametrically opposite. It is this feature, the dual locking lugs, which many credit for the rifles sometimes outstanding accuracy. I have no doubt that this is a huge contributor to the rifles accuracy but IMHO the biggest single factor is the barrel. I have bought a few rough old 1950's Brno with the intention of putting on a bench-rest grade Lilja or Shilen barrel with a match chamber. The trouble being that the old barrel, once I shoot it, is never bad enough to warrant taking off. A case in point, I am at present doing my club shooting with a 1957 Model 2 that I bought off the internet because it had been cut off and threaded for a silencer. Because of this I rate it as not a collectable and I wouldn't feel guilty about taking off the barrel which was my intention. A bedding job then a day at the range however and no body is going to take that barrel off! Could be best described as…monogamous, it likes sticking them all in the same hole!
I do have a 1977 Model 2 that has the last 3 digits on the bolt, perhaps CZ were assembling/proofing them in bigger batches at that stage? To the right and slightly above the 70 is the miniature proof mark mentioned. The mark to the right of the proof mark is actually the head of pin # 8 in the parts excerpt; you can also see the head of the detent part # 6. The spring is out of sight within the bolt stem, also missing from the current CZ's, a hole thru the circular housing, barely discernable in this picture but whose sole purpose is to allow the drilling of the bolt stem for the afore mentioned parts 6,7 & 8. On the underside of the bolt handle about opposite the "70" is the single numeral 1, its meaning to me is unknown, however I think it's just an inspection mark.
At the left hand end of the bolt parts breakdown picture can be seen parts 10, 11 & 12. Part # 11 and 12 are quite different, Part 11 being the extractor and part # 12 being simply a guide and called "Holder" in the parts manual. Its not ground with a sharp hook like the extractor, actually a negative rake, its function to hold the case against the extractor on the rear ward cycle of the bolt then release the case as the ejector blade is hit, allowing the case to swivel about the extractor and clear the action (in a perfect world).
A quick picture should reinforce what I'm saying, This is actually a Mod 1/3 bolt, I took the same picture a few times with a Model 2 bolt but the extractor and guide were not as well defined as in this photo, any one know offhand why this is a Mod 1 or a Mod 3 Bolt?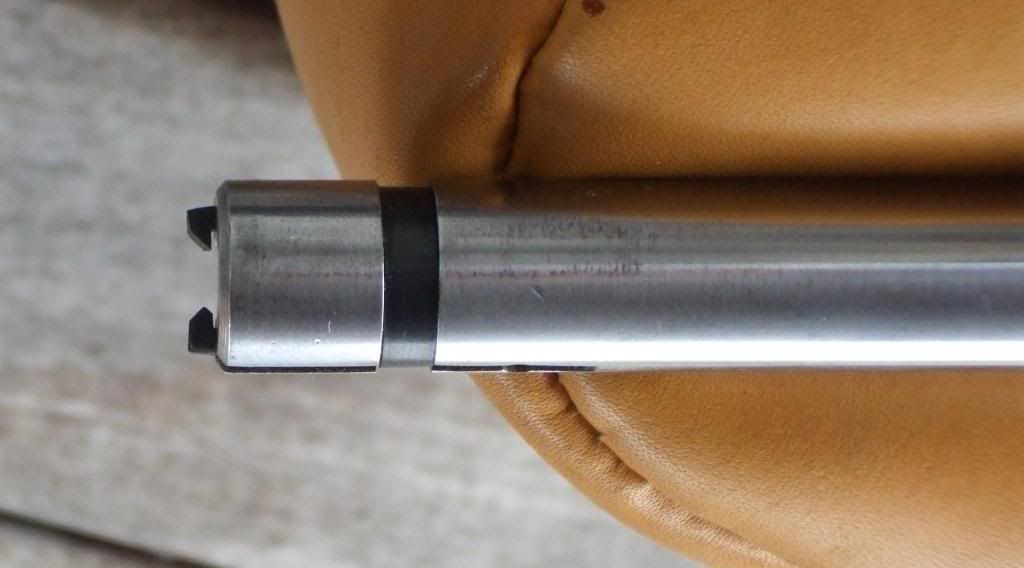 Well if you guessed "No vent hole" you did very well. Time for a bit of speculation on my part, remember I have no particular expertise with the Brno Company or their firearms; this is just my opinion. If you think differently or know better then let us know, that is what a forum is all about.
I have a few Brno 22's, nothing too special, but at least a couple each of the Models 1, 2, 5 and a four. I believe the Model ones are smoother to cycle and certainly they are more reliable and easier to use! I had cause to think " why have they made the later model a lesser weapon" (I refer to fit and function, the trigger is a vast improvement) So I had a good hard look at the models on hand and this is what I decided; the Model 2 is sloppier, it has been engineered for use in the desert sands!
There is very little difference in the diameter of any of the bolts that I measured but the actions are definitely tighter in the model ones. I was only able to take spot diameters in 3 spots rather than using the ideal of a series of various diameter ground bars to establish the size of the actions. Even so I was quite convinced that the Model 2's and 5's were sloppier than the Model ones.
This is also why they have closed up the action so much, to the most minimal sized port, to keep out wind borne sand. It is also why there are now three gas vents (I am including back through the firing pin hole and then out of the bolt vent) around the breech, in an effort to vent away some of the gases to try and avoid the painful experience of having a bit of jet propelled sand blasting out the back of the bolt and into your eye, and nothing to flush it out but camel spit… Left to right, Model 1 Bolt, no vent, Model 2, 1956, 2mm vent and on the right a 1977 CZ Model 2 with 3mm vent;
They have also reduced the depth of the second locking lug, so that the bolt can be rotated even when the action has sand in it. On the right, the calipers are clamped on the Model one locking lug (8.8mm), but are well clear of the Model Two locking lug on the left (6.2mm).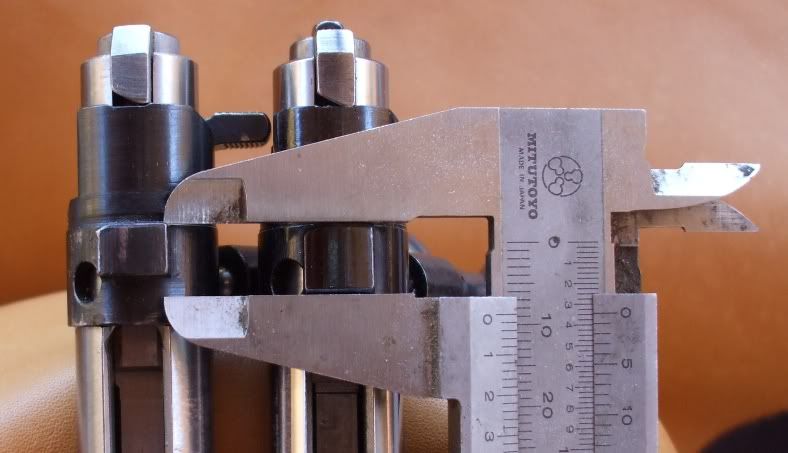 If you have got an early Model 2, Model 5 or a Model 4 have a look at how they have positioned the 2mm bolt vent, with the bolt closed it aligns with a special extra milled dispersion cavity in the action shroud, neat as a pin (the next picture shows it). CZ put a 3mm hole in the bolt, possibly to allow more gas to escape but I believe it is more likely a tooling issue, breakages of the drill bit during manufacture would be down. Here is a photo showing the position of the bolt vent and it also shows just how much the whole port has been closed over.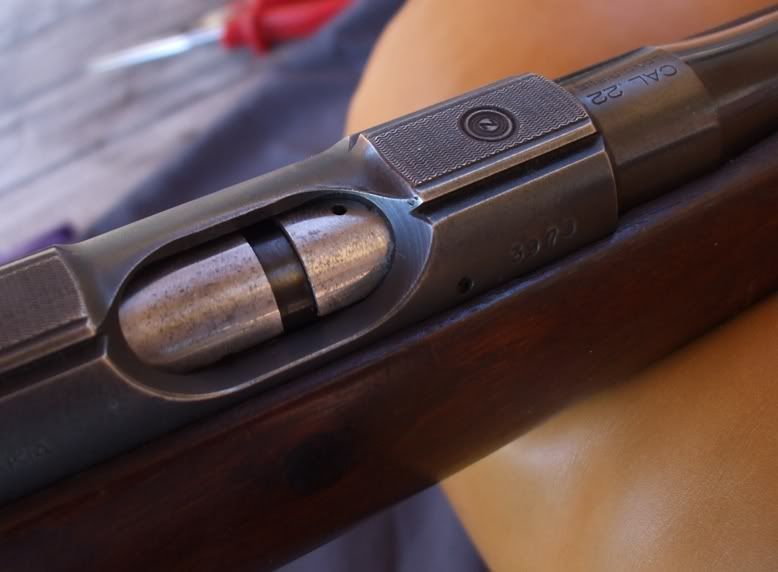 Now think about this, they were chasing markets in the Middle East because of the political situation at that time, thus the Model 2 for sand. But suppose it had all been different and they were chasing sales in North America, We would probably have got the smooth as butter Model one with the Model 4 style over-ride trigger, wouldn't that have been something.
---
Last edited by 35WCF; 01-28-2008 at

03:03 PM

. Reason: spelling
01-25-2008, 11:32 AM
Join Date:

Apr 2007

Location:

New Zealand

Posts:

710

TPC Rating:

0% (0)
4th page
---
The next and for me the most exciting page of the catalogue, the stocks:
Here we have two distinct stocks, with quite a different look and feel, the top stock has more of a bulky k98 feel about it and a hand filling profile in the fore-end, what I would say was far more of a military style trainer than the more familiar Schnabel or as it's called in the parts book a "U" stock. Most of the hardware is the same except the two screws thru the fore-end being shorter on the "U" stock (parts 4&19). The big exception is the butt-plate. The top stock has a metal butt-plate while the "U" stock has the polyamide butt-plate usually seen on the Model 1 & the model 5. (Remember, we're talking 1950's proofed rifles here).
I am going to refer to the top stock as the "Military trainer stock" this is my own term but I will post the page here in case one of the other languages has a better description than "Stock", it certainly doesn't appear so however. You may also be interested in the format of the parts catalogue, as you can see it is a ring-binder, it has a plain grey plastic cover, with no logo or marking what so ever! The picture above being the facing page of the picture below;
Now let's have a look at these butt-plates: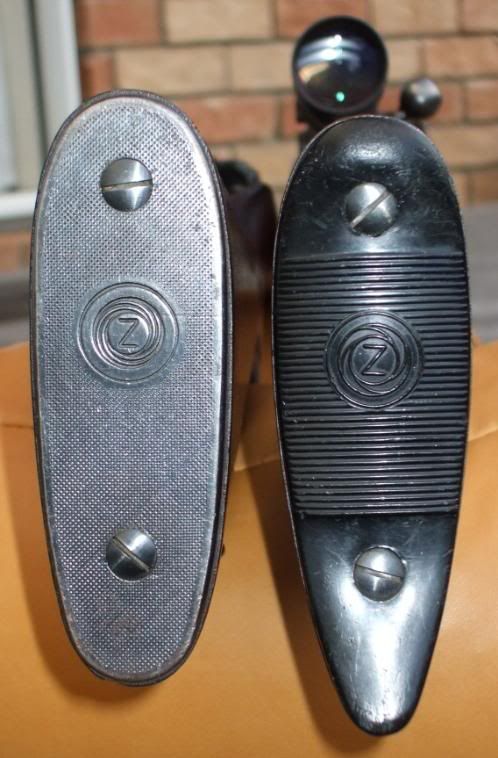 (For additional information on the buttplates please refer to addendum 1 on page 3)
Again these two stock shapes are available in the three wood variations noted for the Model 1 at the beginning of my article. That is the exciting bit for you collectors; there are six quite different variations of the Model 2 just in the first few years of production. Here is the relevant paragraph and then let's see if we can get a picture of them all: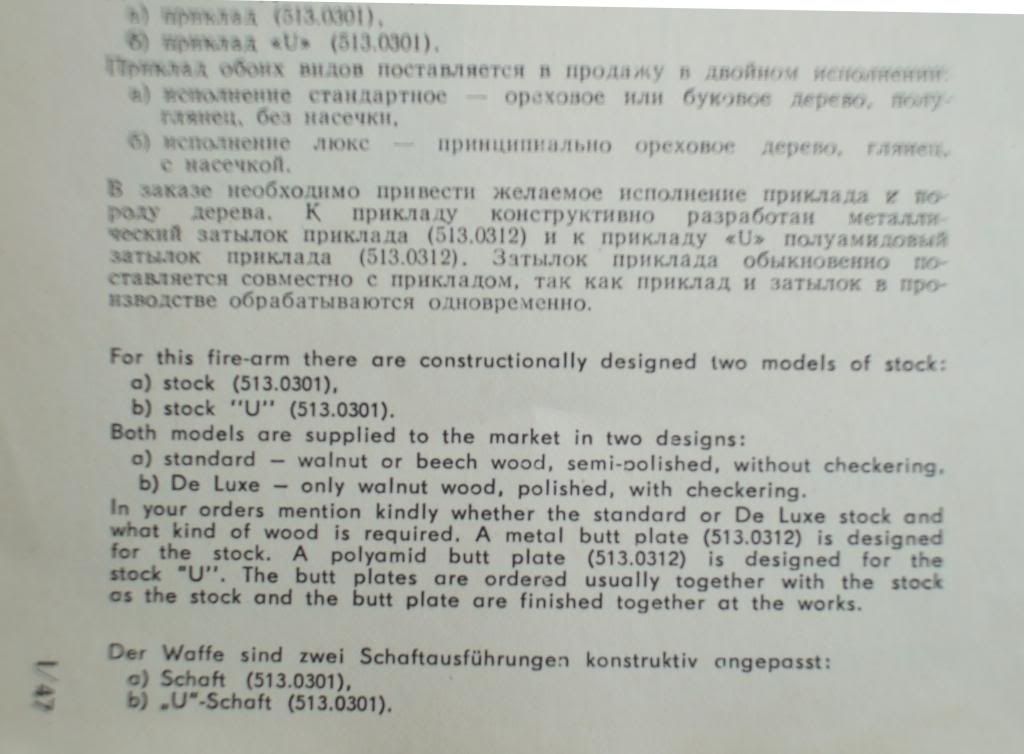 1: Below,Type 1 trainer stock, Beech wood, semi-polished, without checkering
The rifle featured mostly thus far, serial # 3970, proofed 1956

2:Below, Type 1 trainer stock, Walnut wood, semi-polished, without checkering
This is serial # 2620, proofed 1956, (the trigger guard and rear sight have been modified.)
3: Below,Type 1 trainer stock, De-Luxe, only Walnut wood, highly polished with checkering
This is serial number 26673, proofed 1957. All of these first three stocks share the same profile, shape and steel butt-plate, just the wood specification changes.

4:Below, Type "U" stock, Beech wood, semi-polished, without checkering
Thanks to Milotalon for sharing this little gem with us, serial number 309XX, proofed in 1957, more pictures here
http://www.rimfirecentral.com/forums...=1#post2115521

5: Below,Type "U" stock, Walnut wood, semi-polished, without checkering
Again, I don't know of any examples, if you can get me a photo, please do, e-mail or pm and I'll edit it in here. This is actually a model 1 with that stock option

6: Below,Type "U" stock, De-Luxe, only Walnut wood, highly polished with checkering
My club shooting gun Mr Monogamy wearing big glass. Serial number 45268, proofed 1957

I do not believe that my not being able to source a picture for the types 4 and 5 stock variations above should be taken as an indication of there relative rarity, I'm sure they are probably just as common as the other variations and possibly even more so in different parts of the world.
---
Last edited by 35WCF; 12-12-2008 at

06:33 PM

. Reason: Missed a photo!Added addendum 1 notation
01-25-2008, 11:44 AM
Join Date:

Apr 2007

Location:

New Zealand

Posts:

710

TPC Rating:

0% (0)
5th page
---
The stocks do have a variety of inspection/notation marks, mostly within the inletting, out of sight. Here are a couple of samples; these I believe would be the personal stamps of individual inspectors: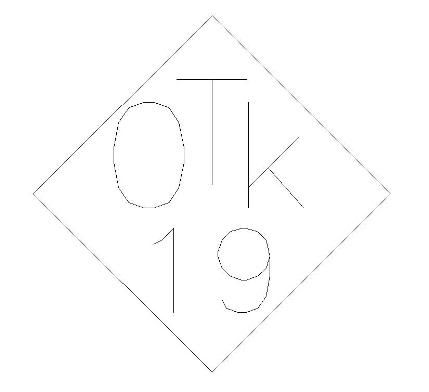 I have drawn a representation here, all seem to have the OTK and then a number, I believe the number refers to the individual inspector and I'm hoping Denny will tell us what the "OTK" means. The number could also of course refer to the inspection rather than the inspector. Sometimes the border is octagonal, as per the next photo.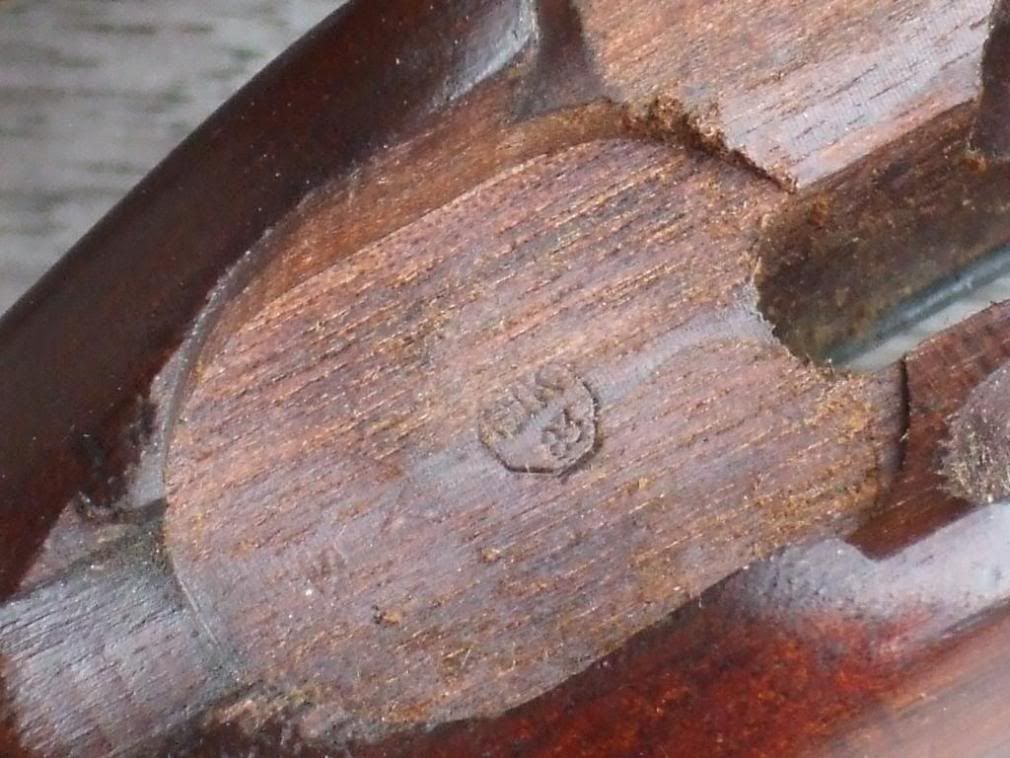 And this on the outside of Serial # 3970, between the sling swivel & the butt-plate. We commonly see this exterior viewable stamping of the stock on Military contract rifles. It seems to have been Brno standard practice through the fifties on the Model Two and the Model Fives also. This is the mark you would be happy to see if you were wondering if the stock had been refinished or not. I have not seen any of the trainer stock shape made beyond the 50's so if you own any of these please let me have some details, Year of proof, wood option and serial number would be good ("122XX" is fine), a photo would be appreciated by all. I have seen a few of these on this site," Boomers Dad " posted some pictures of the De-Luxe, although it had an after market pad, "mikekiwi" drew our attention to one on our "Trade Me" New Zealand auction site, it was also the De-Luxe, but I believe it had an after market grip cap fitted, also "Old 39A User" made mention of one, though no mention of the stock option, if you are able, some more details would be great.
Also worth noting are the Model 2 magazines. Going back to the opening two pages I presented of the parts catalogue, The ZKM 451 says "magazine capacity 5 cartridges" and the ZKM 452 says "magazine capacity 5 or 10 cartridges" Here is a photo of the four magazines that I am aware of that were in use in the 1950's.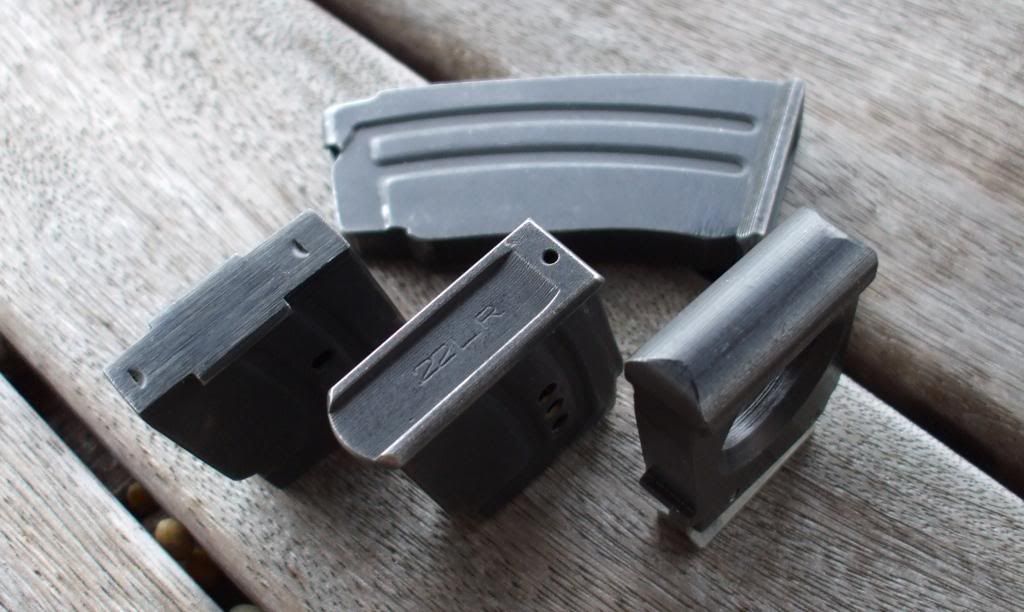 The left hand magazine is the most oft used; it is the issue for the Model 1, Model 3, Model 4 and Model 5. The middle one the 5 shot for the Model 2 only, the right hand, a single shot adapter, was for the model 4 and I presume the Model three ( my parts catalogue doesn't have the Model 3, already obsolete?). And laying down at the back is the ten shot option for the Model 2, it also has the milled magazine bottom of the 5 shot Model 2 magazine (complete with ".22LR").
Oh, I have just noticed something; I'll post three pages from the parts catalogue. The first is the exploded view of the magazine shown in the Models 1, 4 and 5 Pages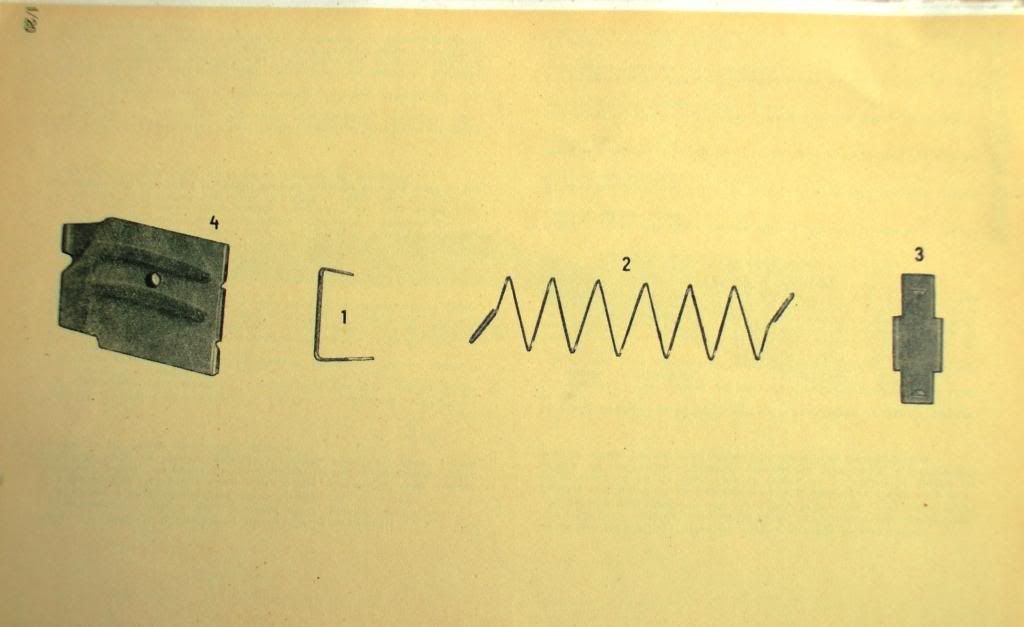 And now the Model Two 5-shot magazine
And now a photo with a little discrepancy that's should cause a bit of healthy debate, here now the 10 shot Model 2 magazine, note the magazine spring orientation, I believe, as I am sure that most of you will, that this is a photo from the parts manual and it should indicate the correct assembly of the components, there are three quick explanations, they made a mistake, it doesn't matter or this is the way the 10 shot spring is orientated. Me, I'll go with Brno knows best, I'll be assembling my magazines as the various pictures indicate. (I have just received two "new" 1950's 10 shot magazines that I purchased off Denny, both were assembled as per the parts manual picture below)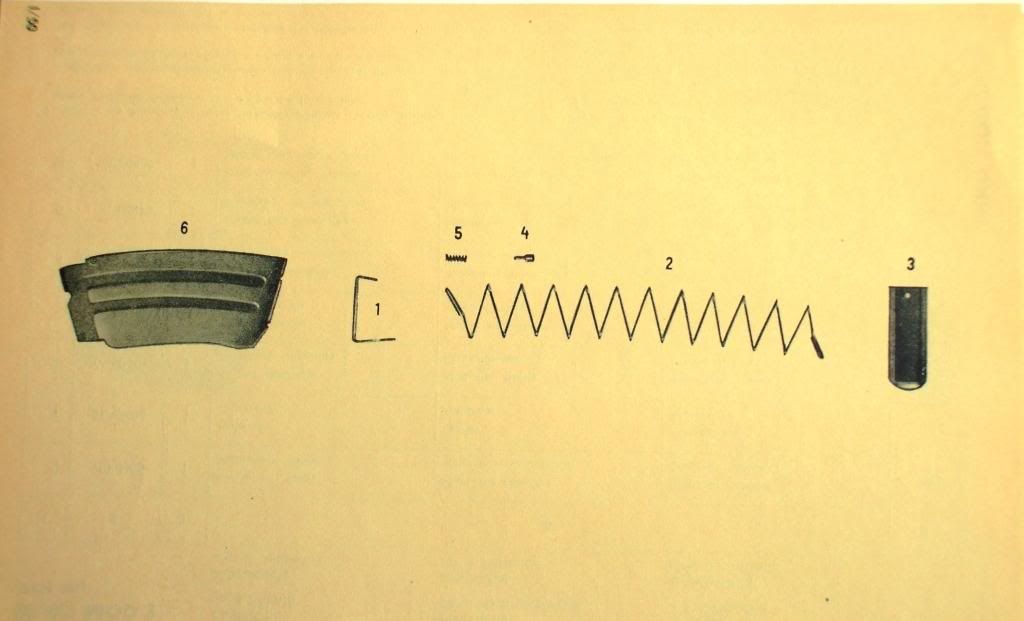 Well that's just about all the information I can share with you on the ZKM 452 with 1950's proof dates. Before we move on lets have a look at the sticky "A quick Guide for Brno Rimfire Rifle Facts and Specifications"
Brno 451 (#1)
Bolt action operated, .22 long rifle chambering, Classic beech stock, straight comb, no checkering, Schnable fore end tip, front and rear sling swivels. Hooded front sight, integral barrel collar w/ 3 leaf folding rear sight (50 / 75 / 100 meter), in-line bolt shroud safety, 22 ¾" barrel. Oval shaped port, 16mm receiver sight rail, recessed magazine well. Weighing approximately 4 ¾ pounds, 41" overall. Manufactured 1946 - 1957.
Brno 451 – Ex
Premium model of above model, w/ 200 meter maximum tangent sliding rear sight. Grip checkering noted on some models.
Brno 452 (#2)
Same as #1 above w/ 23 ½" barrel (25" option early models), select Walnut stock (D models – Action Arms importer). Three gas escape holes in receiver / bolt were added, as well as squaring off receiver port for more chamber access. Safety operation altered to work perpendicular to right side. Some select few models noted to have 12 band rifling. Manufactured 1946 – 1957.
Hmm, to be quite frank there is not a lot I agree with in the description, This article is really about the model 2, but I have included the 451 description because there are a lot of mistakes there also, the two excerpts from the ZKM 451 pages I posted at the beginning of the article dispel all that I have highlighted in red if you study it. As for the 451- Ex, no idea what you are referring to I am afraid, I am pretty sure it is not a Brno commercial design of the period, however, the 451 De Luxe is a stock option only, the sights and barrel are the same as a lesser optioned 451 I won't get into the ZKM 451 too much at this time as I would like to post another couple of articles, one on the Model one and another on the Model 5 if I don't get run out of town after this one.
Now the Brno 452 (#2)
"Same as #1 above w/ 23 ½" barrel (25" option early models)," …Why the same as #1 above, they are completely different weapons! They do not have 23 ½" barrels; they are 630mm (24 51/64")
"select Walnut stock (D models – Action Arms importer)." …. I think we've seen quite clearly that there were six stock options available, what is a D model and who are Action Arms, were they operating in the 1950's, which is the time period we are talking.
"Three gas escape holes in receiver / bolt were added,"……yes
"as well as squaring off receiver port for more chamber access."……..NO...The model One had the square port with more chamber access, the Model 2, 4, 5 action has had the port closed up to keep out sand; they have the oval shaped port!
"Safety operation altered to work perpendicular to right side."…..yes
"Some select few models noted to have 12 band rifling."…….I disagree, we are talking 1950's still, the 12 band rifling I have seen has been in Model 2's from 1967-1977, and Model 5's from 1968-1978, these I believe were CZ-Brod built/assembled weapons.
"Manufactured 1946 – 1957."……The jury is still out, I have only seen 1956 and 1957 proofed Brno made model two's, Any of you guys have any with the next few years proof marks, (or prior) let us know, next I have seen is a 1967 CZ-Brod/ Brno? As for 1946, seems way too early to me, though the CZ yearbook description of the model designations would support that, though CZ contradicted itself by choosing to carve 1956-2006 on there 50 year anniversary models. I really don't think there was any meaningful production prior to 1956 but I really do not know enough to comment beyond that.
To the author of the above document I really hope you do not take my discrediting of your writings to heart, please see your article as a work in progress, as more facts become available I hope you will continue to edit your work. I too have made a commitment by posting this thread and in time I too may have a lot of what I have written proven wrong, but we will have both brought us all a little further in our understanding of the subject of our common interest, our Brno rifles. I believe the internet has given us an opportunity never before available to advance our knowledge, imagine the dedication the acknowledged Winchester collector/experts have had to make for instance, a lifetime of visiting gun shows, museums and private collectors to amass their expertise. I could sit here in my living room in New-Zealand and pose the question "Have you got a Brno .22 with early sixties proof marks". Within a couple of days I may well have had people from around the globe respond to that query, maybe even a few photos as well, enriching us all. So I urge you all, when you get that question "What do you want for Christmas/fathers day/birthday… a digital camera. And then post your pictures, remember the more you contribute the more you get out of it.
O.K this is not a drill, I really want to know if any of you do have early sixties proofed Brno .22's, first off the mark start a thread called "Early sixties Brno .22's", From talking to guys I meet at the gun-clubs I know that the Brno's were highly regarded in many parts of the world, South Africa, India, England, Australia, Canada, Asia, Europe of course….. Probably quicker to say "everywhere but America". If you can't do 1960's I'd love to see 1950's also. Let's see what sort of response we can get. Show me the power of the Internet.
My personal area of interest is the Brno manufactured .22's and as I've pretty well offered all the information I can on this and I think I'll finish here. It was my original intention to create a bit of a time line to the modern CZ, pick out all the subtle changes through the years and using the forum to nail each down to a specific year/ serial number. Here are some I would have noted, 16mm grooved to lesser, plastic magazine wells, 12 groove barrels, barrel/receiver brands and writing (i.e. mod 2 changes to Mod 2-e), butt-plates. If we could get every body to post a montage of photos or tick off a list of features with proof year and serial number we would assimilate a very comprehensive data base in a very short time. At this point in time I will leave it up to a CZ enthusiast to take up the challenge, I am getting way behind on a bit of stock-making I want ready for the next season. If anybody now knows a little more about the Model 2 than they did prior to reading this then I guess my job is done. The thought has crossed my mind that I may well be shooting myself in the foot, with the information I got from the parts catalogue I could have quietly hoovered up the different variations and had quite a collection, but by sharing it I may increase the interest in/appreciation of the early Mod 2's with the affect that it may well make it impossible for me to get them! Oh well, give a little, get a lot, thank me with information and photo's, cheers, Paul
P.S just reading back thru and I realised that I hadn't explained where you will find the proof marks, short notice so I will just drop in a photo of my Model 5 proof marks, these are on the barrel & receiver plainly visible above the stock line on the left hand side looking forward.
They are all marked in the same place and same manner. The 58 of course meaning 1958. This photo I think explains a lot about the"why" of the Model fives mystique, just look at the metal finish, the colour of the blue, the wood to metal fit and the wood finish, this is what you got if you opened the box of a new Brno ZKM 573 in 1958, it walked the walk as well, they were extremely accurate, and you would certainly have been the envy of all your friends. Perhaps I had better post a little more…
---
Last edited by 35WCF; 01-30-2008 at

10:44 PM

. Reason: spelling
01-25-2008, 12:00 PM
Join Date:

Dec 2003

Location:

deep south Texas

Posts:

11,913

TPC Rating:

100% (34)
Whew - man, where did you dig all this information up?
---
I haven't seen the great majority of it anywhere - Thank You for posting this. Great historical information here.

No, I don't mind editting that little 'factoid' sheet - I want it to be as factually correct as possible. I'll wait until you are done with this before I edit though. Please understand - this document was only meant to give the Brno rifle buyer a 'cheat sheet' to quickly identify which model they were looking at when attending gun shows or gun shops - an all inclusive document it was never meant to be.
---
Last edited by j.r. guerra in s. texas; 01-25-2008 at

12:04 PM

.
01-25-2008, 06:54 PM
Join Date:

Apr 2007

Location:

New Zealand

Posts:

710

TPC Rating:

0% (0)
Hello j.r guerra. Good on ya mate, this next lot about the Model 5 unfortunately contains a fair amount of conjecture on my part, hopefully it will raise enough interest or ire amongst those that have the knowledge that they will post it. I have presented my thoughts as I see them but I may well feel like I have been beaten by a big stick in the near future as some of my thoughts get hung out to dry but hey, its the real story we want to know, not any particular persons version of it and we will both have bought everbody closer to the real story. O.K lets do it...
Idle thoughts on the Model 5
Hello again friends and fellow Brno enthusiasts, I would like to share a few thoughts about the mercurial Brno, The ZKM 573. I am afraid that I cannot offer up too many facts and it may be that I actually ask more questions of you all than I offer hard facts, but that seems to be the very nature of the Model 5.
What do we know of the weapon in question? That largely depends I guess on what part of the world you hail from. To me and I'm sure many of my fellow Kiwi's and Aussie's in this part of the world the model 5 was the "Best" Brno. Most of us could only dream of owning the prestigious "Model 5". And that's all it was to us, we knew nothing of the "Egyptian Contracts" where 15,000 of them were sold to the Egyptian military, to us they were and always were the top of the line Brno sporting .22's and the best that one could aspire to.
Let's first have a look at the opening page from the parts Manual;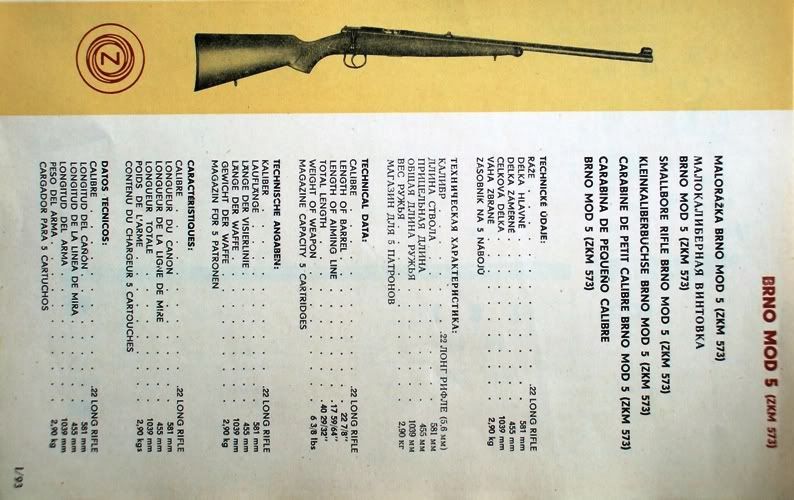 Many of us have read the description that the Model 5 is a Model Two action with a Model One barrel. It is therefore no surprise to of us that the "Length of Barrel" and the "Length of aiming line" are identical to those of the Brno Mod 1 (ZKM 451). They are the same barrel after all. Let's have a look at the first parts breakdown for the ZKM 573, here reproduced in full, below it the Model One: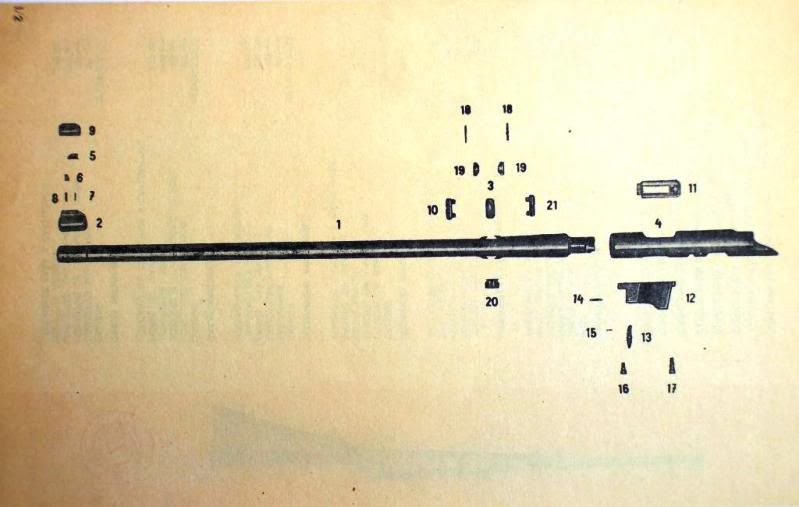 As you can see the barrels of the two are identical. The part numbers change on the rear sight only as a consequence of how they have cycled through the picture to denote all the parts, there being many more on the Model 5 as the trigger and sear assemblies are included. These numbers are only item numbers to reference the parts list which gives the actual Catalogue number… a picture is easier than an explanation: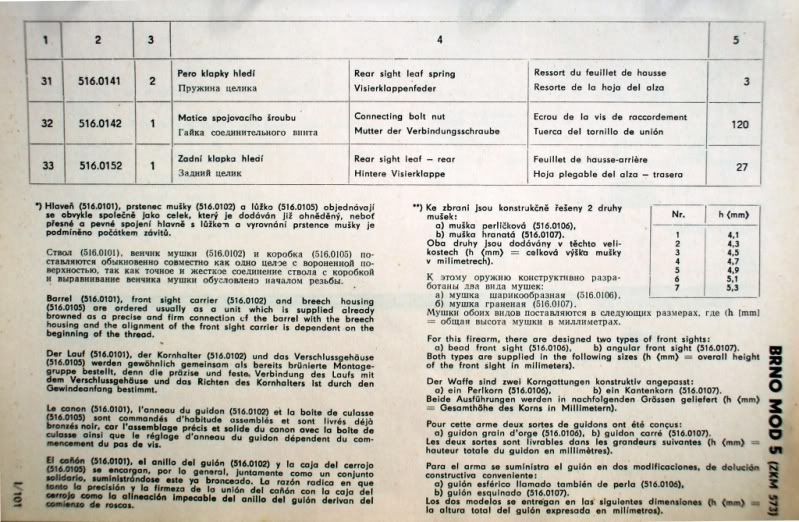 The five columns are
1. Item number which is identical with the number of the part illustrated,
2. Catalogue number,
3. Number of pieces of the assembled unit,
4. Designation of the part (in Czech, Russian, English, German, French and Spanish),
5. Weight in grammes per 10 pieces
As this is the last page of item numbers for this photo, any other relevant information pertaining to this parts illustration is included, in this case a note to say that barrel, front sight carrier and breech housing are ordered as one unit, and also an explanation of the front sights available for this barrel (bead or blade, various heights).
Now the barrel we have been discussing is, I believe, the second barrel available on the model 5. I have seen two sets of rifle pictures posted on the web that lead me to believe that the description in the Sticky " A Guide for Brno Rim Fire Rifle Identifications and Specifications " posted at the top of this forum,which opens for the Brno 573 (#5) with "Same features as #s 1, 2 and 4. Has Brno #1 barrel w/ Brno #2 receiver. Brno #4 trigger and safety system. Flush magazine well." May be quite literal, that is, a model one barrel complete with model one barrel markings is plucked from the parts bin and matched to a Model 2 or 4 Receiver which is serial numbered in the model 2 or 4 serial number range!
Remember this is just speculation on my part but this is what I base it on
First a montage from CollectibleFirearms.com. And here I would like to inlist the help of the CSI girls, Sophia and Jetgirl. If I could ask you to use your photo-shop skills to enhance the barrel inscription, proof mark and the serial number. Here is the montage: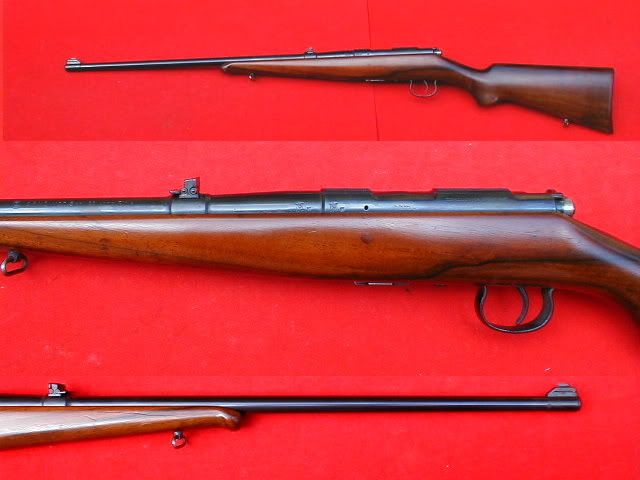 Better still if one of the forum members purchased this firearm and are able to post some good pictures. The reason is the barrel inscription, just discernable here on the left facing middle photo is in the Model one position; also on the top view the barrel is clear of inscriptions above the chamber. To see is to believe, take a look at this photo of a couple of my Brno's, on top a 1951 Model one, below a 1958 model 5. With the rifles mounted on the shoulder the model one inscription would be at 10 o'clock, the model 5 at 12 o'clock. Also note that the "cal .22 long rifle" portion of the model one inscription has been placed over the chamber of the model 5.
Now take another look at the montage, looking a lot like a Model one barrel isn't it?
The second example is being bought by "Shorty", a member of the forum, who is awaiting delivery, I am hoping to have some definitive photos by him to post again by the time this is ready to post. This rifle has all the same characteristics as the above rifle, a model one marked barrel on a model 2 action. Note I say number two action, not number 4, the reason is the serial number on it, it falls into the correct chronological sequence for the proof stamp!
Again, this is purely speculation on my part but I am offering the information from which I formed my opinion so that you may judge for yourself. I believe that these two rifles are what Denny calls the Egyptian contract rifles. And the first of those 15,000 rifles were made up in this manner, or possibly even all of them. This is a very bold statement and I do not have a lot to back it up, this theory would also have a few ramifications for the Models 2 and 4 as well. There would be far more Model 5's around than some say, which is just 15,000 of them! Even if my theory is proven quite wrong there is still plenty of evidence that there were at least 35,772 Model 5's made
I have been compiling a spreadsheet for the last few months and a few things are becoming quite apparent, I present here the model 2,4 & 5 data for your perusal. The first thing I will say is that there is not a single entry that would indicate anything other than the receiver is made with a sequential serial number and built up and proofed in that order, after saying that anomalies will be popping out of the woodwork, bet your life on it, but I am basing my thoughts on the data on hand and will modify them as evidence dictates. Please, please post your data, with or without photos, and we will learn so much. A few of you will recognize your rifles serial number and I thank you for sharing that information. I have hidden the column that shows the usernames etc to preserve your privacy. The serial numbers in yellow are weapons that I own.
The next obvious trend is the decade that they were using the 12 groove barrels in both the number 2's and the number 5's. There is a bit of talk now on the forum about the 12 groove barrels and I won't offer my opinion at this stage, perhaps after I get rid of them, oops!
Now look at the Model 5 Data, not a lot of examples, I think that there are only about 10 owners represented there. What you may notice is that the numbers are quite evenly dispersed through the range. There doesn't seem much room to drop a 15,000 block amongst them.
The model 2 & 4 data would appear to far more easily accept a block of sequentially numbered receivers being whipped away to fulfill a contract. Now imagine if we all shared our data what a complete picture we could draw.
What would be really wonderful of course would be if somebody could post some pictures of a rifle known to be one of these Egyptian contract rifles.
01-25-2008, 07:01 PM
Join Date:

Apr 2007

Location:

New Zealand

Posts:

710

TPC Rating:

0% (0)
Second ZKM573 page
---
Well hopefully we have already stimulated enough interest and debate to get a real handle on what these 15,000 rifles look like. So let's move on, let me introduce a third barrel variation: Here another page from the parts manual: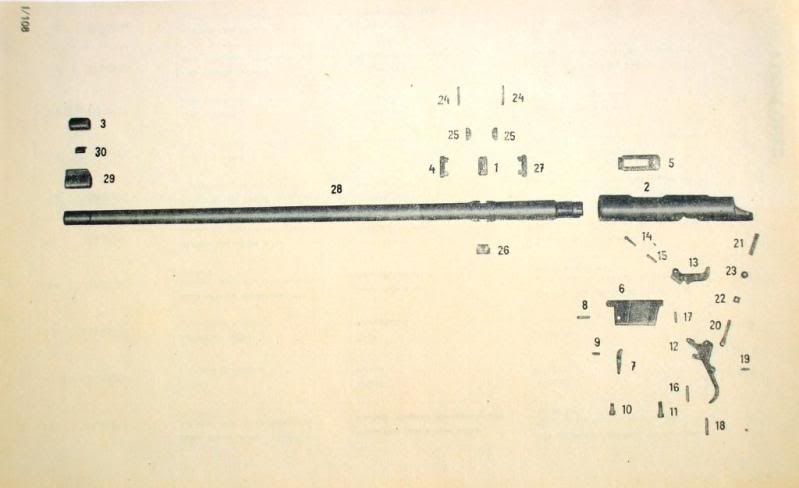 Pretty much the same as we have already looked at, all the item numbers are juggled about; the parts however do share the same catalogue numbers. Look at the foresight; it's changed from the longitudinally mounted front sight to a transversally mounted arrangement. Time for a picture, the muzzle on the left is on my 1958 proofed Model 5, serial number 11645, it is wearing the longitudinally mounted sight, press the detent to slide the foresight forward and out. For sighting in there is of course no windage adjustment in this design, and elevation is by changing to a different height blade. The right hand muzzle is from my friends Model 5 proofed in 1966 and serial numbered 20926. This rifle is also the last that I have recorded as still having 6 groove rifling. You may also note 11645 has the blade option for the foresight and 20926 has the bead foresight, but for the latter there no longer seemed to be a blade option, see catalogue page after the muzzles. Anybody out there with Model 5's that fall within these two please post at the end of this thread or pm me the proof year, longitudinal or transversally mounted foresight, 6 or 12 groove barrel, serial number (last couple of digits as x's is fine if you would rather). Mauser410b you have a 1958 Model 5 in the 14000 range, I presume it is the same as mine on the left-hand side in the picture? Let's see if we can nail the change down to within a year and a couple of hundred numbers.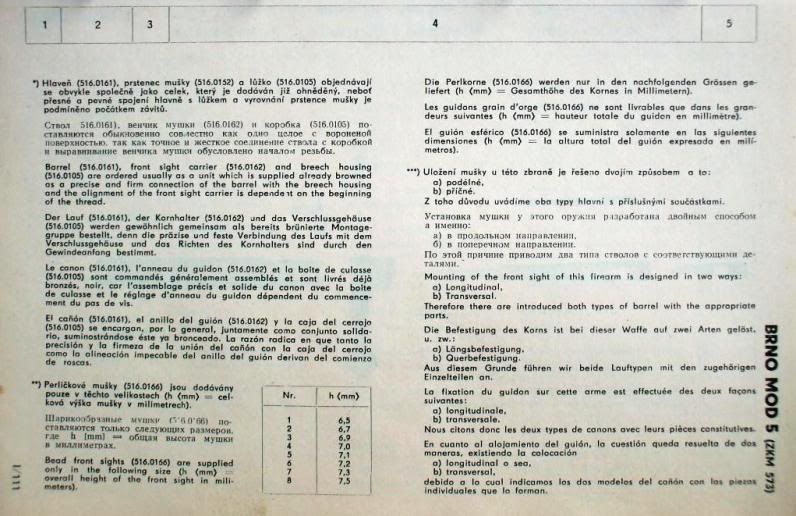 The fourth barrel variation I have noted is the 12 groove Brno marked barrel. For those of you who are not sure what you are looking at, here, thanks to Mikekiwi, a nice shot of his 12 groove model 5 and also a photo of my 6 groove barrel. With the optical nightmare that is the 12 groove, just try to count the lands half way round the barrel then double it, there are only two choices, six or twelve.
The barrel markings also change a little, first my 1958
Then Mikekiwi's 1974 Model 5
The most apparent difference is the width of the rifling band around the "Z" trade mark, not much of a change for sure, but different tooling. The fifth barrel variation is a little more obvious, here now Krazy's 1978 Model 5
The branding is now CZ. This is also a 12 groove barrel
That pretty well covers the 5 barrel variations I am aware of; let's create a work in progress summary;
The asterisk in the barrel column is to denote the logo which I cannot type, see the photos above.
So guys, you know the rules, if you can add to this table, by virtue of additional information or by closing the gaps on the serial number/ proof years just a quick post at the end of the article or pm me, an example would be "I have a Model 5 with a variation 2 barrel, 1958, # 14815" and I'll edit the table as we get more data.
01-25-2008, 07:09 PM
Join Date:

Apr 2007

Location:

New Zealand

Posts:

710

TPC Rating:

0% (0)
3rd ZKM573 page
---
I do hope you will read my post on the Model 2 as most of you will understand that the Model 2 and Model 5 actions are for all intents and purposes identical. I have not wanted to repeat too much I could have noted about the Model 5 as I have already recorded it on my Model 2 post. I believe that right through the full production life of the Model 5 (with one major exception which I will get too) that the two receivers were identical apart from their each being independently consecutively serial numbered. I also believe The Model twos and fives ran a parallel course after the initial few years of Brno production, that is to say they both changed to 12 groove barrels together, they changed to plastic magazine guides together, When CZ chose to let the quality of the finish fall dramatically as time marched on then they did it to both models together. If I have offended any CZ fans with that statement I'll leave you in no doubt about how I feel by saying that I believe CZ dined out for decades on the reputation that BRNO had built. As an example, At age 16-18 two of my friends bought new BRNO/CZ Model Two's on the recommendation of their elder friends/shooters, that would have been about 1975, they eventually both dumped them as not being as accurate nor as reliable as they had been led to believe. I am not criticizing today's CZ's, I believe that they are stunning value for money, a new Annie for quarter price. What I am referring to are the standards of metal finish attained through the seventies and into the eighties. Have a look at three similar photos of Model 5's and then tell me it isn't so!
In case anybody is not aware of it, the two digits refer to the year, 78 here meaning 1978.
Here is an interesting modification which I will point out (and I ask you to pm me if you can narrow the serial number gap or if you have a 1958 proofed Model two). I have two Model 5's a prior and a post modification with only 1681 between them, see if you can spot the difference in the next photo before reading on;
The left hand rifle is the most recent, # 11645. The right hand # 09964, both proofed in 1958. Look to the right of the safety on the LH rifle, BRNO has added a machined detent filled with red paint, a visual clue that the rifle is unsafe, with the safety on, the safety lever will cover the red spot! Somebody had better come up with a name for it, best I can think of at the moment… Visual aid safety detent! This I believe is a modification that would be aimed at a civilian rather than a military market. I checked all my Model 2,4,5's, both rifles and photos, none show it prior to 1958, all show it after. You know the rules, post your findings all three models, proof year and serial number, cheers.
And here the Safety is in the "Safe" position, hiding the red spot rather well.
Now let's get back to what I believe is the exception. At the beginning of the article I tried to explain that to most guys in this part of the world the Model 5 was the top grade rifle, the model 2 was it's lesser. When you consider that they both have the same actions and stock shapes (when the Model 2 has the "U" stock option) then what could we be basing that perception on. Firstly there's the barrel, the tangent sight on the model 2 gave it the military rifle look, and the tri-leaf on the Model 5 was nothing but classy Sporter. The ZKM 573 was also the rifle that most resembled the Model 1, which had already built an enviable reputation for accuracy and function. I won't try to argue that the wood quality, fit and finish was better or in fact the checkering was better executed, but I will say that the perception that it was, was there.
I will however try to show you why I believe the metal was finished to a higher specification on the Model 5 than was accepted on the model 2. This is, by the way, the exception that I was talking of, that the late 1950's made Brno model 5's had a higher metal finishing specification than the Model 2's of the same period.
A quick word by way of explanation, here is a photo of a Society of the Plastics Industry guide to finishes. It is a molded ABS example of 12 different finishes with their names and the designation on the back. It is an aid to communication with the customer, the reason that this exists is to make sure the mold-maker and the client are both in agreement on the standard of finish, and the reason that this is such a sticky point is cost, metal finishing is labor intensive, a little more finish is a lot more money!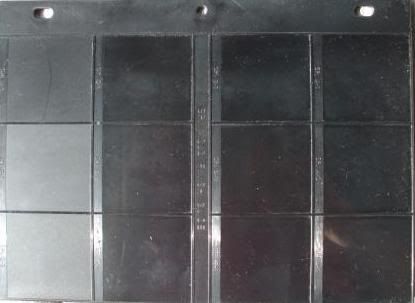 Let's have a look at the first picture;
Left hand rifle is the Model 5, in this case a 1958 proofed with the serial number 09964. This is a sad rifle, having had its stock broken early on in life and abused since, plenty of surface rust but I have great things planned for her. I have photographed the rifles out of the stocks so that you may study the finish under the stock line where it is most preserved. Nowadays they may not finish under the stock-line to the same extent as what was visible above the stock line, but these were not made nowadays. The right hand rifle is a Model 2, proofed in 1956 and serial numbered 3970.
I think it is obvious that the Model 5 has received a higher grade of finish, another pair this time the Model 2, proofed 1957, serial numbered 45268 on the left and on the right a Model 5, 1958, # 11645;
Again the same thing is apparent, some may point out that the finish on the barrels of all four examples is very similar, that is because a spinning bar is very easy to apply a finish to. It is the action that we are studying because to finish that to the standard of the Model 5's shown requires a lot of care and handwork. I would like to have shown you a 1958 model 2 next to the 58 Model 5's rather than the '56 & '57 shown , but I don't have one, I would be a very good home for any excess examples out there!
So where is all this heading, how about I stick my neck out and say "In my opinion, Brno built the Model two to chase the military market , and the Model 5 was built to market as a sporting weapon" there , I've said it. The Egypt contract Denny speaks of is the big anomaly, though then, as now, the customer is king, they may well have said" we like the Model one barrels and simple sights, but we want that neat new trigger" Once the rifles were assembled it would quickly be realized that it was a classy combination and a decision to market a sporting version would have been made. This is all pure speculation on my part. The more examples we see posted, the more accurate will be the big picture. I really do believe that the Egypt 15,000 were a completely different batch than the typical ZKM 573 shown here by the two examples dated 1958. I believe that serial number one through to 35772 were all built to be marketed and sold to the sporting world. I have not, to my knowledge, seen one of these Egypt 15,000, though if, as I have suggested at the start of the article, it turns out that they are those rifles having literally a Model one barrel and a Model 2 or 4 Receiver , then that will add credence to what I am saying.
01-25-2008, 07:19 PM
Join Date:

Apr 2007

Location:

New Zealand

Posts:

710

TPC Rating:

0% (0)
ZKM 573 4th page
---
I have been trying to remember where I had seen Model 5 and Mansoura mentioned as being one and the same, then I remembered that it was our own sticky "A Guide for Brno Rim Fire Rifle Identifications and Specifications" posted at the start of the forum. Here is the Model 5 description, copied and pasted here
Brno 573 (#5)
Same features as #s 1, 2 and 4. Has Brno #1 barrel w/ Brno #2 receiver. Brno #4 trigger and safety system. Flush magazine well. Often referred to as the Egyptian (stamped Mansura) or Chinese Trainer, these rifles (approx. 15,000 production) were military contract training rifles for Egypt, Jordan, Syria and Lebanon. There is also a second group which were manufactured in China from original Brno parts. Various nationality stamps / marks have been noted on some examples. Manufactured 1957 – 1973.
End quote
Let me say that any and every posted picture of a "Mansoura" Brno is in my opinion a Model 2 or Model 2 copy. If anybody can show me an example that contradicts what I just said then I will modify my opinion, but not before.
If I were to write that description, it would read something like this;
Brno Mod 5 (ZKM 573)
Combines the sporting lines of the Model One barrel with its tri-leaf sight, the superior override style trigger of the Model Two and the classic "U" type Schnabel stock to create their top of the line sporting rim-fire rifle. A Czech military contract to supply Egypt, Jordan & Syria with a similarly configured rifle, though made up of surplus Model one barrels (complete with "Mod 1" inscription) mated to a Model 2 or 4 receiver, may well have inspired this design. This contract was for approximately 15,000 rifles. The civilian rifles were consecutively serial numbered from 1 (1957 or 58) to approx 25,000 (1967-68) at which time the manufacture was handed over to CZ. Quality was kept up with the use of Brno parts and Quality control inspectors initially but quickly fell away thru the 70's. Last known example is CZ branded, 1978 proofed model serial numbered 35772.
Well there ya go, the Model 5 as I see it, remember most of what I have written is just my opinion, but it is a very measured opinion based on carefully weighing up all the information available to me and a keen interest in finding the real story. Some of it is deliberately controversial in order to excite a bit of debate which may lead to new information which will enlighten us all. That is after all what an Internet forum is all about.
Let's take a look at the stocks now. From the first through to sometime prior to 1970 (yeah that's pretty vague! more pictures please guys) the stock shape was identical in contour to the Model One and the Model 2 "U" Schnabel stock. All three of these stocks wore this butt-plate;

This was also the butt-plate that Brno used on the delightful ZKW 465 Hornet. For reference we'll call this particular butt-plate a Mod5/1 (so that people posting info without photos can say "it has a Mod5/1 butt-plate"). The profile that this butt-plate is made to fit is really quite curved; this picture should prove that point;
next butt-plate I have noted is this slippery little number (thanks mikekiwi, for the photo);
I am not sure when this butt-plate made its appearance but I believe it was not before about 1968. This butt-plate is far more rounded at the toe and would require a redesign on the stock profiling, I do not have one to inspect but I also believe it is fitted to a flat cut stock, the so called shotgun stock. I haven't had the opportunity to shoulder one of these model fives but I would be very surprised if it stuck to the shoulder as well as the Mod5/1 butt-plate, it sure looks slippery to me and if it is then that's going to cost you a shot one day. We'll call this the Mod5/2 butt-plate.
The third butt-plate that I have noted is this CZ branded one on Krazy's 1978 Mod 5, we will call it a Mod5/3;
As with Model One & Two the Model Five Stock was available in three wood options, the appropriate excerpt from the parts manual;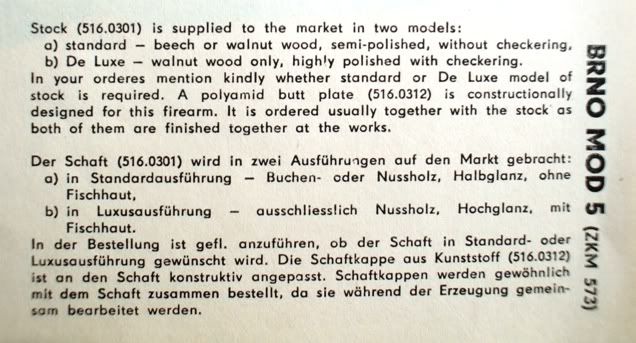 Let's have a look at the main difference of the De Luxe, the checkering;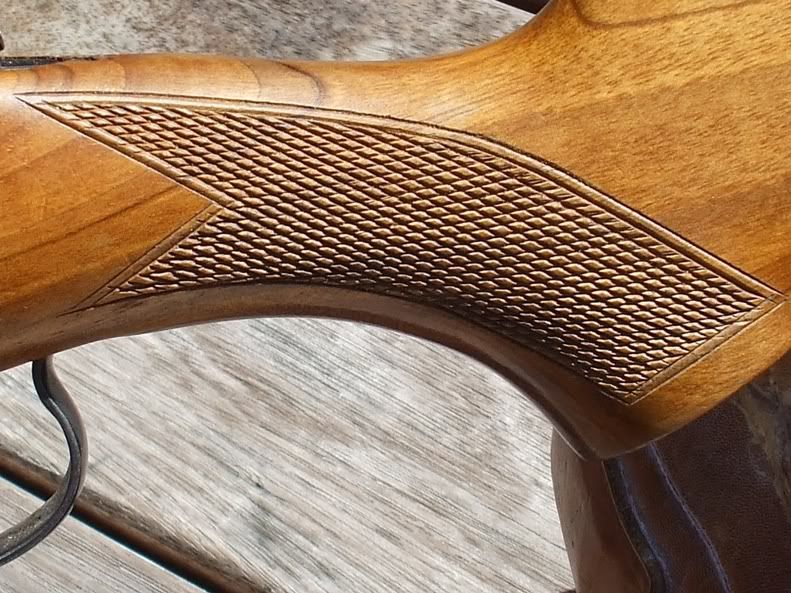 This is hand cut checkering using a practical 18 LPI (lines per inch), I have done a fair amount of checkering and could find plenty of faults, but I also understand the effort required to create a checkering panel. Do not compare this with the panels you may see on a custom rifle, but against the rest of the markets offerings on their .22's of the period. The factory pattern did not include fore-end panels on the Model 1, 2, or 5.
1958-11645-Variation 2 barrel-Mod5/1 buttplate-has safety detent-De Luxe stock option-35WCF
1958-09964-Variation 2 barrel-Mod5/1 buttplate-No safety detent-De Luxe stock option-35WCF
There's an awful lot of information in that one line, I'm sure most of you can understand it, let's go through it
1: Proof Date, Straight forward enough, I'm sure someone will find two proof dates or a barrel proof date that doesn't match the Receiver proof date, we'll deal with that when and if it comes up!
2: Serial number, many of you are reluctant to post that, in the form of 113xx is fine, so long as the correct number of digits are represented
3: Variation 2 barrel, from the table in the text "Variations noted on ZKM 573 barrels"
4: Mod5/1, Mod5/2 or Mod5/3 buttplates; see photos above
5: Has Safety detent or No Safety Detent, see text and photo's
6: Three stock wood options;
A; Standard Beech (not checkered)
B; Standard Walnut (not checkered)
C; De Luxe Walnut. (Checkered)
If you are not sure whether it is Walnut or Beech but it is not checkered, just call it Standard
7; Username, Who posted the information, so that members may pm them if they have more questions about the rifle. Not necessarily the owner, any Model 5's I spot at the gun-club I'll certainly be trying to get a photo and this information, and then I'll post it here, must guys are quite happy that you take an interest in their rifle.
Well we've got two of the Model 5's photographed and detailed; it's up to you guys to get the rest of them. It was mainly the stock that I was trying to catalogue with these photos, trimmed up and sized to about 800 pixels wide. If you don't want to go through the hassle of posting then e-mail the information to me, with or without a photo, and I'll post it, gunstock @ bigpond.com (edited this email address on 6 jul 13, moved to Oz) without any gaps, cheers and let's keep them coming…
Hey I'm done, many thanks for your patience guys, hope you all learn something new, and any of you who feel you must shoot the piano player please, use a Brno. Cheers Paul
---
Last edited by 35WCF; 07-06-2013 at

05:24 PM

. Reason: spelling, email address
01-25-2008, 07:30 PM
Join Date:

Feb 2007

Location:

Scripps Ranch.... It's mostly nice here.

Posts:

3,829

TPC Rating:

100% (71)
35WCF, this is one amazing post! I have only had time to skim through it, but thanks for the very rich post.
This will make nice reading this evening when I get home.
Thank you sir!
.
__________________
[FONT="Comic Sans MS"][I][SIZE="2"][B]"Never wrestle with a pig. You get dirty and the pig likes it." :)[/B][/SIZE][/I][/FONT]
[SIZE="1"][/SIZE]
01-25-2008, 08:17 PM
Join Date:

Dec 2006

Location:

Mebane, NC

Posts:

47,650

TPC Rating:

100% (27)
Quote:
Originally Posted by
beammeupscotty
Run out of town? RUNOUTOFTOWN ?????

I bow down before the awesomeness of your post.
Don't think anyone is going to complain about all the work you've done here, we appreciate it.
Gerald
01-25-2008, 08:18 PM
Join Date:

Apr 2002

Posts:

1,211

TPC Rating:

0% (0)
Paul : This is really a magnificent post. Thank you a thousand times.

Any one owning or about to buy a CZ .22 must read this post. In the years to come you will see parts of it in varying form in magazine articles about this amazing rifle.
Posting Rules

You may not post new threads

You may not post replies

You may not post attachments

You may not edit your posts

---

HTML code is Off

---
All times are GMT -5. The time now is

02:07 PM

.