This started out as a project to build a dedicated rifle for after-dark pest control. For years I've struggled with standard scopes or open sights and a flashlight to clear my perimeter of four legged critters hell-bent on fresh poultry for supper. I decided I needed something a little more purposeful. As is per usual, I wore myself out examining my options and researching. I figured I'd be money ahead to just build the 10/22 I already had. This rifle started life as a black laminate stainless carbine. It's already been built once then returned to stock. This would have to be a military style build with accessory rails and a forward grip. The further I got into it, the more I realized that this could be a really fun rifle and not just a utilitarian tool. I wanted to primarily rely on a red dot sight for night use but also maintain an iron sight option. I came real close to using an Evo stock but that would've meant rail mount flip sights that may or may not have worked. I was enamored with the Tech Sight setup and knew it would work with the Tapco T6. Some pictures posted here really got me going with these two components. I added an XS white stripe front sight blade to the TS tower. I did a lot of testing before going any further and it worked perfectly for what I needed. The two apertures work perfectly for 50yd and 100yd zeros. I also added a Viking Tactics V-Tac sling and it's been the best $40 I ever spent. Very impressed with its use.
Now to a scope and how to mount it. A red dot sight would've been easy, I actually tried one on the forend rail and it worked great. Wanting a little more utility and range, I looked for other options. The Millett 1-4x Tactical model with illuminated reticle would offer the best of both worlds. It sports the close range capabilty of the red dot with longer legs when zoomed to 4x. Perfect! It looks a little too big because of its 30mm tube but I think function will outweigh that minor aesthetic flaw. Warne rings are my gold standard for rugged good looks and consistently returning to zero. Butler Creek scope caps keep the glass clean.
The mount was gonna be tricky. The Tech Sights peep used the rear two holes so browsing the catalogs I realized that the Volquartsen picatinny extended scope base could be made to work with some modifications. This would involve turning the base backwards, drilling and tapping some extra holes in the receiver as well as machining the base. Rather than trying to explain my 'vision' to a gunsmith over the phone, I swapped my neighbor out of his 50yr old Logan 10"x24" screw-cutting lathe. Atop that I affixed a Palmgren milling fixture and I was in business. Picture a vertical mill turned on its side. With a selection of cutters, drills and taps, I was able to D&T four extra holes in the receiver, cut four extra holes in the scope base, cut fillister head countersinks and stabilize the rear of the base with a 4-40x½" set screw all the way through mount, rear sight and receiver. I also had to relieve the extension that was intended to hang over the barrel, so that it could now hang over the rear sight. Took over 1/8" off its thickness, then dressed the corner with a 1/4" ball mill. Cut off one notch and beveled the end. Turned out perfect! Just had to file the top of the TS rear sight flat for a smidge of clearance. The base is held in place with a total of six 6-48 stainless steel, fillister head screws. The holes all line up and the bonus is that if I ever decide to, I can always flip the mount around for strictly scope use.
Finish work. I knew from the start that I wanted it OD green. I decided to use Brownells Aluma-Hyde II because I could apply it with a spray can and it did not require baking. I always wanted a blast cabinet so I bought one of those too. Blasted the parts with 120grit aluminum oxide and sprayed the receiver, barrel, triggerguard, trigger, Power Custom magazine release, the scope mount and screws with the stuff. So far I'm impressed with how it turned out.
Finishing things off is a Daniel Defense offset light mount with a TacStar T9 weaponlight. It's attached to an accessory rail I bolted to the side of the forend and mounted so that I can manipulate it with my left thumb, rather than a tapeswitch.. There is also a picatinny bipod adapter for the little 6-9" Harris bipod. This will be removed most the time. Plus three Tactical Inc 25rd magazines, a TKO buffer, VQ target hammer, Power Custom extractor and now I forget where I got the oversized bolt handle. I also blasted the exposed side of the bolt and cold blued it with Brownells 44-40.
It took about four months of planning and work but it finally all came together quite nicely. It was fun to build but should be more fun to use. Should be great for those armadillos that I can't seem to get rid of too. The pictures were taken in haste this afternoon. It's been rainy and everything wanted to fog up, including my camera. Couldn't stand to wait for better weather! I'll post more later if anybody is interested.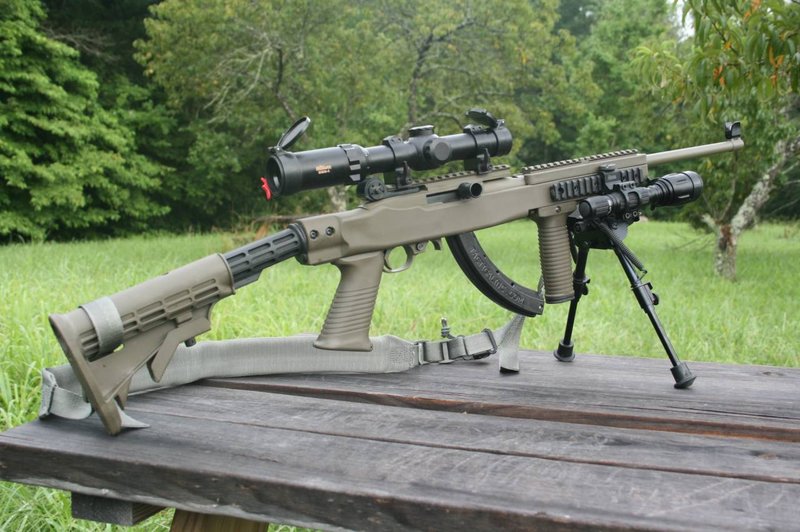 Not exactly gonna lose it in the grass.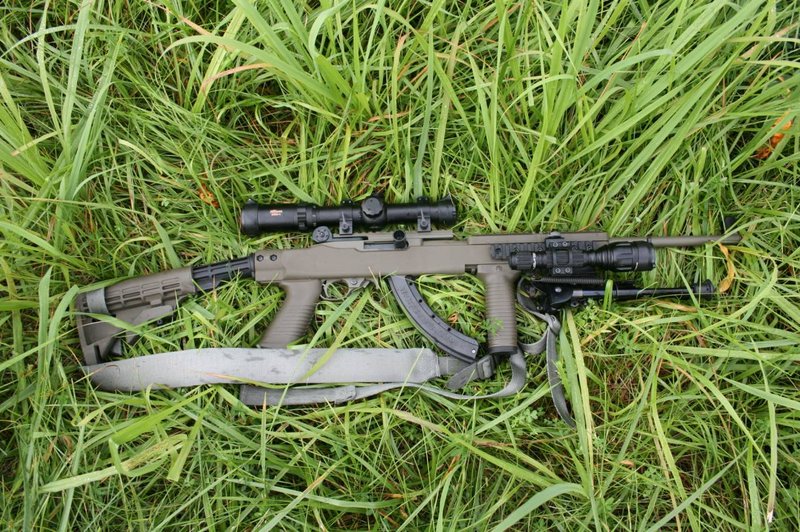 Check out my machine work on the base. Not bad for an amateur!