Discussion Starter
·
#1
·
OK first a little back story. Mike is a single Father raising three kids pretty much on his own. He was struck with a theft that basicly left them gunless. This gun is ment to replace the gun that was the favorite of his daughters. there is much more in this thread.
http://www.rimfirecentral.com/forums...d.php?t=229457
Now for the rifle. Mike had a doner pig rifle that was mostly compleate. He got good barrel from Skeeter. I got a stcok From Patience0830. The scope came from Horsefly and jedwil pitched on a few $$$ to help with shipping etc. all of the guys that helped out are Team RFC members and should be recognized for there great efforts. THANKS GUYS. :bthumb: i donated everything else and built the rifle from the ground up.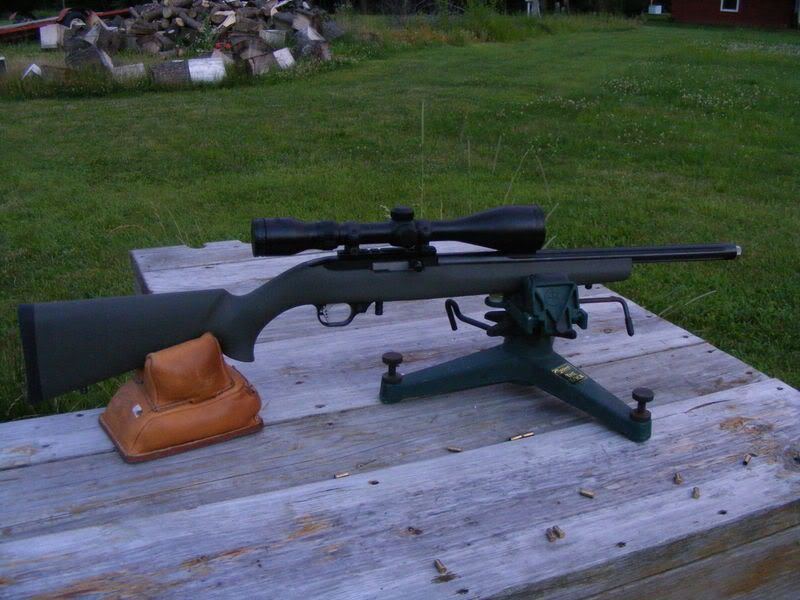 Specs on the rifle.
Hogue OM stock in OD green. stage 2 RFT bedding installed. allen head action screw of my making holding it all toghether.
GM seconds Barrel with threaded end.
Trigger group re-worked by me with over sized pins though out. TPA trigger was already in there. My Extended mag release.
Bolt reworked by me with a matte blasted finish to match the TPA trigger.
My extended bolt handle for ease of operation and reliability.
Scope is a BSA classic 3-12X50 set in Millet rings.
it was shooting Wolf MT into 3/8 at 50 yds and Winchester expert in to 3/4" at the same. the Expert is the hunting ammo the girls use for ground squirrels.
i'm sure i'm forgeting something about the rifle. if you guys got any ??? just ask. i shipped the rifle today Mike should have it either Saturday or Monday. The girls have no idea it's comming so it will be a surprise for them for sure. Mike said the 11 yo cried when the last gun was stollen.