Well, your pictures don't show the loading type, so I googled the gun (note - no "y" in Ralock). Interesting gun, the action is not like the Browning SA:
Historic Arms Resource Centre facility for British and Commonwealth Enfield and other Miniature calibre training and small-bore TARGET RIFLES (BSA- Birmingham Small Arms Co.), conversion units and accessories with representation of other nations' training rifles, plus Postal League competitions...
You can even get a copy of the flyer: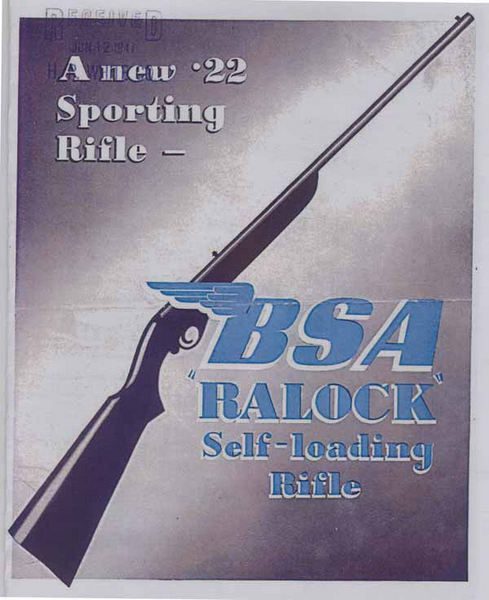 BSA 1947 -.22 Ralock Self Loading Rifle Flyer2 pages, about 8 1/2" x 11" (no cover). New COLOR re-print restored and digitally enhanced from a nice original. Printed on high quality 20# 97 bright acid free paper. Fully Illustrated.We are not affiliated with any arms or gun manufacturer.CONTENTS...

cornellpubs.com
There's even a thread from 2013 on this forum:

I like old guns and oddball guns. Leave it up to the British to come up with this oddball design. The Ralock is a semi-auto that fires from an open bolt. It had a short lifespan. It was introduced in 1947 in .22 Short. .22 LR was added in 1949 and it was discontinued in 1951. This one is...
www.rimfirecentral.com