Well I went out and bought a SP22 M1. First impression is that it feels good in the hand. The trigger didn't impress me, it has quite a bit of creep but it does break nice and clean. I shot it both suppressed and not. First I shot it un-suppressed. The first magazine the trigger would not reset throughout the whole mag. Moved on to the second mag and it functioned perfect. Every mag after that fuctioned without a failure. I then screwed the suppressor on and it also functioned flawlessly with it on. Total I shot 60 rds un-suppressed and 200 suppressed (50 of these were with subsonics). From about 10 meters away, standing I could keep all the shots within a 4in. circle. Overall, I would say that I'm very satisfied. One thing though, if your going to use a P22 thread adapter, your going to have to sand, grind, or machine the end plate that goes around the muzzle to make it thinner so that the thread adapter can screw all the way in.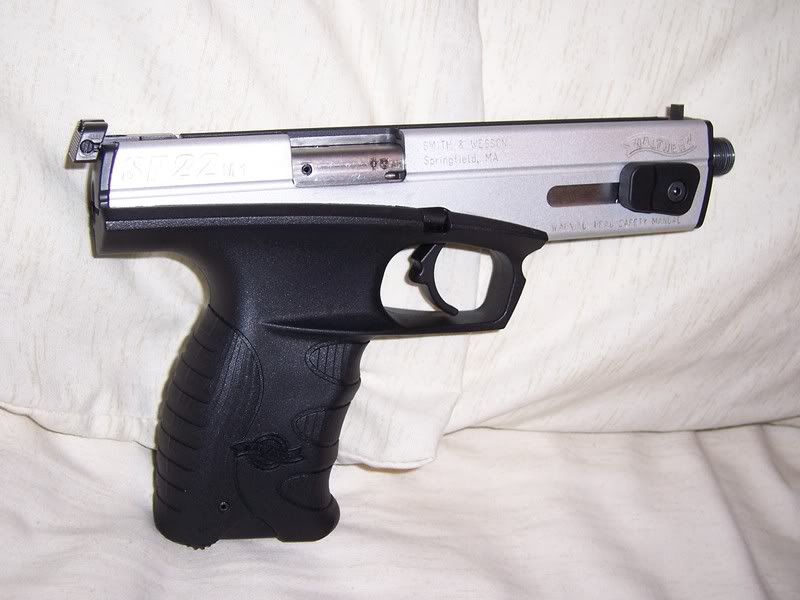 Heres a pic to better explain what to modify for a P22 thread adapter. Also your not going to be able to use the barrel wrench to tighten the adapter. You"ll have to use pliers or something.
I did a couple things more to my SP22. For one I took the mag safety out (I cant stand mag safeties). To remove the mag safety you have to take the frame apart. I also put a small screw on the top of the trigger to remove alot of the pre-travel, I took out as much pre-travel as I could to still allow reset of the trigger. The trigger is now acceptable. Pics below.