25 Yd & 50 Yd Offhand Match Rules – Any Gun / Any Ammo
***Rules Only here... To post your 25 or 50 Yd entry(s), go to the main Match subforum-titled "25 Yard Offhand 500/50X Match – Any Gun, Any Ammo", then just click the "Post Reply" button and type or paste in your entry form***
50-Yd Addition
All 50Yd match rules are the same as for 25Yd. Use same A23/A9 Targets. Only # Shots changes from 50 to 25.
There has been interest, so we are adding a 50 yard offhand, starting March 2016. I will maintain a score history for every shooter in the 50 beginning with this date, and of course the ongoing history for 25-Yd shooters which goes back to Oct.2012 will be continued on it's own score chart.
For many of us, myself included, offhand at 50 yards is a daunting challenge. I encourage you to shoot the 25-Yd match if you are just starting out with Offhand.
This is a match for all you "stand-up riflemen" out there.
NO gun or ammo limitations
here !
So take a break from the never ending ( & expensive) equipment/ammo race. In Offhand the focus moves from the equipment to the shooter.
You truly CAN compete here without spending a small fortune on guns, ammo, and accessories, as most every gun will easily shoot some kind of bulk ammo into sub-1" groups at 25 yards, the shooter becomes the limiting factor. With cheap ammo we can all get out and shoot more. So shoot what you have, it's interesting to see a nice mix of guns in this match.
EVERYONE, WHATEVER YOUR ABILITY, IS WELCOME HERE !
We have all skill levels in this match, but competing against yourself may be the biggest challenge.
And the biggest reward comes every time you set a new Personal Record high on a target !
Thanks in advance for all who will participate here.
Shoot often, have fun,
Bob4BVM
Text credit: I shamelessly borrowed parts of some of the following text from posts by our old friend Joe Haller (now rooting for us shooters from Heaven), thank you again Joe, for all you did for us here at RFC!
We run a separate scoring class for scope & irons.
Same entry form. Just mark your entry scope or irons in #7 below.
And Yes,
you may have up to FOUR monthly entries - one for SCOPE & one for IRONs @ 25 & 50 Yds !
That gives everyone a chance to compete with their favorite sights and also try out the other.
As you can see, our 'rules' are short & simple... BUT PLEASE read them carefully... Rules + Procedure + Entry Form :
******* MATCH RULES ********
1----SHOOTING POSITION, TIME LIMIT: Standing offhand. See ++NOTES below. All 5 bulls in entry set to be shot on the same day.
2----RIFLE: Any RIMFIRE Rifle
3----AMMO: Any Ammo
4----SIGHTS: Any Scope (in Scope Class) or Any Iron sights (in Irons Class). %% see NOTES, below.
5----TARGET: any NRA standard A9 / A23 BullseyeTarget ---> 25-Yd: Shoot 5 Bulls, 10 shots per Bull (50-Yd Option: Shoot 5 Bulls, 5 shots per Bull)
6----RANGE: 25 or 50 Yards, Measured from Muzzle
7----# of ENTRIES: 25-Yds:1 Irons AND 1 Scoped entry per month. (50-Yd Option: Adds 1 Scope &/or 1 Irons). Unlimited "practice".
++"SHOOTING POSITION" NOTES:
++Standing offhand means: Rifle fully supported by your body only. Body in natural free-standing position. No Rifle rests of any kind. Slings are Allowed. Handstops are Allowed. Gloves Allowed. Jackets Allowed.
++ Standing Exception :
– If you have a medical disability that prevents you from shooting in the standing position, then please feel free to do what you need to in order to participate. This includes leaning against something for support. But please note that no type of rifle rest is allowed. Folks in a wheelchair, please participate by shooting "off-hand" from a seated position. I don't want anyone to be excluded from this challenge, but the spirit of it is to get off the bench/bags.
%%"SIGHTS" NOTES:
IRON SIGHT is defined here as
a set of 2 or more devices on the gun which must be aligned with the target by the shooter to form the sight picture. May be of any material. no magnification allowed.
SCOPE is defined here as
any device which forms a single-plane image of the target & aiming reticle. Includes traditional riflescopes of any magnification, and also red-dot & holographic type sights with or without magnification. Aiming lasers which project a laser dot onto the actual target may also be used in Scope Class.
******** MATCH PROCEDURE ********
A. Shoot 5 Bulls, 10 shots each. Score each target, total up the 5. A perfect 5-Bull score would be a 500-50X…[we will see about starting an Olympic Team fund for anyone who can do THAT every month  ] (50-Yd Option:5 Bulls, 5 shots per Bull, for a possible 250-25X)
B. Scoring: 5 thru 10 rings count, outside the 5-ring = zero.
We use standard NRA scoring practice of highest-ring scoring- ie, a shot in the 8 that
clearly touches
the 9 ring when plugged, counts as a 9, etc. A couple actual target pictures below illustrate this.
Also See Joe Haller's great tutorial post on scoring the A23 here -
https://www.rimfirecentral.com/forums...d.php?t=293358
Joe's post was about benchrest matches, but the same scoring technique applies here. Joe had a nice graphic of how to score the A23 target here as well.
C. Shoot as many 5-bull rounds as you want during the month. By last day of month, enter your best effort for the month,
formatted per "E", below
.
D. A MATCH ENTRY set consists of
five (5) pre-declared bull's-eyes that will be shot for score. Once you start shooting for score, your next 50* shots are all "counters", and the set is complete after 50 shots. (*25 shots for 50-Yd match)
All 5 bulls in your entry set are to be shot on the same day.
E. Enter your score and equipment info formatted as follows. PLEASE use this exact format. To post your 25 or 50-Yd entry(s), go to the main Match subforum-titled "25 Yard Offhand 500/50X Match – Any Gun, Any Ammo", then just click the "Post Reply" button and type or paste in your entry form:
******** ENTRY FORM ********
***25-Yd SCOPED ENTRY*** (or) ***25-Yd IRONS ENTRY*** (or) ***50-Yd SCOPED ENTRY*** (or) ***50-Yd IRONS ENTRY***
DATE:
SCORE:
NAME (your screen name), AGE(optional):
LOCATION:
GUN:
GUN SETUP: ___Scope ___Iron sights ___Sling
AMMO:
INDIV TGTS SCORES:
NOTES, WEATHER, or any other comments/excuses for how you did.
Pictures are nice but not necessary.
I will gather & compile your entries, and then update our scoreboard after the last day of each month. SCOREBOARD WILL ALWAYS APPEAR in the Sticky at Top of Match Forum.
Feel free to share your progress throughout the month, but for actual match entry(s) please use this form, which has the word "ENTRY" at top.
That makes my job much easier and keeps me from having to guess whether it is an entry or just a discussion.
--------------------------------------------------------------
Another note of Joe's applies here:
"You can save yourself some time and save me the trouble of reformatting your report if you save a copy of the above example, then just put in your score, name, location and your equipment information. Save that copy and next month you will only have to change the score (and maybe the gun/ammo you use)."
Save the format in a little Notepad file on your desktop so it is always handy to copy/paste your entries.
EXAMPLE:
***25-Yd IRONS ENTRY*** , 10-31-12
SCORE: 427-6X
NAME: Bob4BVM, 65
LOCATION: Oregon
GUN: Marlin 60
GUN SETUP: __Scope _x__Iron sights _x__Sling
AMMO: Fed. 510
INDIV TGTS SCORES: 78-0x 88-1x 88-0x 83-4x 90-1x
NOTES: Cold & windy, long day at work, tired, but finally got it together on last target !
***50-Yd SCOPE ENTRY*** , 3-22-16
SCORE: 200-4X
NAME: Bob4BVM, 65
LOCATION: Oregon
GUN: Kimber 82G
GUN SETUP: _24X_Scope ___Iron sights ___Sling
AMMO: Fed. 510
INDIV TGTS SCORES: 40-0x 40-1x 40-0x 38-2x 42-1x
NOTES: My first attempt at 50-yd score. Gotta lay off the coffee for this one !
*** Where to get TARGETS
Any target using the A9 /A23 bull dimensions is ok. This is the NRA 50-yd smallbore rifle target. The American Target Company NRA A-23/5 (5 bulls), or the Hoppes item#A9 (single bull) are two you can buy. If it says A9 or A23 on it, it should be correct bull dimensions.
Here is one i made up so that i could (barely !) squeeze two A23 bulls on a single sheet of 8.5x11 printer paper. I like it because it is cheap and always available. The std NRA A23 dimensions are listed on this so it's easy to check your actual printed dimensions. Be sure you set print for NO SCALING to get true target dimensions on paper. (Any scaling will result in a SMALLER bullseye printout, you do NOT want that ! :-) If you want to use this target, PM me and I will email the pdf file to you.
3 printouts of this gives you 6 bullseyes. Shoot just 5 bulls for score. I usually use the first bull for sight check, then score the next 5. If you choose to use one of the 6 for sight-in off a rifle rest, PLEASE do not score it ! Mark it with a big ' $ ' .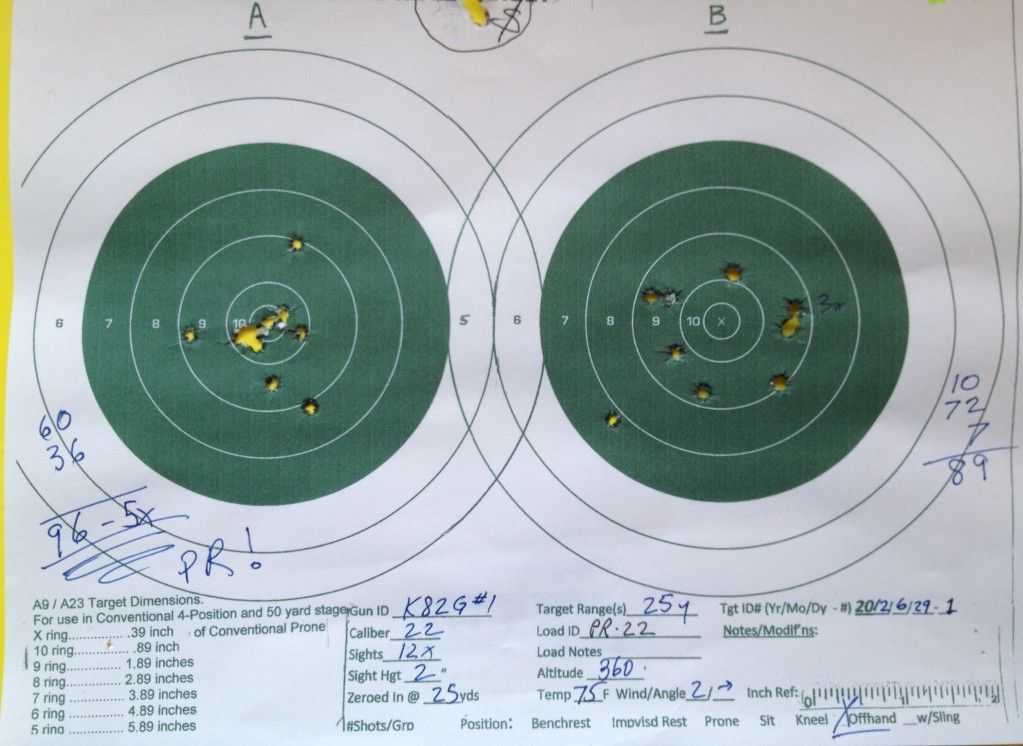 A bit more on scoring those close shots:
Here is a real-world example of Joe's tutorial on scoring the A23.
If you have a plug gage, use it ! If not, an unfired round will suffice for our purposes here. The results of plugging can be surprising and can get you an extra point sometimes.
Here I have two shots near the 10-ring. Are they a 9 or a 10 ? Without plugging i'd call 'em both 9's, and be cheating myself out of points.
Just gently slip the bullet into the hole. If it clearly touches the ring it counts for the higher score. This one's
a 10 because it is clearly touching the ring
when plugged: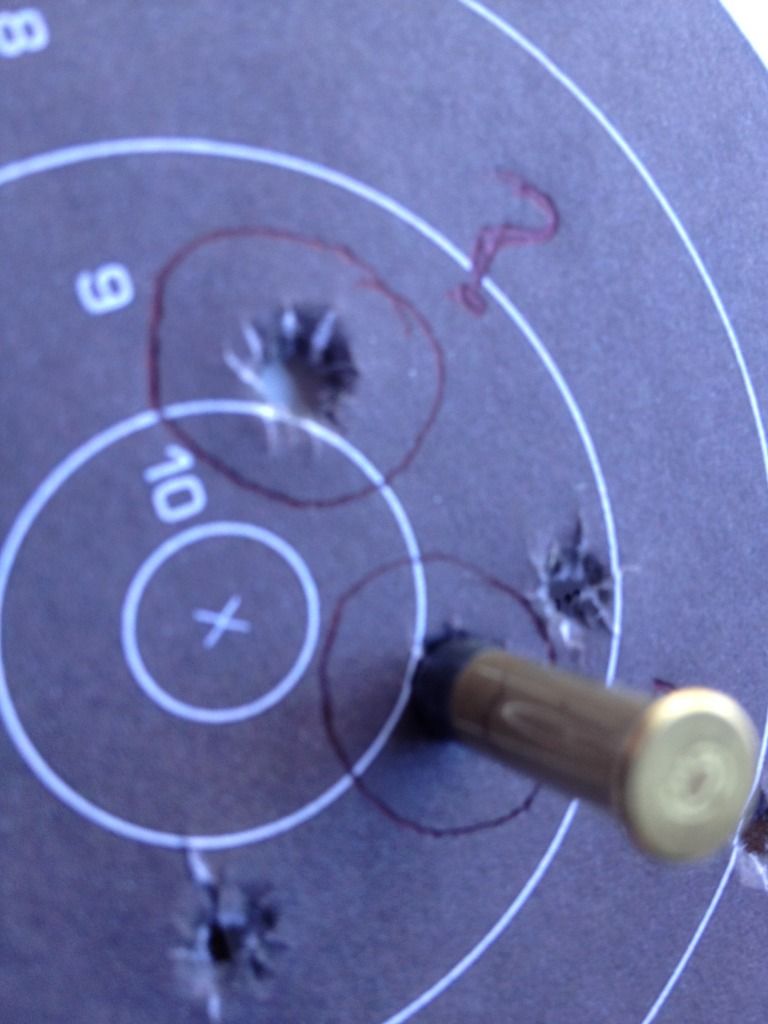 Of course if the ring is broken, it's also the higher score. This one's also a 10: