Recently a second .22 caliber single shot blow back Wamo "Tommy Gun" showed up. The bottom gun has no markings while the top gun has the shown marking, "Wamo Mfg. Co. / San Gabriel Ca." stamped on the barrel. Note that this gun has a barrel handguard and the other one does not.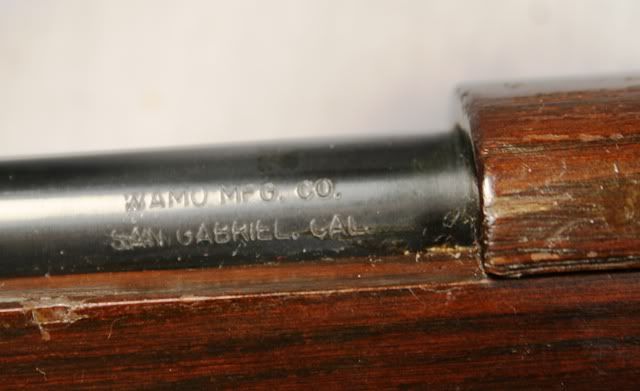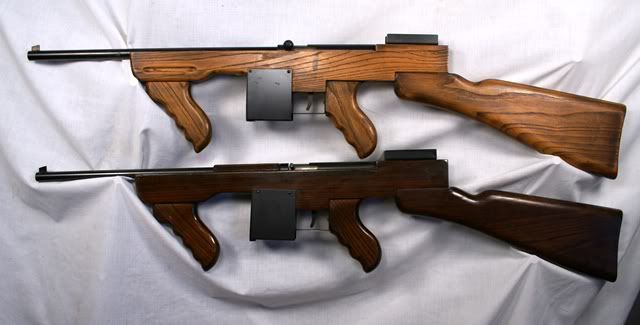 Note that the top gun has finger grooves cut on both sides of the wood forestock. Given the vertical foregrip there is no access to these grooves unless the factory added the foregrip later. Possibly the factory considered two models, one like the WWII Thompson with the grooved horizontal foregrip and another model based on the Chicago "gangster" mode with the vertical grip added.
Also, the rear sight on both guns is a stamping --up turned blade with a slot for a sliding elevator. The odd thing is that the sights are reversed in the guns. One has the blade to the rear of the housing and the other has the blade to the muzzle. Which one is right? One cocking arm has the round ball missing--the knurling is present for the press fit of the ball.
Oddly, one has a short barrel handgaurd of matching colored wood and its presence is supported by the location of the barrel nomenclature directly next to the handguard. The second gun has no provision or evidence of ever having had a handguard and has an unmarked barrel.
For guns that, according to the company, doesn't exist, they sure have a number of various models/variations.