Hey Everyone,
Here is my build of the Tactical Innovation's 80% TD Receiver.
Parts used in my built:
1. T.I. 80% TD receiver
2. McGowen Heavy SS TD Barrel
3. Kidd 2-stage trigger, and threaded pins
4. Volquartsen CNC Match Bolt w/Titanium Firing Pin
5. Kidd Rear Tang
6. PMACA Takedown Chassis W/ Butt Stock Chassis Extention
7. MagPul PRS Stock.
To complete TI's 80% receiver, holes for the trigger pins, Barrel Locking Block
screws, bolt buffer, takedown screw and barrel insert must be done.
The drilling for most of the holes were uneventful. Using my CNC Taig Mill.
But for the hole for the Barrel Insert, I had to be creative.
Since my Small Mill didn't have the vertical clearance for me to use my boring head.
I had to use my Lathe!
Using my 4-jaw chuck, I am aligning to be concentric for the Barrel Insert hole.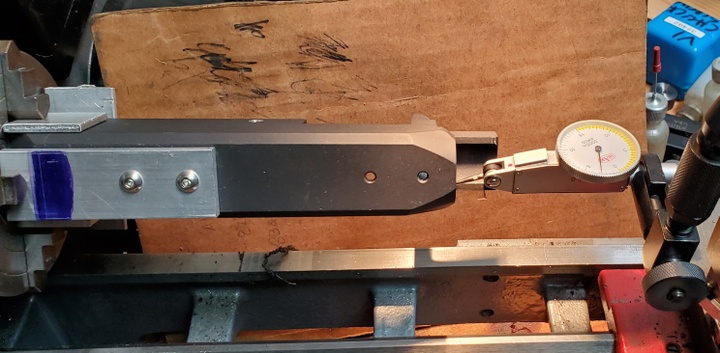 Now to check the linear alignment of the receiver. This done on the side and top surfaces.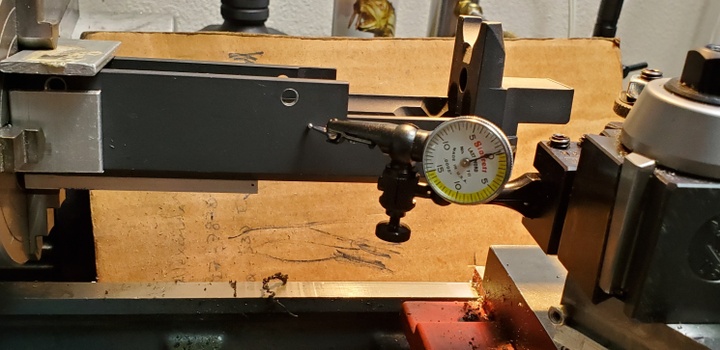 Drilling the hole for the barrel insert. Boring to the final final diameter.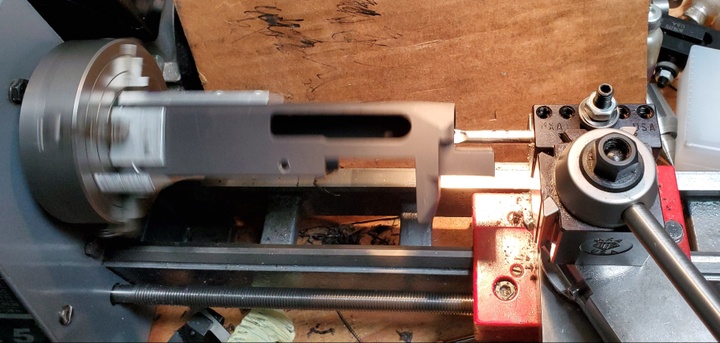 Next procedure is to machine the receiver for the Kidd Rear Tang.
Using ¼" EM, I milled the slot.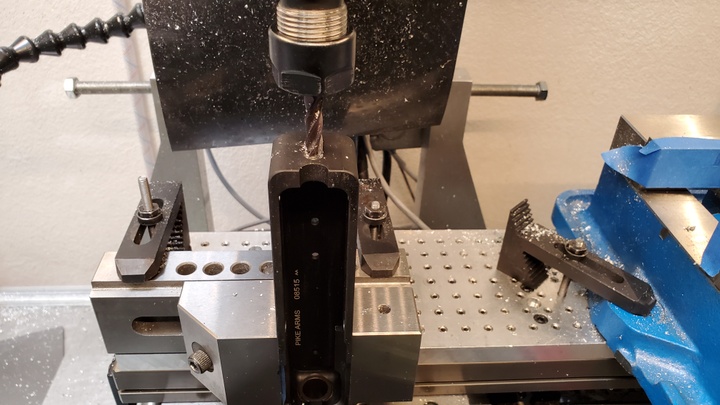 At the same time I drilled the hole to secure the rear tang
Using a Tight Spot Cutter to cut the countersink for the screw.
The final step to finish the receiver work, tapping the holes for the Barrel Locking block and Takedown screw.
Now I focused on the PCAMA chassis. I had to mill the slot to accept the Kidd Rear Tang.
Using a ½" EM to mill out the slot. Then a 3/8" EM to drill the hole for the threaded insert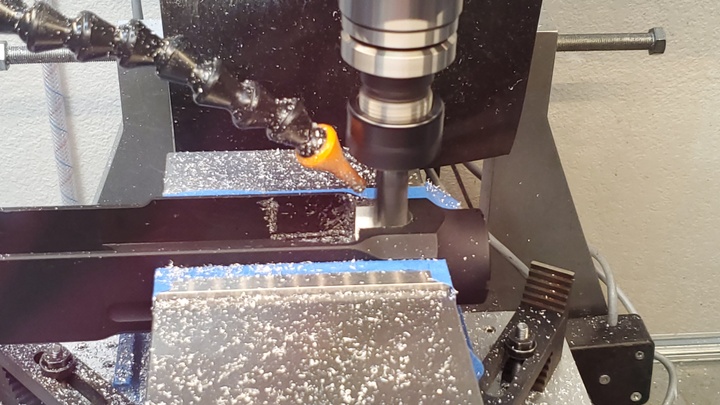 Using my 4" Kurt vise, I pressed in the Kidd's threaded insert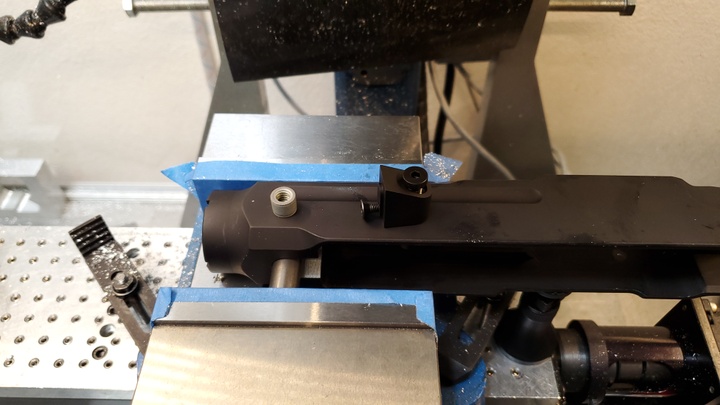 Here is a view of the slot with the insert installed.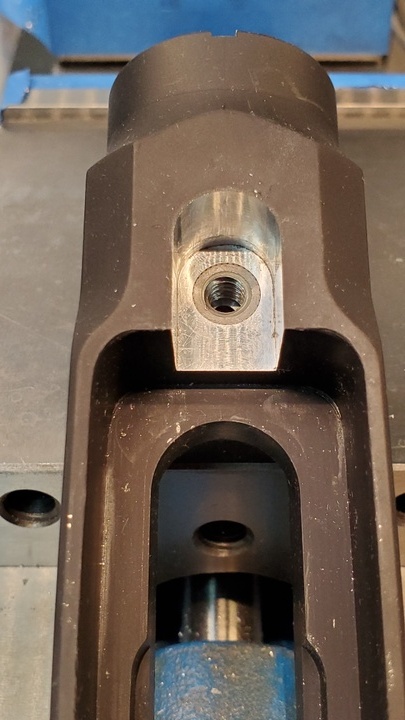 For the finishing touch and final bit of machining… I didn't like the extended cocking handle
on the Volquartsen CNC Bolt. So I made a small offset plate and cocking handle.
I fabricated from a piece of 4140 plate and steel round stock.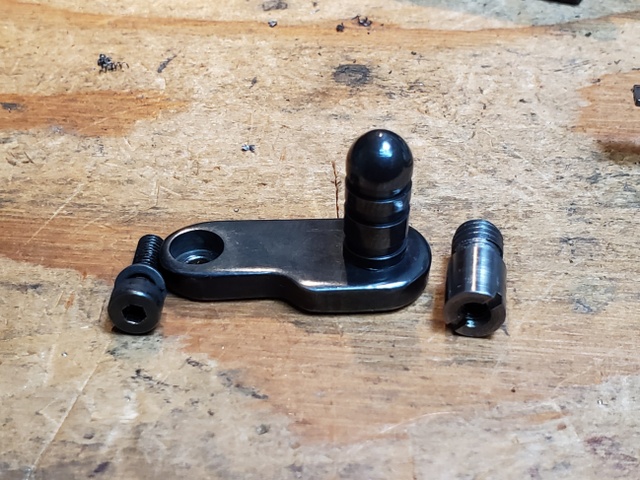 And the final results mounted…..
I hope this will lessen the chance of a bounce-back Stovepipes..
So here she is all dressed up….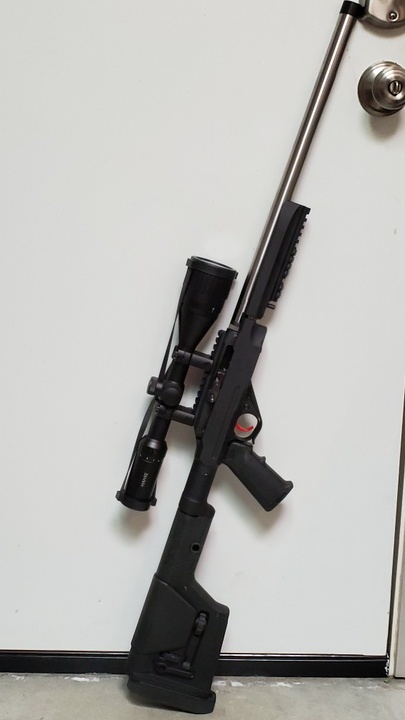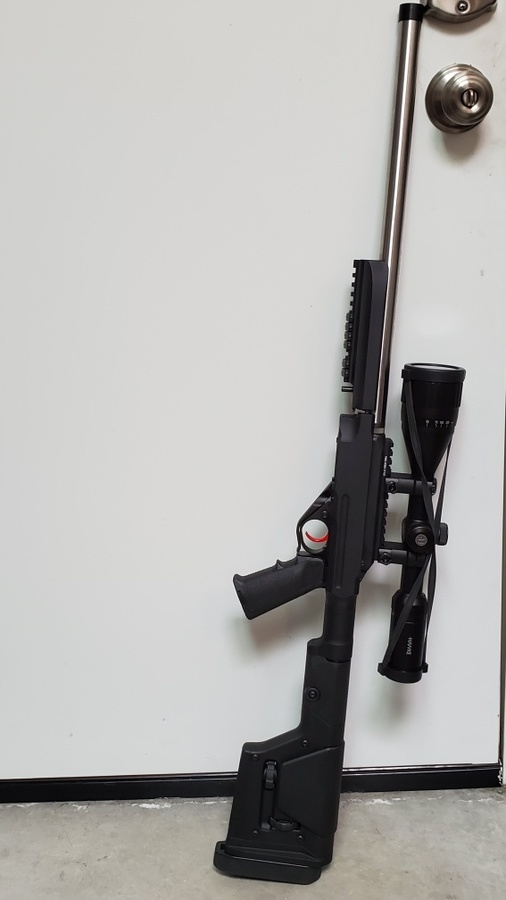 This all for now next comes the Range Report…….
Stuart