Well I have been tunning on my TOZ or you could say personalizing it.
Was going to shorten the barrel down to 16.5-17" but I wanted to slug the bore first.
I had my machinist friend make me a simple bore guide out of aluminum and it turned out very good.
So on with the bore slugging & I found that there is a choke where they put on the front sight band...so I am not going to shorten the barrel...oh well.
My TOZ does indeed have a LH twist rifled barrel. (anybody have LH barrel twist wind charts)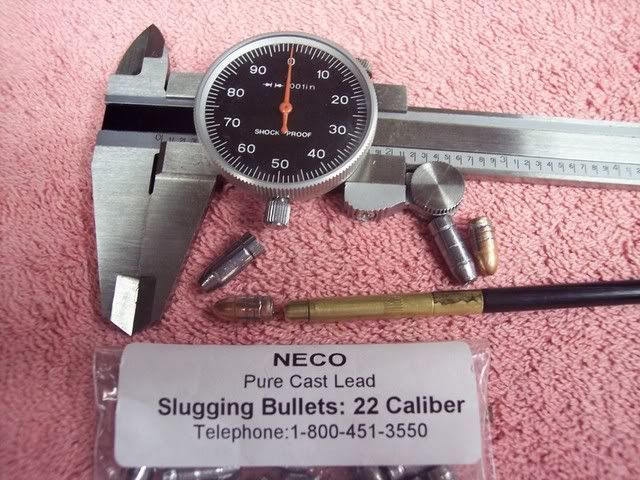 But in this picture you can see the alum. bore guide with most of my cleaning supplies.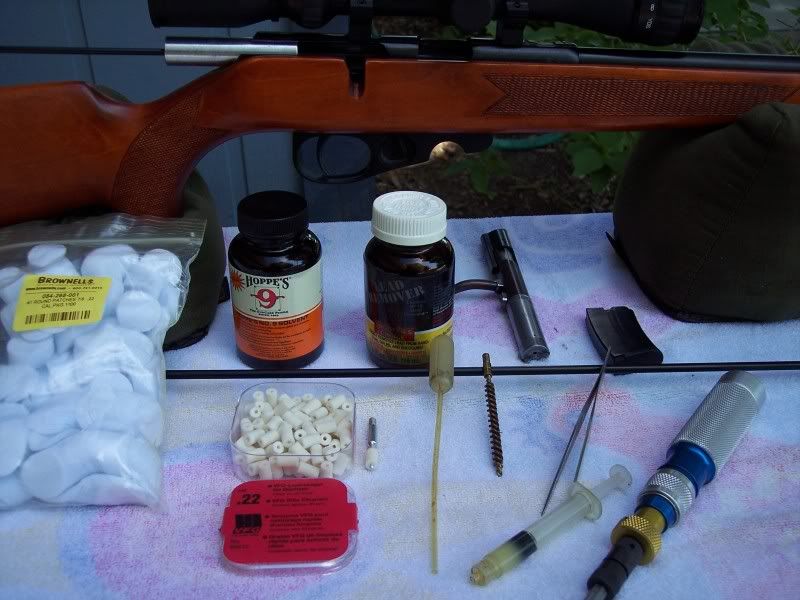 I have a .17 cal rod with a .22 cal. jag adapter in the bore in the picture.
Can use a .22 cal rod but must break the action down & remove the ejector plate.
The next thing I done was disassemble the complete receiver & bolt, cleaned & de-oiled everything.
Then got all my wet dry sand paper out & my Dremel with the rubber abrasive bit.
De-burred & knocked down any Sharp edges, then I sand papered all the metal to metal wear areas....like 320,400,600,1200 then down to 1500 grit paper for the final finish
After all that I put the action all together now its time for the JB bore paste...smered all over all the working bolt parts & inside of the receiver.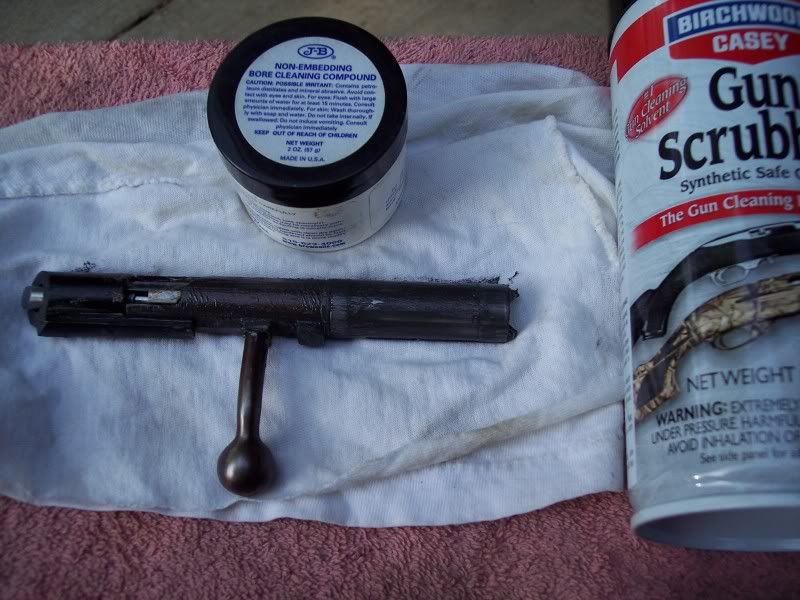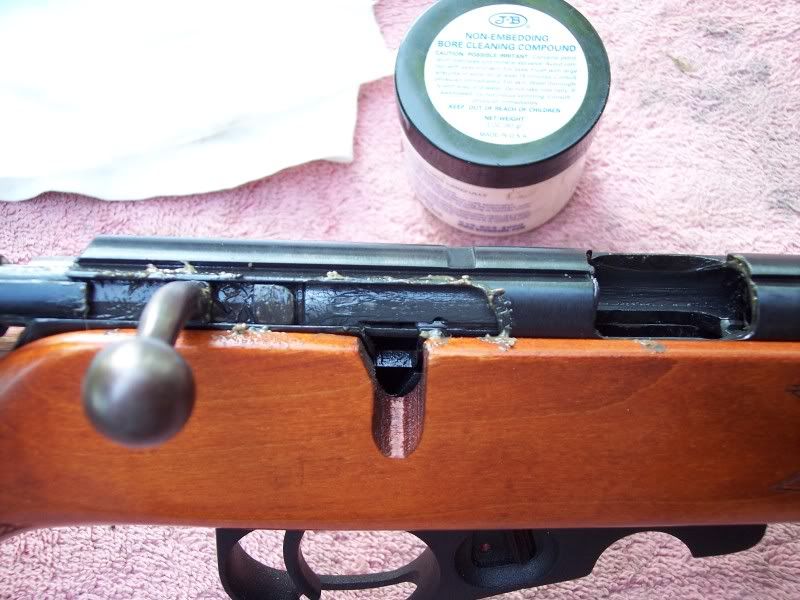 My bolt was just fine with the bolt lift up & down but just OK forewords & back so I did most of the work there....forwords & back 75-100 times.
Then its time take every thing apart & give all the parts a very good cleaning.
See all clean.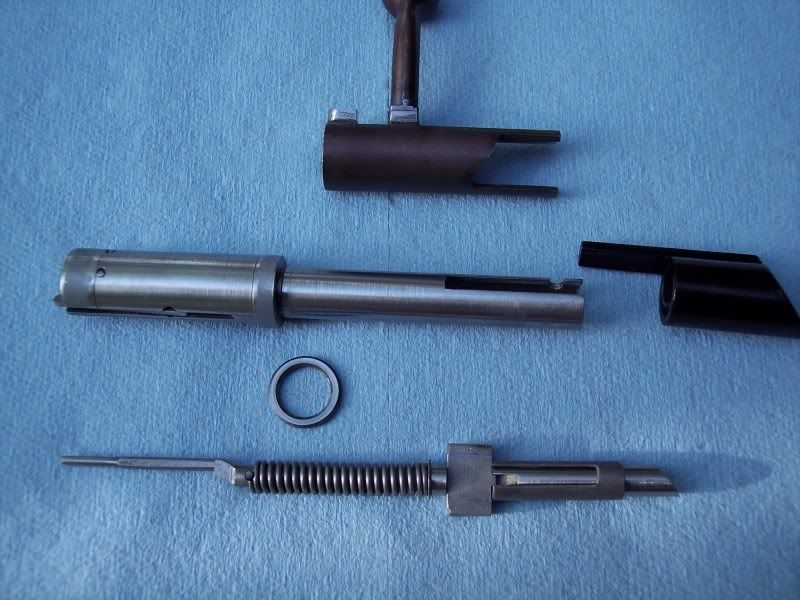 Everything is re-oiled & greased.....nice & slick now...
One more thing is I polished 1 of the sear levers to get rid of the grainy creep. She has a very nice trigger.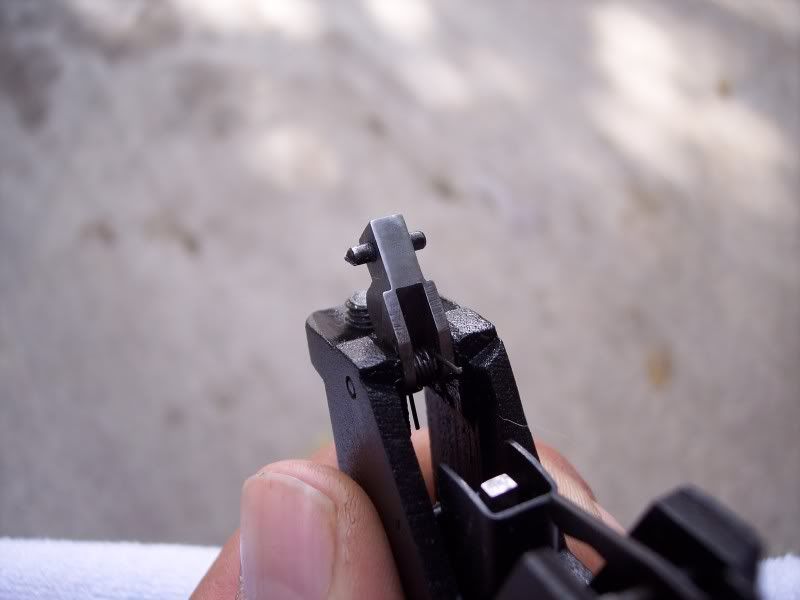 My extractor claws need a little tune up but I couldn't get the pins out...will work on that down the road.
Now I get a little carried away with my tune ups ....but is fun to do & very rewarding with the bolt cycling.
Ya never know when you get in a fire fight with some squirrels in the woods.
I did this exact thing to both of my 2 CZ's ....they needed it very bad & can cycle the bolts with two fingers now.
Also did some JB bore treatment to my CM-2's cocking cams.
I will work on the stock a bit later down the road...just going to take my time.
Ya know shoot a little then tune a little.
Swiss