BIATHLON MODEL 7-2KO version 02 Basic (BI-7-2KO Basic)
- (Биатлон-7-2-КО исп. 02 Basic)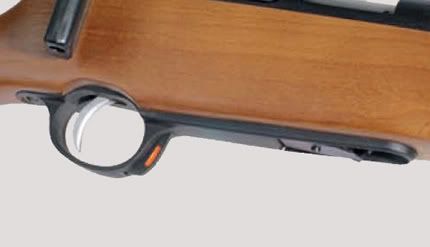 BIATHLON MODEL 7-2KO
Hunting Rifle (BI-7-2KO) - (Биатлон-7-2-КО)
Biathlon 7-2 KO Version 05
- (Биатлон-7-2-КО исп. 05)
Quote:
BI-7-2KO hunting rifle
The "BI-7-2KO" hunting rifle is intended for hunting feather and small game. The rifle is built on the basis of the "Bl-7-2" sporting rifle and retains all its positive qualities: accuracy and compactness of fire, convenience in operation.
The receiver, front-sight base and sight bed are made integral with the barrel. The receiver is provided with a rail to mount an optical sight.
The rifle allows to adjust trigger pull, travel and trigger release character by means of the adjusting screws, without stripping the rifle.
The single-column, interchangeable, five-round magazines are held in a magazine chamber.
The stock features a pistol grip.
The iron sights allow to deliver aimed fire at two ranges: 25 m and 75 m.
Used for firing are the 5.6 mm (.22 LR) rim-fire Russian made and international cartridges.

SPECIFICATIONS
Caliber: 5.6mm (.22LR)
Accuracy: 3 groups of 5 shots at 50-metes, mean spread not exceed 25mm
Magazine capacity, rounds 5
Weight of rifle (without optical sight and accessories) 3.5 kg
Trigger pull, adjustable, within 4.9 to 9.8 N (0.5 to 1.0 kgf)
Overall dimensions: Length 1000mm, Width 85mm, Height (w/optical sight) 260mm


On Customer's order the rifle may come complete with an optical sight and mounts to accommodate it.
Factory Information:
http://www.izhmash.ru/eng/product/bi7-2.shtml
Factory Manual:
http://gunshowonthenet.com/Gun_Manua...A_Biathlon.pdf
Accuracy Claim:
http://www.armrus.com/info/e_armDetail.php?mod_ID=1
Quote:
The impact group at 50 meters do not exceed 1 inch.
Review:
http://www.decadefirearms.com/pdf/TS0405.pdf
http://www.gunweek.com/2004/feature0801.html