| | |
| --- | --- |
| whats your favorite shotgun now? | |
Join Team RFC to remove these ads.
07-22-2016, 09:36 AM
Join Date:

Sep 2013

Location:

Clinton, Arkansas

Posts:

371

TPC Rating:

0% (0)
I have a Browning auto 5 that I got for Christmas when I was 16. I am now 67. I have never had one problem with it, and it has been fired many thousands of rounds..



Sent from my SM-G920V using Tapatalk
07-22-2016, 06:05 PM
Join Date:

May 2006

Location:

Ohio

Posts:

181

TPC Rating:

0% (0)
Probably my never-fired, once cleaned Rem. 11-87 12ga.; won it in a raffle. Mostly in to benchrest now. I did get to shoot my uncle's 12ga. Dbl-bbl in the 60's( probably made 20's-40's?). In high school we used to try both barrels at same time&see who would still be standing!!! Had to watch out for frt. trigger hitting your 2nd trigger finger!!
07-22-2016, 07:38 PM
Join Date:

Sep 2005

Location:

North Jersey

Posts:

2,622

TPC Rating:

0% (0)
Beretta onyx o/u in 20 gage.
Browning sxs in 20 gage.

Although I do love my Benelli Montefeltro Silver in 12 gage.

Wouldn't mind a Franchi Fenice in 20 gage but my gun buying days are over. I have too many as it is. Been jonesing for an Omega Planet Ocean so I'm saving for that. Instead of having it locked in the safe most of the time , I can wear it all the time.
__________________
I ain't on the left and
I ain't on the right
I ain't even sure I got a dog in this fight
......Tom Petty
07-25-2016, 08:35 AM
Join Date:

Dec 2006

Location:

Raggedy Edge of the 'Verse

That Evil Admin Lady

Posts:

21,623

TPC Rating:

100% (23)
__________________
Stalkin' Blues
07-25-2016, 10:38 AM
Join Date:

Aug 2004

Location:

Colebrook, NH

Posts:

1,210

TPC Rating:

0% (0)
Quote:
Originally Posted by
Sophia
There are places that don't allow hunting with CF rifles (though some allow use of rifles chambered for handgun cartridges). They use shotguns with slugs instead.... and scope them for proper shot placement.
I would assume the 870 in question is a rifled barrel version intended primarily for sabots based on the cantilever mount & lack or iron sights.
We have some areas in NH that are apparently shotgun-only districts regarding deer hunting, but in the northern region this isn't the case. I can see the rational in many areas where these requirements exist for using a scope rifled slug gun to stretch one's effective range; for 100-125 (maybe) yards and under, I would prefer the lower costs & greater built-in utility of using a smoothbore. With a true non-rifled "shotgun" you have greater ammo options at lower cost, and though I know of many folks who scope them with good results, I feel they are naturally suited to open sight work
Kind Regards,
~ SH ~
07-25-2016, 02:28 PM
Join Date:

Jun 2007

Location:

The piney woods of south Arkansas

Posts:

39,706

TPC Rating:

100% (36)
I started with a plain Jane 870 that is still a favorite for use in foul weather and for hunting. But I shoot trap and sporting clays now, mostly because my son through 4H got hooked on it. He shoots a Lanber O/U and I've really enjoyed my CZ 712T. I shoot only 400-500 rounds of ammo a year through it, and though it's not a Beretta or Browing, it has been reliable and more than accurate enough to shatter the birds.
__________________
Of all tyrannies, a tyranny sincerely exercised for the good of its victims may be the most oppressive. - C.S. Lewis
07-25-2016, 04:50 PM
Join Date:

Apr 2002

Location:

world of pain

Posts:

6,366

TPC Rating:

100% (7)
I went through several shotguns over the years until I was finally able to locate what really liked at a priced I could afford. An English style side lock side by side, made by Grulla Armas of Spain, Model 209E 12 gauge.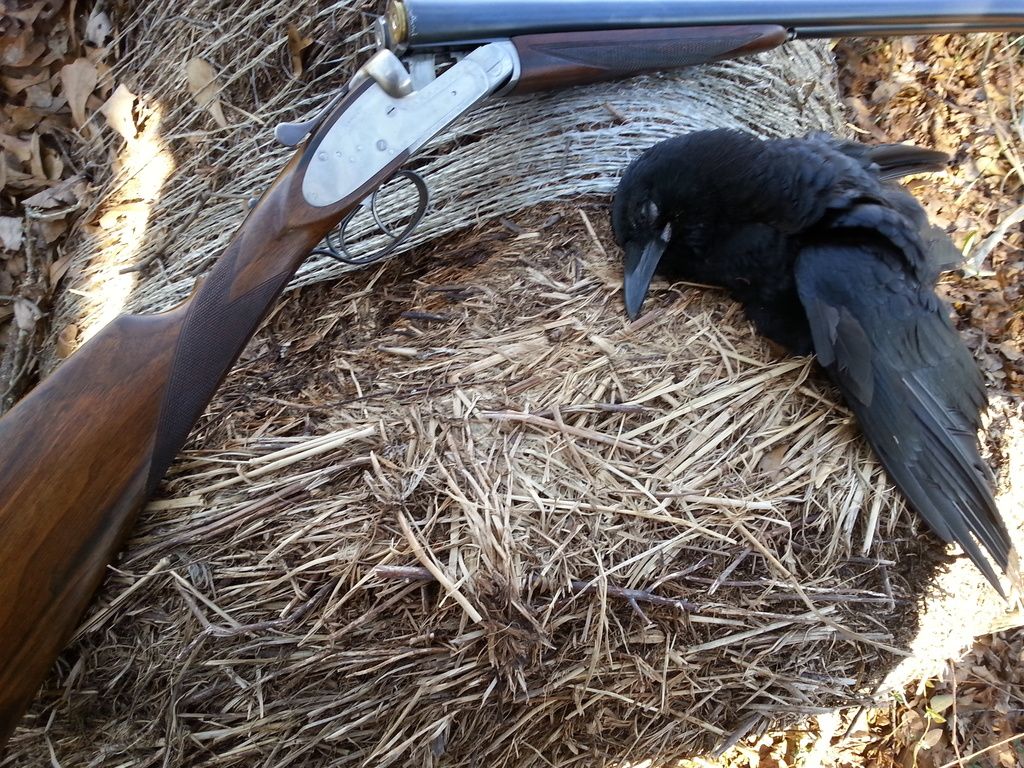 07-26-2016, 08:42 AM
Join Date:

Apr 2012

Posts:

3,206

TPC Rating:

100% (5)
Shotguns are the most "personal" of all guns, IME. Either I connect with them, or I don't. Several have come and gone but I have two that I've had for many years, they fit me like they were made for me, and I've worked up custom loads for a variety of applications to maximize effectiveness in various shooting scenarios.

Remington 3200 26" w/ Modified and IC chokes
Savage Fox Model B 20 gauge, 26" w/ Modified and IC chokes (not a high-end gun but one of most satisfying I've ever owned)

A few years ago I picked up a Browning Auto 5, cut the barrel back to 18.25", replaced the lengthy factory recoil pad with a shorter one, had the chamber polished, forcing cone lengthened, and Sporting Clays screw-in chokes installed. Shortening the barrel transformed the gun handling wise, and the Auto 5 quality is evident every time you handle it. It has become a favorite lately because it's versatile and just fun to shoot.
07-26-2016, 09:52 PM
Join Date:

Apr 2015

Posts:

937

TPC Rating:

100% (19)
---
Mine is my passed down by my Grandfather 1926 Winchester model 12, 24" barrel with polychoke modified after he returned from the Pacific in WW2, 12 gauge nickle steel barrel without a doubt. It makes my beloved early 870 Wingmaster feel cheap! From birds to deer to home defense, all areas are covered with 8 pounds of steel. Gives you that warm and fuzzy feeling
Posting Rules

You may not post new threads

You may not post replies

You may not post attachments

You may not edit your posts

---

HTML code is Off

---
All times are GMT -5. The time now is

09:15 AM

.