Great write up and I agree with you completely!
The gun safe market is one of deception, where cosmetic embellishments are used to hide major security vulnerabilities. It often results in consumers winding up with an inappropriate safe for their application, setting the stage for a huge loss.
This clever marketing has convinced many consumers that a cheap safe is "good enough"...in reality, they actually make it easier to have their items stolen due to asset consolidation in one poorly made and easy-to-defeat locking container. Since a few different types of cordless tools can literally cut those 10-16 gauge steels into half in a matter of seconds (heck...a fire axe can penetrate armor that thin...), this is making it even easier for the criminal than scattering and hiding the assets. They can now steal everything from one location. The misleading advertising attempts to deceive consumers into believing that RSC safes offer a moderate-high level of security, that all Group 2 locks are the same quality, and that Group 2 locks are high-security locks...yikes!
I sold safes for a while and I was always amazed how many people considered price over everything else. They wanted the cheapest thing and in their mind that was substantial security/fire protection and so they saw no need to get something pricier. They didn't want to hear anything else...and so many would wind up putting collections worth well over $50,000 into a RSC safe or a safe with no rating at all. It appears that this demand for cheap safes has resulted in a market flood in which steel is dramatically reduced to save money on the materials cost and save money on the shipping. To further cut costs, shallow welds and low-quality locks deliver an even less secure (and less reliable) product. Crappy boltwork further cuts cost. With all of the marketing, it's easy to conclude that big box stores sell safes that are actually secure. But that is rarely the case. If one puts expensive contents in a RSC or a non-rated safe, in a matter of seconds or a few minutes it can easily end
like this
:
or this
or perhaps this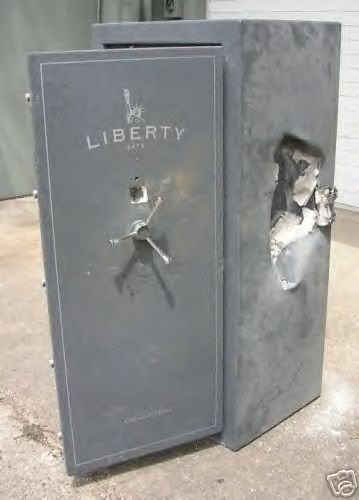 I find there to be a night and day difference between an employee at a big box store and a safe expert/locksmith. The latter is knowledgable, able to assist in finding the correct product, and can follow through to ensure everything is installed and operating correctly. It's worth the investment to buy from the safe expert IMO. They will ensure that their customers have fire and/or burglary protection that is appropriate for one's specific application. Additionally, it forges a relationship in which the buyer has someone local to contact should anything ever go wrong (for a rapid response), or for periodic service.
Understanding these shortcomings of most gun safes can help avoid a potentially disastrous situation, and your write up hits the nail on the head... I often advised customers that if price was a major issue that a used security safe was a much more attractive option than a new gun safe given how dramatic the difference in between the typical gun safe and a true security safe (*with exemption to the hand full of true high-security gun safes.) I also feel that a B-rate safe is a good minimum rating for when burglary resistance is desired, but pricing or weight is an issue...a good B-rate safe can present a formidable barrier that can guard a collection of moderate value, giving substantially greater attack protection than a RSC safe built only to minimum specs.
------------------------------------------------------
This is one of my favorite videos of where advertising meets actual build quality. The maker has promoted this product as being able to survive a "brutal attack". In reality, this was pretty primitive as far as attacks go. It was likely committed by a single unskilled individual with only hand tools. They may have been hopped up on meth (or had only one arm.) This attack destroyed the safe's bolt work (and the safe nearly failed completely.) If an attack this simple managed to do this to the safe, it illustrates the limited amount of security one should expect.
https://www.youtube.com/watch?v=A_1M6jTqES8
This video also shows why locking bolt thickness is
NOT
all that important (what is important is the boltwork itself and what the bolts are locking into (e.g., a bolt channel)...gun safe makers use the "massive super duper jumbo locking bolt" pitch to distract attention away from the inner boltwork itself and/or the locking and relocking mechanisms.)
-----------------------
By comparison, this
IS
a "brutal attack", performed by the UL safecracking team.
https://www.youtube.com/watch?v=OtbGUbeM860