| | |
| --- | --- |
| 1922m2 | |
Join Team RFC to remove these ads.
11-08-2015, 08:17 AM
Join Date:

Dec 2012

Location:

Lake Worth, Fl

Posts:

586

TPC Rating:

100% (14)
I'm on the fence on this one . I've customized a lot of military rifles , professionally . It was my and my uncles bread and butter for many years . It was at a time when it was good to be different , experiment , ant push the boundaries . I think it's a beautifully crafted , well executed exhibit of what the particular owner wanted . I would bet he had a few Weatherbys and maybe drove a red Corvette . He did spend some good change on his dream rifle and I hope he had the chance to use it the way he wanted to .
If all were left original , if it be rifles , cars , whatever , what a boring and Uninventive world it would be . No PPC , No 17 rimfires , no world records being broken in target shooting , speed records , etc . Just merchandise ,designed by engineers , suitable for everything ,perfect for non .
It's a wonderful rifle and if I knew how to post pics I would show one of my dream 1922 M-1 .
Gary
11-08-2015, 09:01 AM
Join Date:

Jan 2005

Location:

Eastern Arkansas

Posts:

7,123

TPC Rating:

100% (26)
Quote:
Originally Posted by
sicumj
I can understand the historical significants of a rifle like this. But it was common and still is too take outdated military weapons and convert them to modern aesthetics . We have no history on this rifle. Some see it as destroying a relic desroyed. I see the professionalism and labor of love put into this weapon for one purpose, to use. Who ever did this put much more money in it than t was worth. Money I may add they would not get back. To someone this was a keeper.
To me it is a keeper and will be a keeper to my son.
11-08-2015, 10:33 AM
Join Date:

May 2003

Location:

Great American West

Posts:

1,943

TPC Rating:

100% (10)
I think it's cool and I'm a devout collector of things like Kimber of Oregon and Win 52. Heck, he bought it sporterized/modified and it fits his need for a left handed rifle, so I don't see the big deal. Shoot it, enjoy it and if it needs some other modification to make it right, so what, it's his gun. And I have a neat 1922 MII that's darn sure not a safe queen either, I bought it with a few little scars and doinks, and I might accidentally add one or two.
__________________
To Ride, Shoot Straight, Speak The Truth
NRA Benefactor Member
11-08-2015, 10:59 AM
Join Date:

Feb 2013

Location:

Reno Nevada

Posts:

613

TPC Rating:

0% (0)
I look at a different way. If I was going to build my dream custom .22LR rifle what action would I use? A Springfield 1922M2 and nothing else. I notice everything is custom except the action,the stock,barrel,and possibly the bottom metal,I can't tell. My point is who knows what the owner used as a donor to make this rifle. It could have been just a action or a well used salvage rifle. I have seen a few "ratty" rifles in my time and purchased them as "donors" for customs. I think the OP got a nice custom on the best .22 action ever made....congrats.
11-08-2015, 11:56 PM
Join Date:

Jan 2005

Location:

Eastern Arkansas

Posts:

7,123

TPC Rating:

100% (26)
Quote:
Originally Posted by
mgb8345
Bob,
If my email provider hadn't sent your message toy spam folder, I would be the extremely proud owner of that rifle. I love Springfields. If I had Bill Gates money I would buy everyone of them I could get my hands on both 1903s and 1922s. I even saw a 1922 in a type C stock once I would have loved to have had.
11-09-2015, 09:10 AM
Join Date:

Jun 2009

Posts:

5,353

TPC Rating:

100% (33)
Hey Reb,
Nice rifle, and you are obviously going to use and cherished it, so I don't understand all the heartburn over this.
Never mind the fact that, given the styling, those modifications were likely done many decades ago, this thinking that anything old (and desirable, as only the anointed define it) must be preserved, as is, for some morally superior, future collector world is baffling to me. If they really are sincere in their desire to preserve pieces of history, perhaps all the collectors should donate their selfishly hoarded away pieces to a museum. Doing so would convince me they are truly dedicated to "show(ing) some responsibility and respect for history and workmanship of a bygone era."
These rifles were created as tools with a specific purpose, and just because a select few have now decided these tools are sacred artifacts does not alter the fact they were meant to be used. Taken to a similar extreme, one could say using a 1922 in any way other than its intended purpose of training troops, such as merely fondling it or occasionally shooting it for personal gratification, is a most
egregious departure from its original, sacred purpose of protecting and preserving human life
. Reb obviously shares the appreciation for the precision and craftsmanship of the 1922s, otherwise, he would just shoot squirrels with a left-handed Marlin or Savage.
I understand the collector passion, but we all have our own passions, such as repurposing, and calling that rifle a "most egregious case of mutilation" goes way too far.
End of rant
TBR
11-09-2015, 11:03 AM
Join Date:

Apr 2009

Location:

Ohio

Posts:

2,619

TPC Rating:

100% (1)
The original posted rifle is in a Fagen stock. These could be bought with the inlay done by Fagen.
It looks to be mid grade wood and might have been inleted by the Fagen company. Buyer might have did the barrel channel. Would have to see the wood to metal fit to know if it was a pro inlet job.
One must remember that after WWII, solders did NOT want to be reminded of what they just went though. What firearms they brought back, were used to put food on the table. They didn't want a heavy military rifle to lug in the field in search for food. So the trimmed down what they brought back. As late as the 1970's, you could get a Mauser for $50. Remington's and Winchester's were $300-400+. I built my first sporter in 1973 from a chopped up K98 that I paid $30 for. It was stolen later on, so I built another from a K98k that was also chopped up. This one I also re-barreled to 25-06. It is one of the best shooting centerfire rifles I own. The rifle that got me into collecting trainers, is a sporterized German GECO. It appears to have been done in Germany at the end of the war: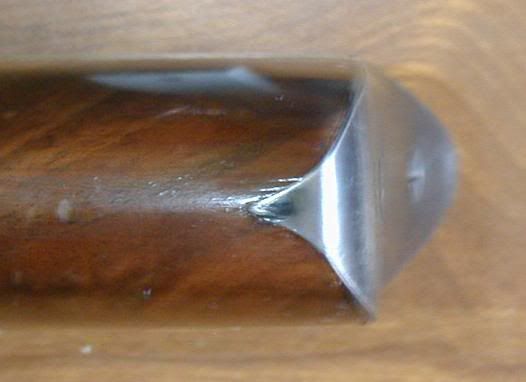 As said, these were tools back then. After movies like "Saving Private Ryan", the collector bug hit and everyone wanted a WWII military rifle. People started paying higher prices to get what they wanted. Didn't matter if it was higher than the going rate, they paid. Thus the boom on military firearms. The internet made it worse as now you can find them easier and you also know what they are.
11-09-2015, 01:30 PM
Join Date:

Jan 2005

Location:

Eastern Arkansas

Posts:

7,123

TPC Rating:

100% (26)
Quote:
Originally Posted by
citation
Anyone who reads my posts would see that they are universally positive, complimentary, supportive and reasonably informed. I am not a combative participant. However, this is the most egregious case of mutilation I believe I've ever seen. I won't go into my educational background to support my point, but will say it is every bit equal to yours. When you post something like this in a forum such as this particular one, you should expect a negative reaction from someone. This is, by and large, a collector sub-forum by its nature.
I congratulate you on you education achievements, now please work on your diplomacy and presentation skills. If this is the most "egregious case of mutilation" you have ever seen then you haven't seen a lot of firearms. I wish this was the most egregious mutilation I had ever seen.
---
Last edited by reb henderson; 11-09-2015 at

04:50 PM

.
11-09-2015, 02:16 PM
Join Date:

Jan 2005

Location:

Eastern Arkansas

Posts:

7,123

TPC Rating:

100% (26)
11-09-2015, 09:03 PM
Join Date:

Mar 2010

Location:

kansas city

Posts:

1,700

TPC Rating:

100% (7)
Dang it Reb! Spent the last two hours searching all the auction sites! Looking for one of these gems thats already butchered so I can butcher it up more and make one that matches my Savage! Guess its not altogether a bad thing...seen lotsa cool rifles for sale tonight!
Posting Rules

You may not post new threads

You may not post replies

You may not post attachments

You may not edit your posts

---

HTML code is Off

---
All times are GMT -5. The time now is

12:03 PM

.