| | |
| --- | --- |
| X-22 Backpacker stock for Takedowns | |
Join Team RFC to remove these ads.
05-23-2017, 03:19 AM
Join Date:

Nov 2015

Posts:

215

TPC Rating:

0% (0)
05-24-2017, 11:44 PM
Join Date:

Mar 2015

Location:

SW Utah

Posts:

637

TPC Rating:

100% (1)
VQ barrel?
---
Latecomer to the thread here. I see that a couple guys asked if this stock could be used with the Volquartsen carbon fiber barrel - did that question ever get answered with certainty? I favor the VQ because of the ability to mount a scope on the cantilevered rail, instead of a red dot or reflex sight using the Magpul optic adapter. I'd plan to use QD rings. My current setup, using a scope mounted on the rail on the receiver, doesn't hold zero satisfactorily when taking apart and reassembling.

Thanks!
05-28-2017, 03:18 PM
Join Date:

Apr 2017

Location:

Upstate New York

Posts:

84

TPC Rating:

0% (0)
Quote:
Originally Posted by
Bullpup-one
Knilc,

Using the 10/22TD X22 hunter.stock and love it. The only positive I see in the backpacker is that it is lighter.

BP-1
(Sorry about the late reply. I saw how many pages it had and thought I'd just drop my $.02 and nobody would respond.)
I
like Magpul's stuff but
my wallet
sometimes doesn't, like when I had to buy a Mossberg 590 Action Tube ($75) and the "proper" AT Nut ($15) to make the MOE Forend ($30) fit. But anyway ...
I'm torn between the Hunter & the Backpacker, but that decision will have to wait. I wish I could have both, but it's not fiscally responsible for me to do that. I would love to own another TD and have
both
stocks, but for all that I might as well buy a
non-TD
10/22 & get the
not-TD
Hunter stock. But like I've said (elsewhere on these forums), a stock is not a priority for me.
BTW, I don't see the weight of rifle in the Hunter being an issue for me because I wanna mount a bipod anyway.
05-28-2017, 03:44 PM
Join Date:

Apr 2011

Posts:

1,147

TPC Rating:

100% (6)


I recently got slings, and mounts, for 3 rifles. I chose Magpul because I didn't want an expensive rifle hanging on a cheap sling, or mount, and run the risk of something breaking, or coming apart. It could cost the destruction of the rifle, or worse yet, your life. I know that sounds dramatic, but I have peace of mind because I know I can trust Magpul.

I ordered the X-22 Backpacker stock, and optics mount. My tracking numbers show delivery this coming Wednesday. I have a Burris FF III waiting for it. Should be a great combo.
05-29-2017, 11:34 PM
Join Date:

Apr 2017

Location:

Upstate New York

Posts:

84

TPC Rating:

0% (0)
Quote:
Originally Posted by
weblance
I agree... but... one nice thing about anything Magpul, its excellent, well thought out gear, and made from the best materials possible. ...
I agree. I bought an MS1, put a Paraclip in front and a standard QD on the back and fell deeper in love with my shotgun. I don't own many guns, so I feel like I can get away with just using the aforementioned sling setup on an all of them. When I upgrade my TD, it's
going to be
in a Magpul stock (most likely the Backpacker).
I think it's funny when you go to the range and see guys with an expensive looking AR-15 or other MSR in a cheapo hard case. How does a [probably] $1,000+ gun deserve merely a [sub] $50 case? Even when I only had my barebones Mossberg 500, that baby was sitting in a Pelican 1700 case. I can even fit my TD in there with it.
05-31-2017, 09:50 PM
Join Date:

Apr 2011

Posts:

1,147

TPC Rating:

100% (6)
I received my X-22 Backpacker stock, and Optic Mount today. I think Magpul has hit another Home-Run with this set up. Well thought out, well made, and everything works perfectly right out of the box. I have a factory threaded 16" barrel on this Takedown, and a Burris FastFire III. With my SilencerCo Sparrow attached, it fits nicely in a 23" Galati Gear Takedown Rifle bag.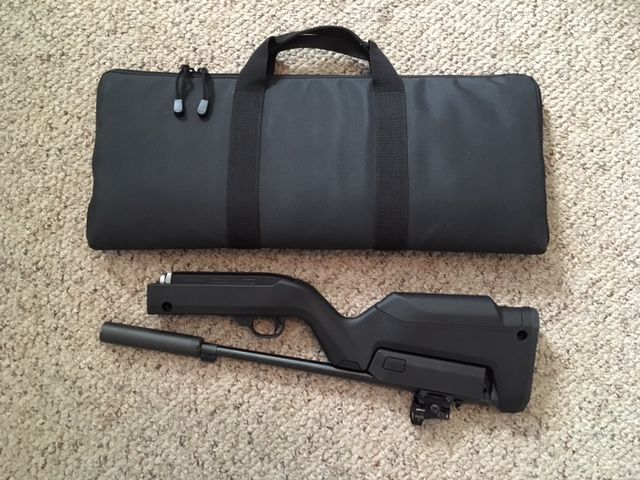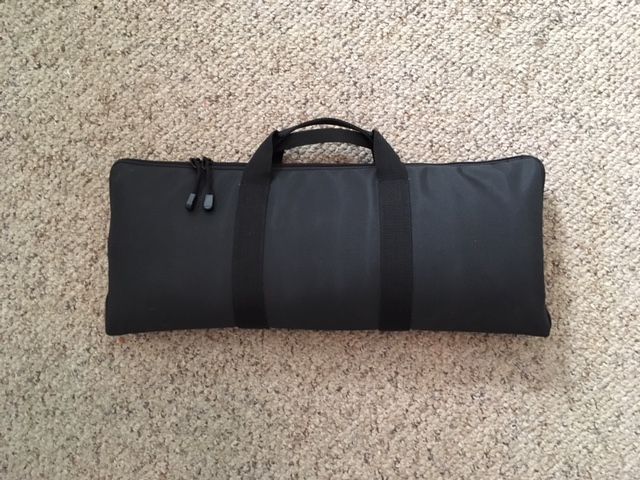 06-01-2017, 08:29 PM
Join Date:

Apr 2017

Location:

Upstate New York

Posts:

84

TPC Rating:

0% (0)
More "YouTubers" should make Backpacker videos. Almost all the current videos are either from SHOT Show or about a different Magpul stock.

And why are "Hunter" & "X-22" in the names of all the stocks? Is Magpul trying to confuse people?
06-04-2017, 06:00 PM
Join Date:

Apr 2011

Posts:

1,147

TPC Rating:

100% (6)
Ive been struggling with what sling I wanted for my X-22 Backpacker Takedown. Since it uses AR style swivel cups, I tried all my tactical slings, and none of them suited me. I really want to use a hunting type sling, and I have quite a few of those I like. But what to do with the swivels? I looked around and found some 1" push button swivels, but I already have 5 or 6 slings equipped with the Uncle Mikes type swivels.
I found the solution.
Grovtec
makes Uncle Mikes style
studs
click to see
that fit the push button type sling cups. You press the button with an allen wrench, and they lock in. BRILLIANT. They also make adapters that go the other way
click to see
hunting style stud to quick detach. I ordered the first type, and should have them soon.
Grovtec also makes a backpack type sling
click to see
that has two padded shoulder straps. I will probably order one of those as well. All Grovtec products appear well made, are reasonably priced, and are Made in the USA
06-08-2017, 08:36 AM
Join Date:

Aug 2006

Posts:

21

TPC Rating:

0% (0)
Got mine in, this is a brilliant design. I was hesitant to order due to the short fore-end, but it actually feels great in hand. This is really what a TakeDown should be.
Sorry if this was mentioned before, but mine ended up having some play at the rear of the receiver (i.e., able to push receiver up within the stock by the trigger then back down). Magpul said this was normal due to the varying tolerances of 10/22 receivers, and per their recommendation was corrected with a couple pieces of electrical tape around the "shelf" in the stock. Snug now.
Now for a QD sling and new sights... torn between a fiber front or replacing the whole thing with a Skinner. Has anyone seen a picture of a Skinner on a "folded up" Backpacker? Trying to help the whole package small/slim, and wondering how much the sight juts out. Guess I can try Photoshop if I want to know bad enough...
Posting Rules

You may not post new threads

You may not post replies

You may not post attachments

You may not edit your posts

---

HTML code is Off

---
All times are GMT -5. The time now is

10:12 AM

.