The
"Shadow Hunter"
is my first attempt to do something to / with a stock Birch Ruger Carbine Stock. Something without using any filler
and no paint.
[IMG]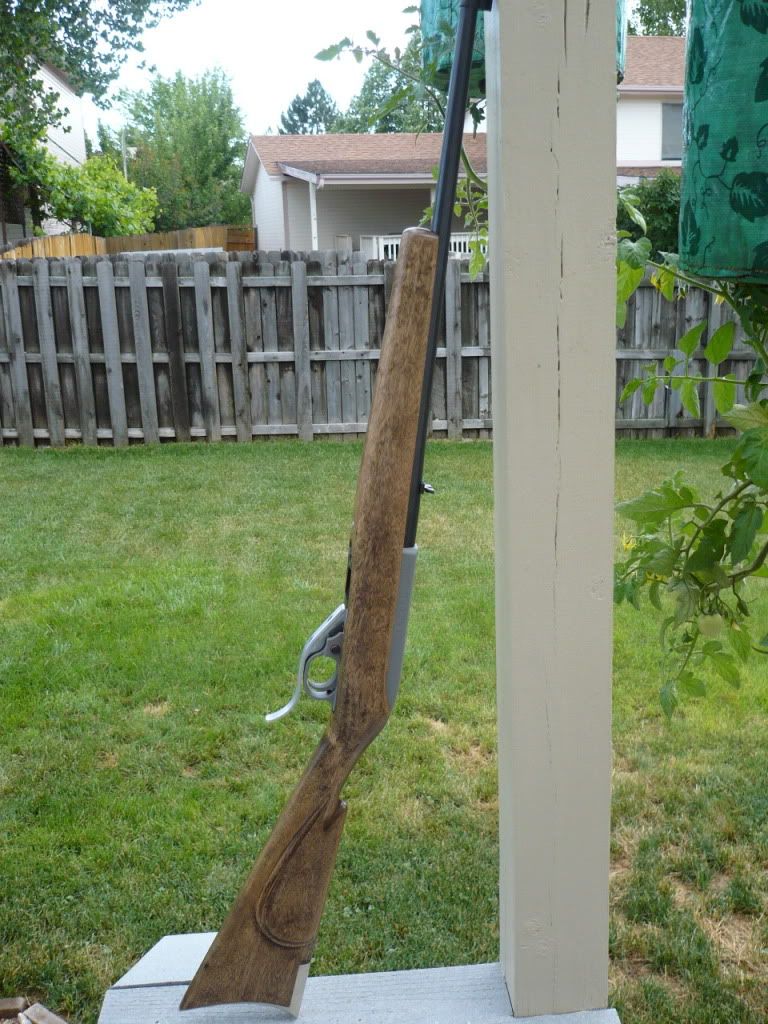 [/IMG]
Like me, you may have asked yourself - Where / how do people get the names for some of these rifles. Well, I got the name Shadow Hunter
from the Shadow style Cheek Piece - hence Shadow - and the Strait Grip With Muzzle Loader style German Silver Butt Plate - hence - Hunter.
PERSONAL OPINION -
I feel I should say right here and now that I really am having trouble finding anything, with the exception of the inletting, I like about Ruger Non-Walnut wood stocks. But what the heck, one can always "paint" the darn thing.
For the finish, I used two heavy coats of Minwax Dark Walnut Wood Finish #2716 letting each coat soak in and dry for two days before
sanding with dry 360 Wet / Dry paper. I tried to sand off as much as could without getting too deep and getting "white spots" and still getting
out the really dark stuff, which looked like a nightmare to me.
Once I was satisfied that the color / texture was the best I was going to get, I covered it with three coats of Minwax Clear Simi-Gloss Polyurethane.
I had to let each coat dry for at least 24 hours before I could get any decent sanding done. I used dry 400 Wet / Dry paper.
So, how did I make it? Here's how -
OBTW -
I probably ought to say that I don't make and follow plans (drawings) for the guns I have, are and will make. For me, plans are like promises - they're made to be broken - and I usually encounter enough bumps and issues during a build that I don't need to be troubled and frustrated by trying to keep up with the myriad of changes and frustrations to changes in pre-established plans. I usually work from constantly changing of What I Want to end up With and what I'm going to Need to Make It Happen.
Back to the build -
Here's the $16 factory Foundation Stock I'm starting with -
[IMG]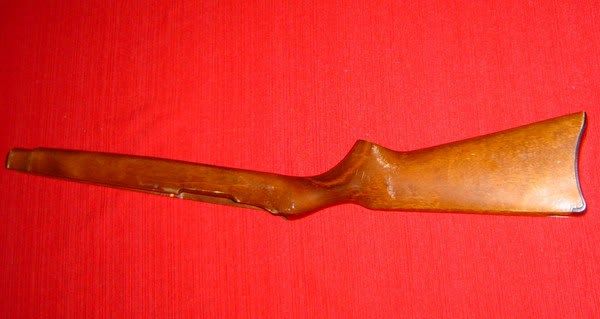 [/IMG]
Since I'm going to convert this stock into a Hunter, I decided early on to make it a Strait Grip. I also like the looks of the Plains Rifle Butt Plate from days of old. I'm going to install a sand cast nickel silver one I have from the old days. I first drew lines for the areas to be removed - the grip and butt end.
[IMG]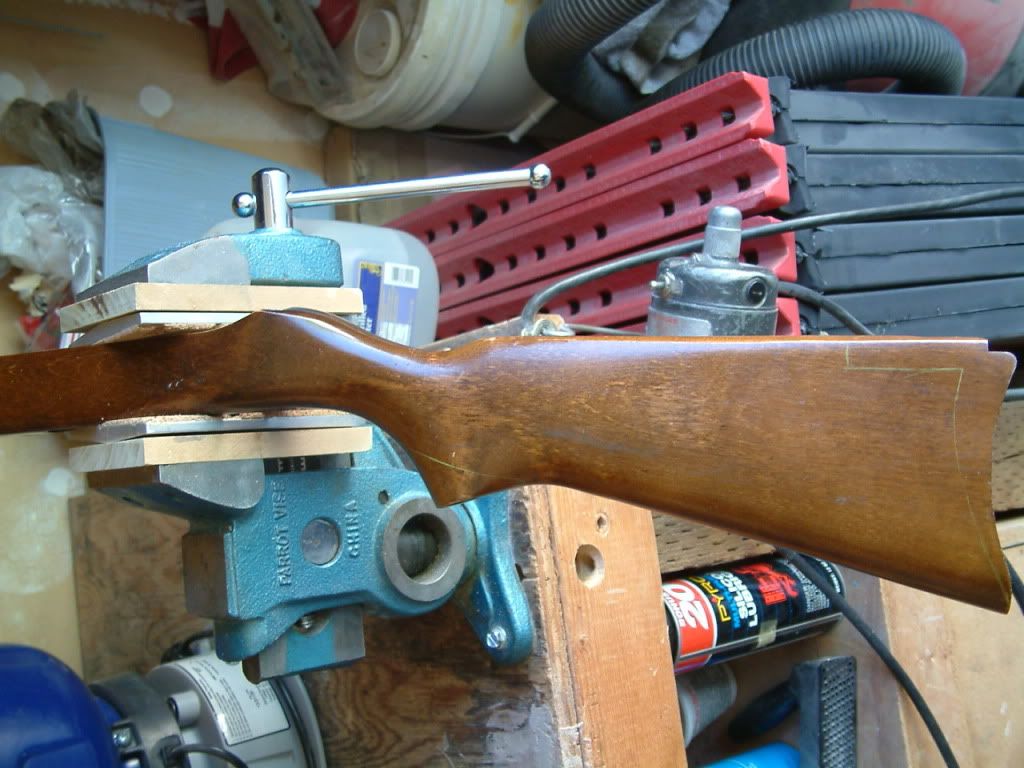 [/IMG]
After cutting them off,
[IMG]
[/IMG]
and starting a rasp cleanup of the grip and as I stood back to see what my alignment was going, I realized something - Flutes - no problem. All I have to do is remove some wood. But something is still missing. Of course, a Cheek Piece. But what style and size? Bingo - this little thing would /will look great with a Shadowed Pancake Cheek Piece. Will / is there going to be enough wood and where will it come from? I'll worry about that when I get there. Oh Duh, I'll just leave it off if I can't make it.
OK, now what? Flutes, Cheek Piece and Butt Plate. Oh yeh, gotta figure in the strait grip so I'll know where the Cheek Piece will go. Oops, gotta do the Butt Plate before the Straight Grip so I can establish the bottom and the top centerlines.
Think I'll just rough in a the Flutes so I don't forget them later.
[IMG]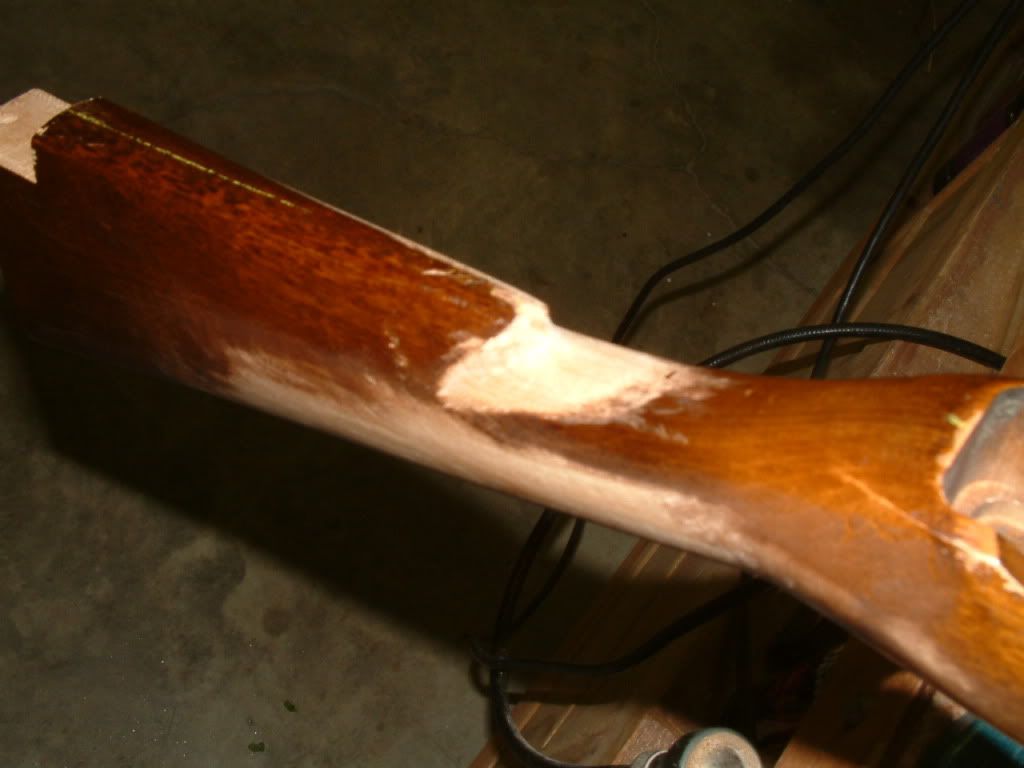 [/IMG]
Now lets figure out where to put the Butt Plate. In order to get as much extra wood for the Cheek Piece, I need to locate it as far to the right as possible. Looks like about 3/16" which will give me about 5/16 Cast Off.
[IMG]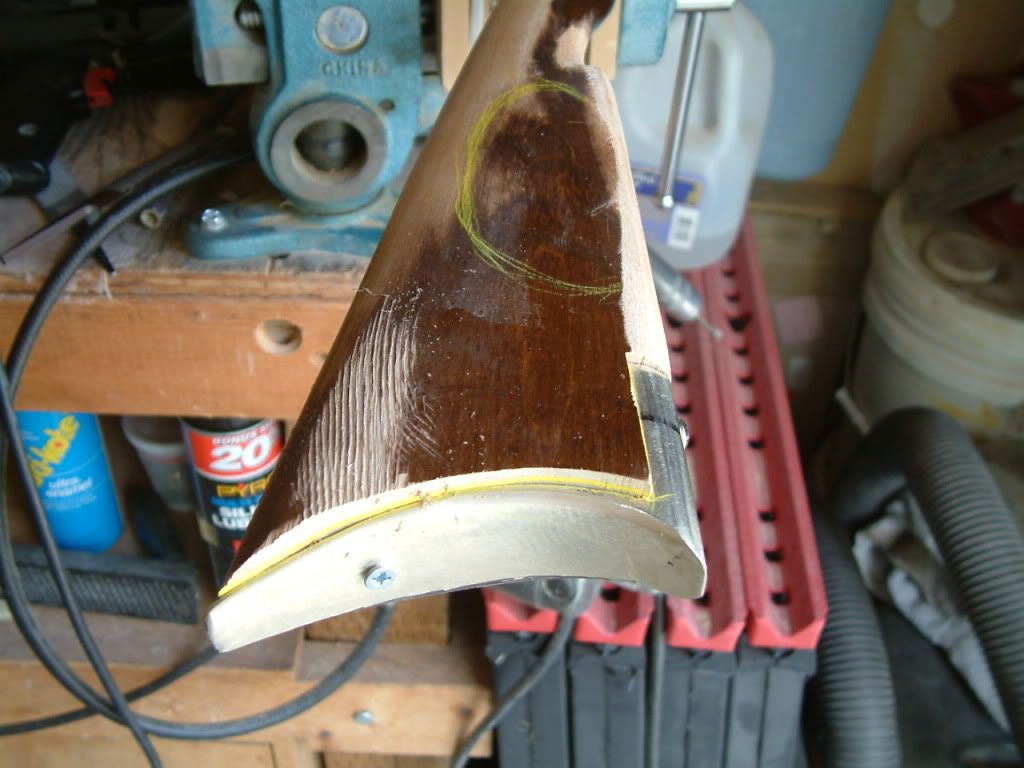 [/IMG]
Due to the difference in the down angle of the new Butt Plate, I had to take some wood off the top of the butt as well.
[IMG]
[/IMG]
Now time to find out if I have enough wood for a Cheek Piece. Great - looks like there's enough,
[IMG]
[/IMG]
but for what style? Looks like Iet the "Long" tang of the Butt Plate thru off my judgement. Looks like I won't have enough for a decent Pancake but will be good enough for a good Classic style. Glad I roughed in the Flutes too.
[IMG]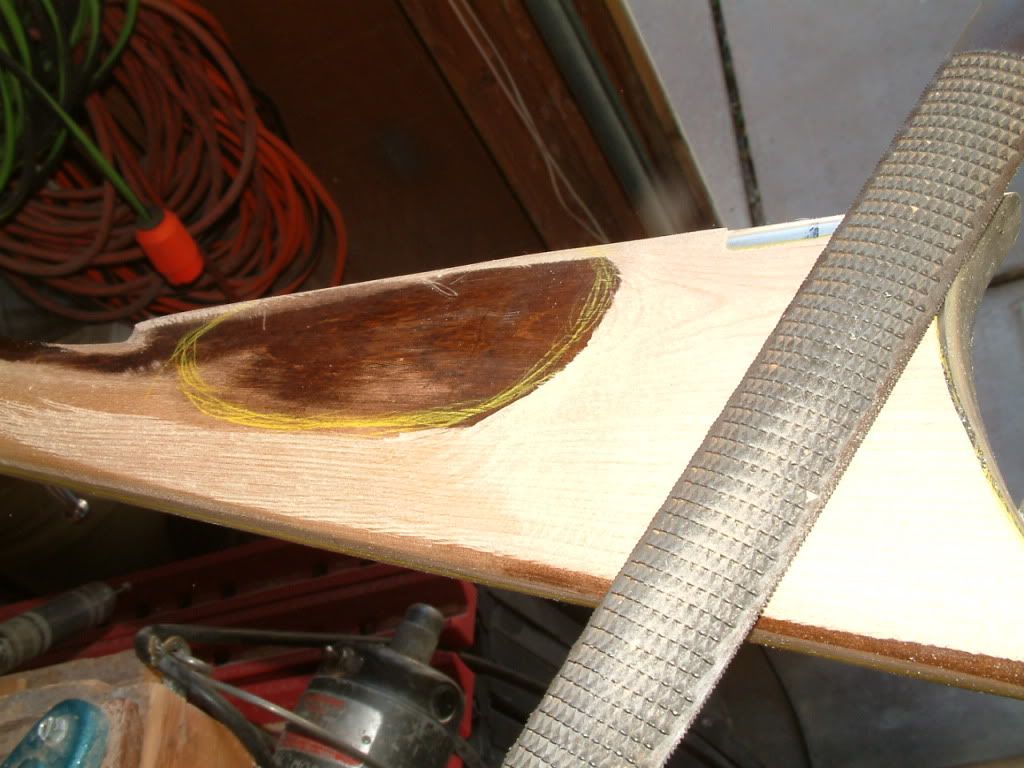 [/IMG]
Blast, I cut off to much a nice "Sloping" Shadow. Oh well, I'' just make it a "Shallow" Shadow. Still looks good and like one.
[IMG]
[/IMG]
Yep - that bottom is strait.
[IMG]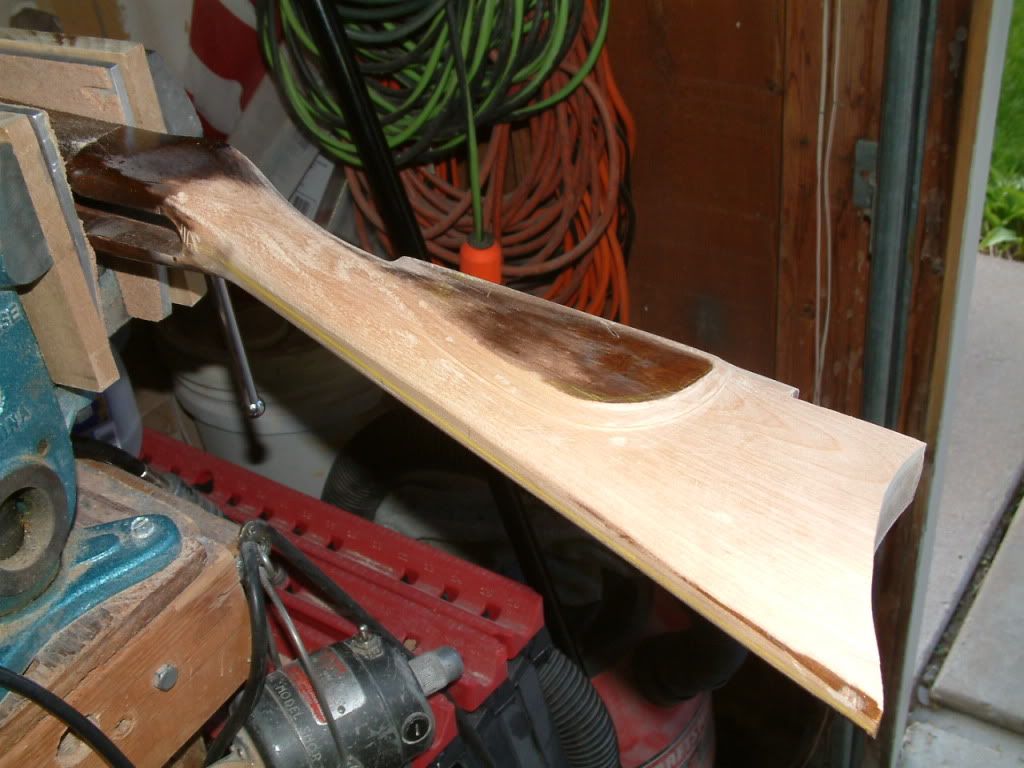 [/IMG]
Bet you thought I had another one of those infamous "Senior Moments" and forgot about the Foreend. Well, I didn't forget about it. I just haden't decided / figured out what I wanted to do with it. Bob it or leave it full length? Decided to go "full length" I also decided to do something new for me - use a plane to rough it down. How neet.
[IMG]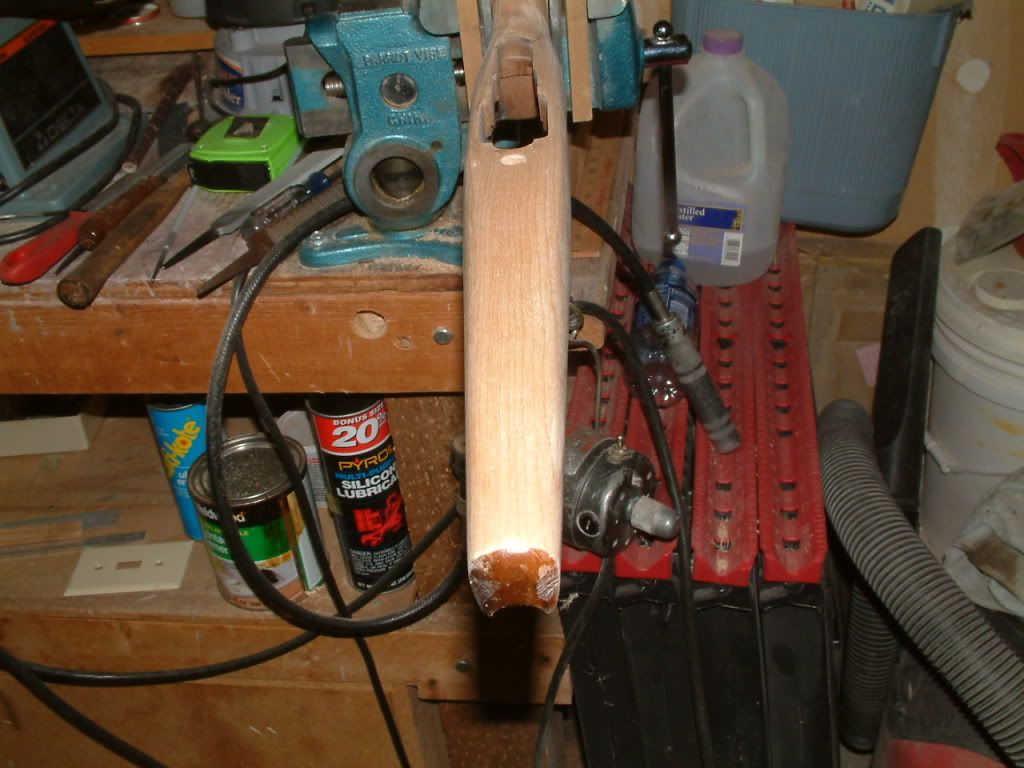 [/IMG]
The rest is with the good ole rasp, file and sand paper & block from the attachment screw to the round tip.
[IMG]
[/IMG]
Now for the Final sanding in preparation for the application of Stain and Clear Coat.
[IMG]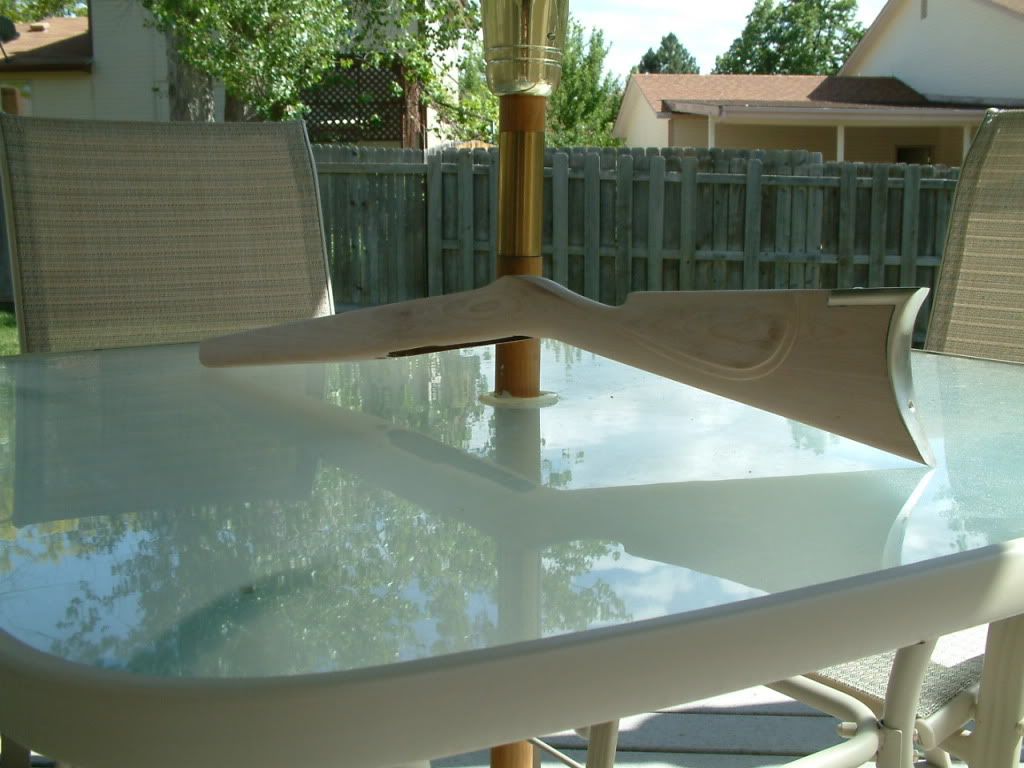 [/IMG]
[IMG]
[/IMG]
First two coats of stain prior to sanding.
[IMG]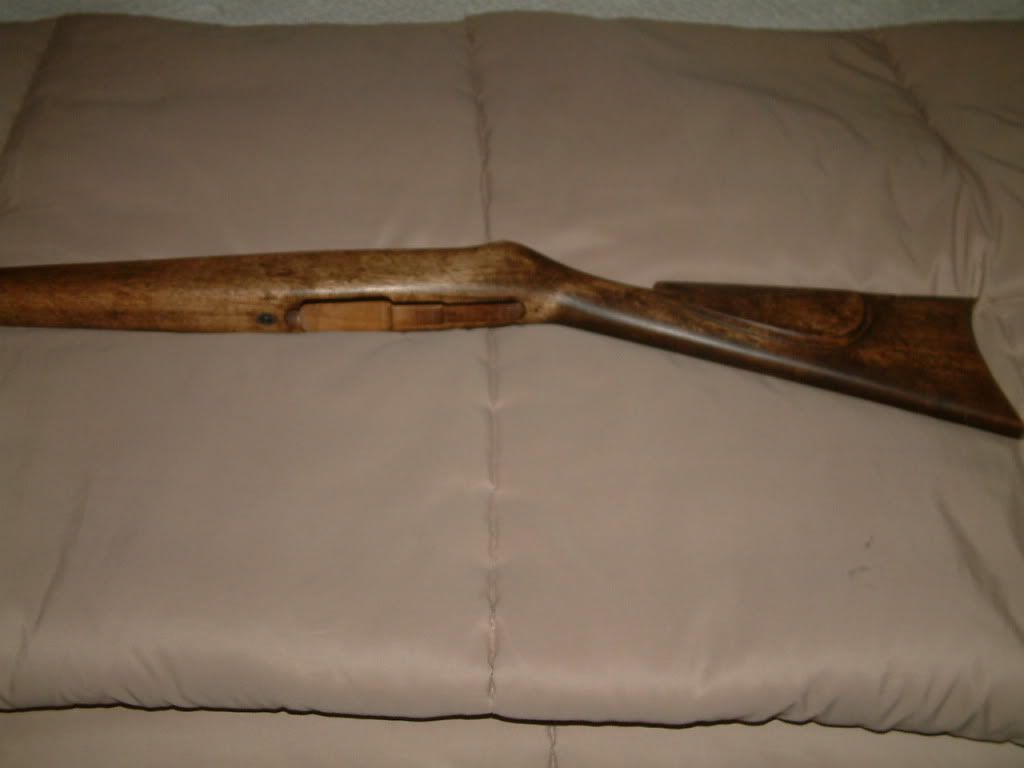 [/IMG]
[IMG]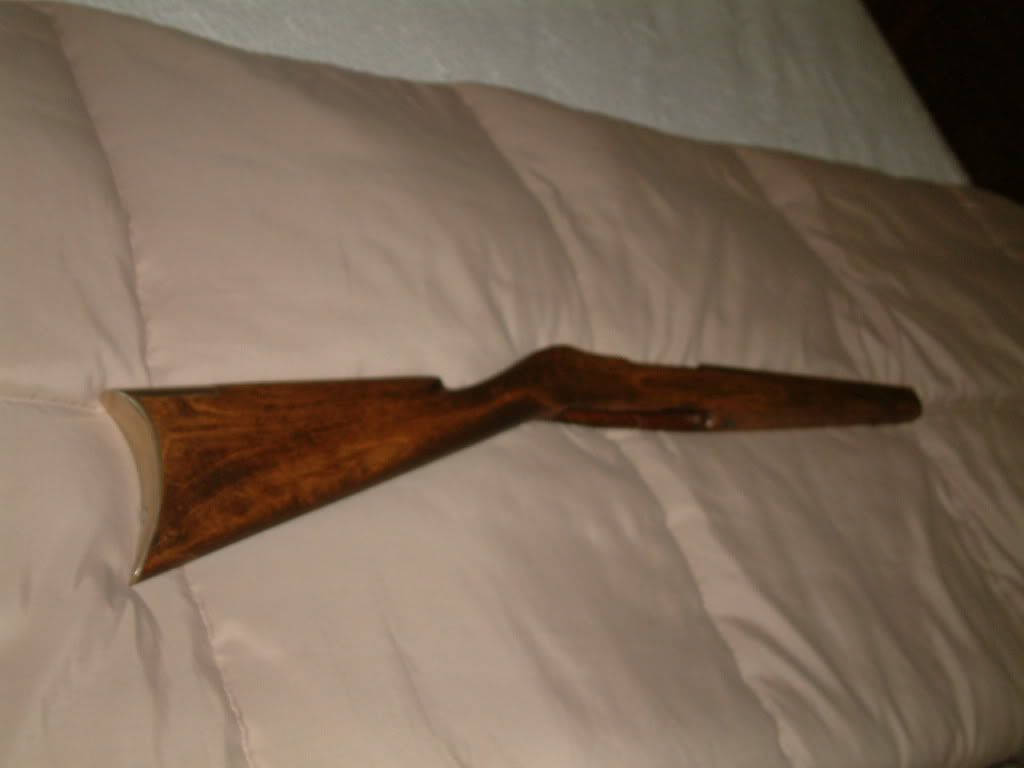 [/IMG]
Finally - "
FINISHED
- I give you the
SHADOW HUNTER
[IMG]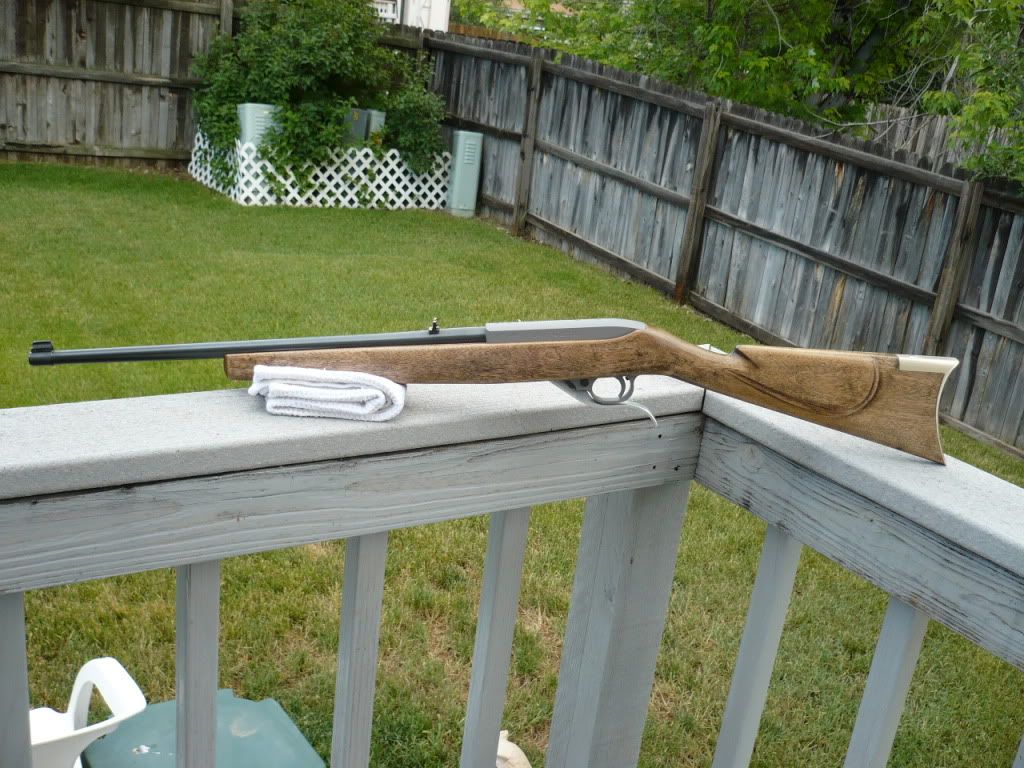 [/IMG]
[IMG]
[/IMG]
[IMG]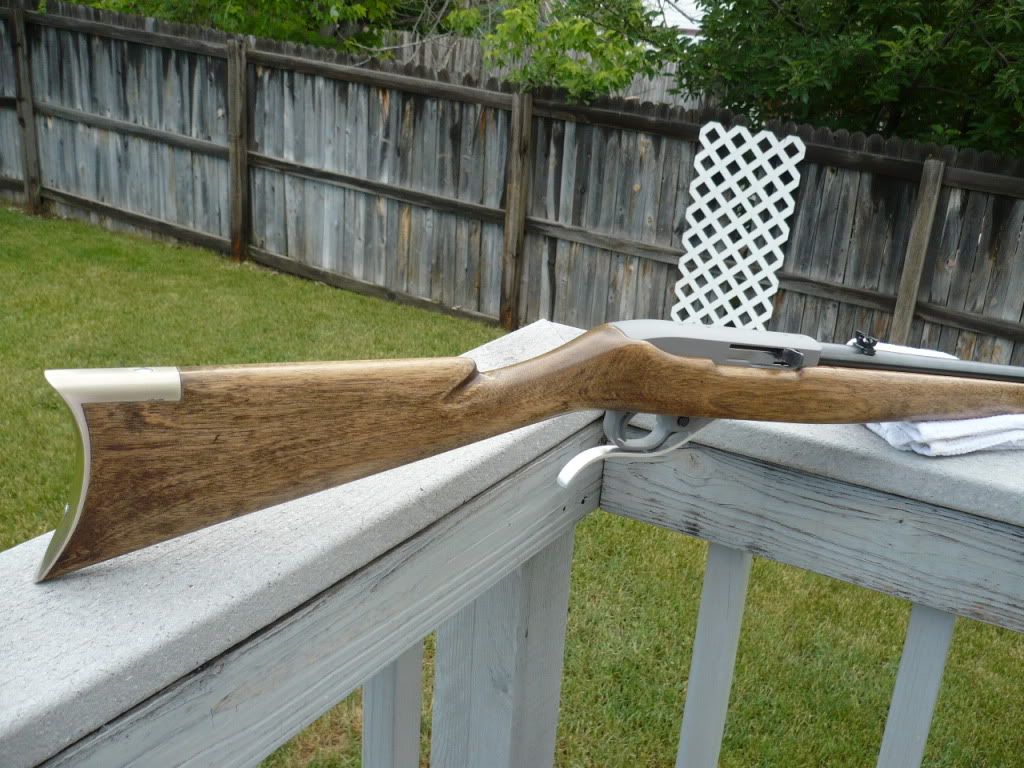 [/IMG]
That's my DIM Mag Release Lever.
Wolfen