| | |
| --- | --- |
| For CPC: A few questions about my 77/22 | |
Join Team RFC to remove these ads.
05-18-2017, 12:26 PM
Join Date:

Oct 2003

Location:

Near the Southern Part of Heaven, North Carolina

Moderator

Posts:

5,391

TPC Rating:

100% (21)
Today I hope to make it to the range and pattern with Wolf M&T. Shortly after I will put together some comments and post them here. Thanks for the interest.
__________________
OldWolf



05-18-2017, 05:59 PM
Join Date:

Dec 2015

Posts:

11

TPC Rating:

0% (0)
Well shoot. I was wondering why there was no follow through to the post. Hope you get it figured out.
Thanks for the update, I appreciate it. Good luck with the next testing and I look forward to an update, hopefully "good news"
05-21-2017, 08:41 PM
Join Date:

Oct 2003

Location:

Near the Southern Part of Heaven, North Carolina

Moderator

Posts:

5,391

TPC Rating:

100% (21)
So. After a lot of shooting, I think I am beginning to figure out this rifle.

This 77/22 can average better than .50", but it takes a lot concentration on my part. I have tested 3 types of ammunition so far, none of it terribly expensive (CCI SV, PMC Moderator, Wolf Match and Target) and I am beginning to think that I need to test with the next level of ammunition. I am thinking Lapua Center-X, perhaps.

Another issue is my stock. I am using the original walnut stock that I free floated before shooting the groups you see below. It is not bedded or pillared, and I am thinking about doing that next. I feel the Ruger stock is rather flexible and that it may be moving my POI all about as I prepare for my shot. I am careful though to not exert too much load on my stock as I prepare for the shot. I am considering installing a Boyds Thumbhole stock in attempted to stiffen things up.

My scope. I am using a Simmons WTC-18, dialed up to it 20x maximum. This is decent scope that I have been satisfied with for many years. Now though, I can tell the optics are not as good as I once thought they were, as my eyes are very strained by the end of my shooting sessions. A higher quality scope would improve things for me, if only my level of comfort.

As a side note, it is remarkable just how much concentration it takes for me to shoot consistent patterns. When I let my mind wander, just a bit, it really throws my grouping. At least for me. Most of the concentration is directed to being consistent, not putting a load on the stock that may change POI, holding a consistent sight picture from shot to shot, applying pressure to the trigger in a consistent fashion, "calling the shot" when the round has gone down range. I have noticed a direct correlation to the size of my groups to my level of concentration. As an example, if I started to think about supper while I am taking my shot, my groups widen (maybe even a flyer). Imagine that!

Below is a decent 50 yard string that I shot last week with Wolf MT. During this run, my mind wandered and I had a wild flyer, so I removed that group from the data. Those three groups that were <.2" really had my heart pumping! The last one, 0.732" was not great, but I did not feel that there were any problems with my shot, so I left it in.

As I said, the ammunition used is Wolf MT. However, it is more than 10 years old. That may, or may not, have been a factor. I am waiting on a shipment of fresh SK Standard Plus (same thing as Wolf MT), so it will be interesting to see how that load stacks up.

Overall, my average of .38" is a lot better than the 0.66" I was able to shoot before the CPC work was done to the rifle. I can only hope that when I get around to pillar and bedding my Ruger stock, or pillar and bedding a new Boyd's Thumbhole, that it can only get better. We will see. Don't hold your breath though, it may take me awhile!
__________________
OldWolf



---
Last edited by OldWolf; 05-21-2017 at

08:45 PM

.
05-21-2017, 11:11 PM
Join Date:

Dec 2010

Posts:

236

TPC Rating:

0% (0)
Wow, that is great!
So far under adverse weather conditions I have been able to get dime size groups using RWS Target Rifle, I am more then happy with that.
I am really working on off hand shooting with the rifle, tightening things up changed things, much more fun.
I had to pillar bed my 29yr old stock, it was distorting the receiver. I found I had to add pressure to the barrel at the forearm tip, I used tape and found I was pulling over the barrel some using the sling. I came up with using a button of wood that is sunk into the stock, can be shimmed as needed, and has less pull over.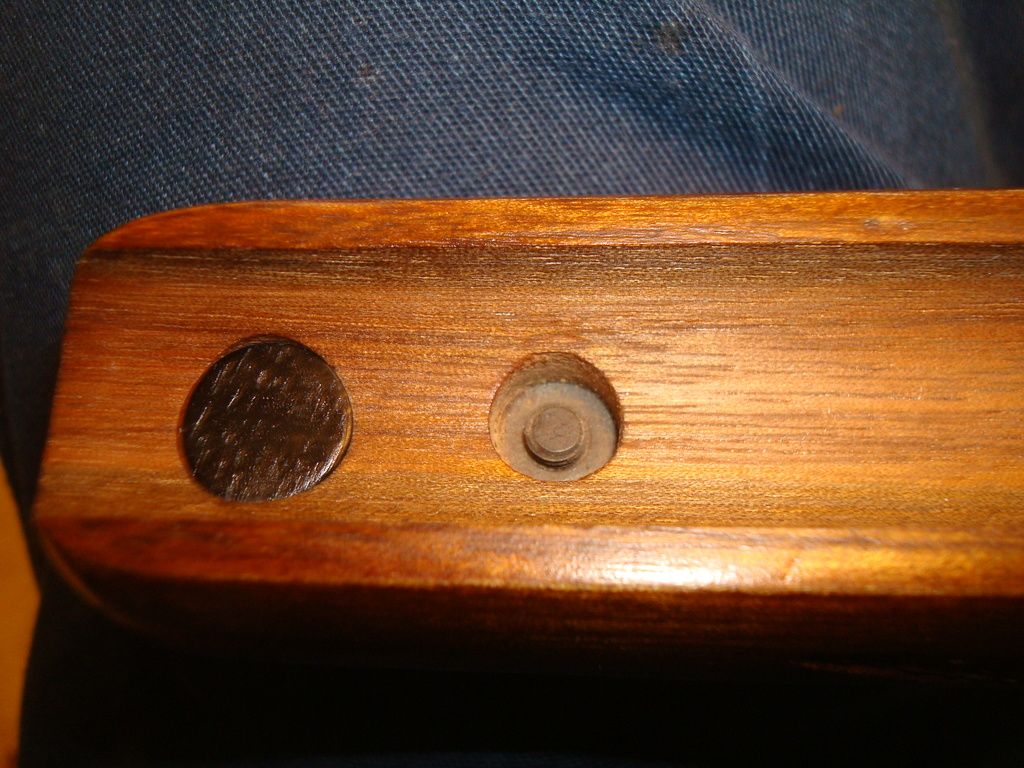 05-22-2017, 08:40 AM
Join Date:

Oct 2003

Location:

Near the Southern Part of Heaven, North Carolina

Moderator

Posts:

5,391

TPC Rating:

100% (21)
Where did you get your pillars,,,and did you also bed the action?
I am not finding much online about 77/22 pillar parts and such.
__________________
OldWolf



05-22-2017, 10:51 AM
Join Date:

Dec 2010

Posts:

236

TPC Rating:

0% (0)
I made mine on a lathe from aluminum bar.
I think I saved my notes on the dimensions. The one at the trigger had to be filed a little to fit the tang.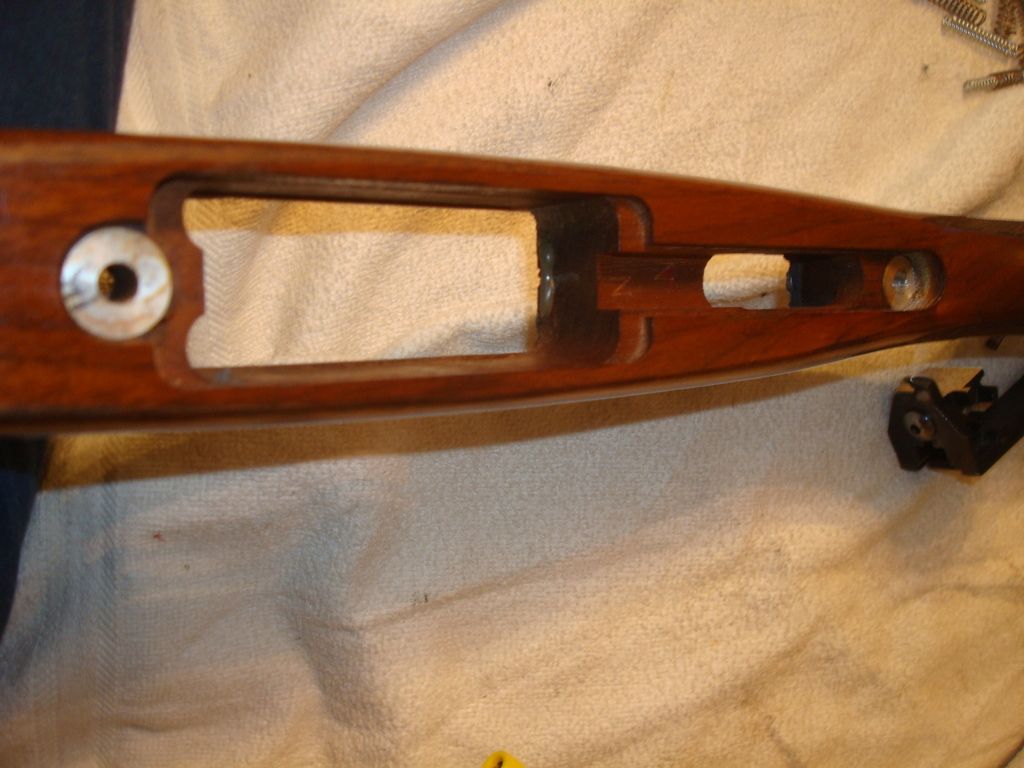 The photo shows that I made them as large in diameter as possible, I wanted a solid seat for the action. I searched around, talked to a few folks, then used the "stress free" bedding method- where an elastic wrap is used to hold the action down while the bedding cures-the action screws are in place, but not tight. Now, it does not matter how tight the action screws are, shows no difference in groups, I just use a stubby screw driver in stead of a torque driver.
Being on a budget, I used JB Weld "slow dry" for the bedding, and Kiwi shoe polish for the release agent. The JB Weld can be mixed up and let sit a while, mix again until it is as thick as needed.
---
Last edited by donie; 05-22-2017 at

11:05 AM

.
Posting Rules

You may not post new threads

You may not post replies

You may not post attachments

You may not edit your posts

---

HTML code is Off

---
All times are GMT -5. The time now is

03:44 PM

.