02-16-2017, 05:50 AM
Join Date:

Sep 2012

Location:

New England

Posts:

82

TPC Rating:

0% (0)
Officers Model, 1933
---
[IMG]
One I wish could talk. I bought this revolver quite a few years back now, the bluing is worn, it has scratches, it was well cared for. The lock works on these revolvers were all hand fitted like the decades-later Python (built on the same frame) and this revolver is my favorite .22LR revolver of all. I like shooting this butter-smooth gun better than any S&W 17 or earlier Outdoorsmans, which says something because I love older S&W 6 shooters. This Colt is a tack driver. The Sambar stags are factory (many OMs from this time were shipped with them) and because I don't like the way they fit my hand, I took them off and put on the correct wood factory grips.
---
Last edited by Geoff40; 02-16-2017 at

05:55 AM

.
02-16-2017, 12:31 PM
Join Date:

Nov 2010

Posts:

537

TPC Rating:

0% (0)
I had a Colt Officers Match (new) back in the mid 60's. Foolishly traded it for a canoe and single stage loading press. Because of it's reputation I thought it should shoot like a target rifle. And maybe it could - I just couldn't. Probably my dumbest firearm transaction.
02-16-2017, 04:46 PM
Join Date:

Oct 2009

Location:

Winter Park, FL

Posts:

1,958

TPC Rating:

0% (0)
Nice looking Sambar grips. I purchased a pre owned Colt 1911 custom with Sambar grips -- learned something, I was unaware that back in the day they could be factory ordered. Mine are certainly not "factory." Thanks
David
---
Last edited by bn12gg; 02-16-2017 at

05:19 PM

.
02-17-2017, 08:22 PM
Join Date:

May 2005

Location:

Arizona

Posts:

372

TPC Rating:

0% (0)
Great target pistols. Actually, the only Colt factory grips I am aware of from the 1930s are walnut, gutta percha, ivory, and pearl. Never heard of factory stag that early.
---
Last edited by azshot; Yesterday at

02:28 PM

.
02-18-2017, 10:13 AM
Join Date:

Dec 2013

Posts:

152

TPC Rating:

0% (0)
Excellent post. I have a newer series 5 OMM. From what I have heard these Model Targets were much smoother action. The Pre War ones are the smoothest of all the Colts I understand. Around here the OMM or OM do not bring as much as a Diamondback. The Diamondbacks are bringing or asking unreal prices.
02-18-2017, 01:58 PM
Join Date:

Jun 2007

Location:

The piney woods of south Arkansas

Moderator

Posts:

2,266

TPC Rating:

100% (19)
Something about a fine gun that even a considerable amount of honest wear doesn't detract from its visual appeal. And when they are not pristine, you can shoot them without reducing their value.
__________________
Of all tyrannies, a tyranny sincerely exercised for the good of its victims may be the most oppressive. - C.S. Lewis
Yesterday, 05:49 AM
Join Date:

Sep 2012

Location:

New England

Posts:

82

TPC Rating:

0% (0)
Yesterday, 01:49 PM
Join Date:

May 2005

Location:

Arizona

Posts:

372

TPC Rating:

0% (0)
Quote:
Originally Posted by
Geoff40
I am far from what you could call a Colt expert. That said, believe it or not every example of this 30s era revolver I've run across in GS around here over the past 35 years has been wearing sambar stags like these, except for 1 which has wood. Enough of them so that years back I assumed they must have been factory stags, even if missing a Colt medallion. Then later on after I purchased this OM, others who are far more knowledgable than I am about Colt confirmed that these grips were available as options back in this time era. Along with the members of the Colt forum who affirmed this. The fit is as perfect as any other factory stags I've seen on any handgun. I don't have it in writing from Colt, just info that I trust is correct.
Many people replaced the factory grips with stag in the 1940s and 1950s. The only way to know if they are factory is to buy a Colt factory letter. And even then, only about half the time do letters reveal the grip type, but should for such a rare option. I've been a Colt collector for decades, and was one of the early members of the Colt Forum. Who "confirmed" your grips on there?
Here is a thread with over 140 posts of Officers Models, and not one has Sambar Stag. Many are owned by some of the top collectors in the world of this model.
http://www.coltforum.com/forums/phot...to-thread.html
Some of mine here. Officers models typically came with Walnut (bottom), Pearl (2nd from bottom), and Ivory. Factory stag would be very rare.
---
Last edited by azshot; Yesterday at

02:20 PM

.
Yesterday, 06:19 PM
Join Date:

Sep 2012

Location:

New England

Posts:

82

TPC Rating:

0% (0)
Well, maybe you're right, I don't know. It was eons ago that I was given this info from the Colt forum, and I've long since forgotten who, when, my user name, etc. But, I will tell you, it took me less than 2 minutes to find these pics. They don't prove anything, other than its not just my 1930s era OM that has what appear to be the same sambar stags on them. This first is on a 38 special OM.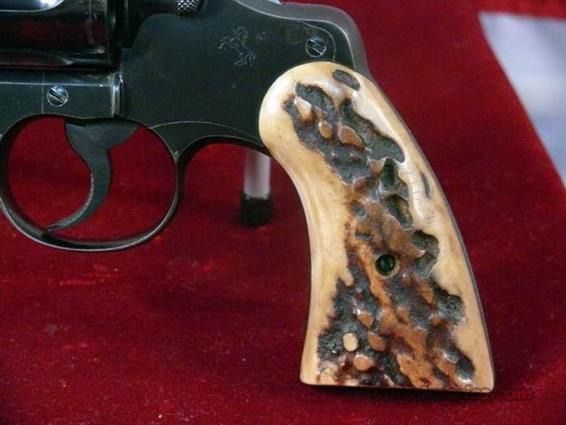 Below, is another .22 LR OM.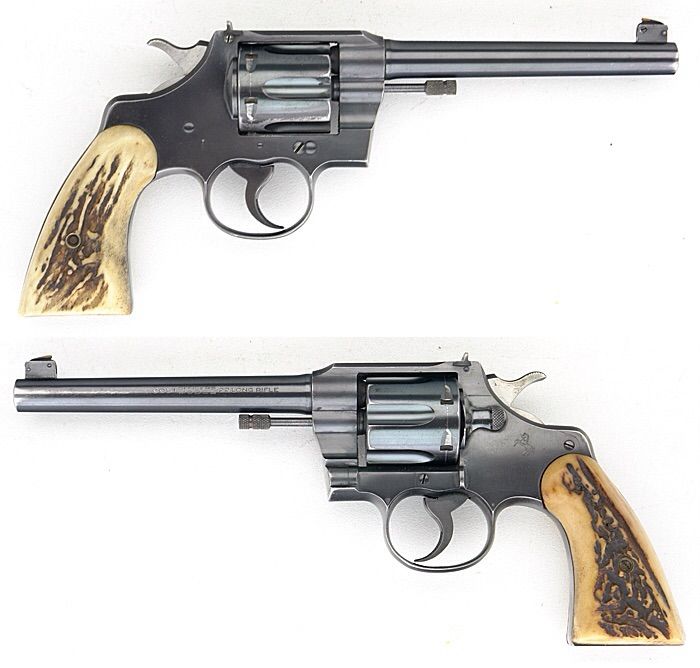 If you know that these are not factory, then just say so, tell me what they are, and not try to indulge me in some sort of gun intellect war. As I said I am no expert with Colt, and I simply repeated the info I was given years ago-back in the late 90s-shortly after I bought this. It is at least the 4th or 5th 1930s OM I've seen in person, gun in my hands, with these same stags. I don't really care if they are factory or not.
---
Last edited by Geoff40; Yesterday at

06:31 PM

.
Yesterday, 07:28 PM
Join Date:

Nov 2012

Posts:

399

TPC Rating:

0% (0)
The clockwork on old guns are the BEST, my 1954 H-S Sharpshooter is so smooth it makes you smile. Now days people are hired from the help wanted section, given 2 hours training, and they are now "gunsmiths."
I sent a .22 SIG I had back, the slide was LOCKED SHUT. They did something and the repair said. 'too much lube on slide rails.' Now I admit I didn't invent the wheel but that is 100% horse crap!
humb:
Sadly the days when a guy went work in a factory, was a apprentice for 10 years, then was on his own are long gone. Younger people just don't know what they are missing.
kevinqjhps
---
Last edited by kevinqjhps; Yesterday at

07:32 PM

.
Posting Rules

You may not post new threads

You may not post replies

You may not post attachments

You may not edit your posts

---

HTML code is Off

---
All times are GMT -5. The time now is

08:50 AM

.