Spent most of the day yesterday at a Long Range Class put on by my Gunsmith and held at VIR (Virginian International Raceway-its a road course) on their 1000 yard range. They've only recently extended it from 800 yards. Its nothing fancy but well set up and Ken (Thumper) Barfield did a great job teaching the course, Ken is a three time State F-Class Champion and two time Regional Champ and has set two NRA Records. He's an excellent young Gunsmith (same age as my son) and obviously a fair to middling shooter, course consists normally of 4 hours of class room (and yes I learned a good bit, and some hacks to speed some things I already "knew") then shoot first at 500 yards to get a good Zero and then on to 800 and 1000. I was pleased that my 6.5 Creedmoor was hanging right at 1/2 MOA with the factory 140 ELD/Match load and held MOA all the way out to 1000, which considering the winds we started getting as Thunderstorms built in the afternoon tickled me to death. I shot some with both the class supplied .308 platforms and hand loaded ammo and my personal 6.5, at 800 and 1000 the 6.5 Creedmoor really showed its ballistic advantage over the .308 but as Ken noted the various 7mm Mags do the same to the 6.5 when you start trying to hold a 2.5 inch X ring at 1000 yards. Had a blast, got a good case of the "redneck"...it was sunny and hot most of the time and I didn't bring a broad brimmed hat.
500 and 800 share a firing line with 500 yard targets set to the left side and 800 to the right, this is the view from that firing line.
Eager anticipation while Thumper is setting up the targets.
Thumper kneeling and Coaching my friend Rob a member here who never posts...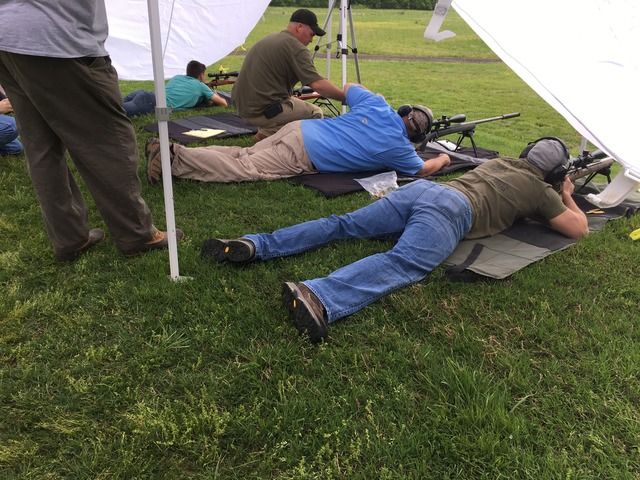 You quickly learn the value of a good spotting scope out there.
This is what we all came for The Thousand Yard line, we got there about 3:00pm and Thunderheads were starting to build and life got real interesting, good coaching and some good shooting ended up giving the class over a 90% hit rate even then. Target are 18"x 20" steel plates and most were able to hold MOA or a bit better with a couple of guys getting down to the 3/4 MOA range...
It's a "fur piece" as we say around here, targets are showing just to the left of the tower.
Get down, get dirty...
I learned my neck surgery a couple of years ago has effectively ended my Prone shooting days, my neck simply will not permit me to get down on a stock for any length of time at all, not complaining, still lots of other ways to enjoy shooting. If you ever get a chance to take a course like this, taught by an truly competent instructor I highly recommend it, great bunch of folks to shoot with, and large time had by all.