| | |
| --- | --- |
| Lightly modified 50th Contest Winner (0002-xxxxxx) project | |
Join Team RFC to remove these ads.
01-01-2017, 04:16 PM
Join Date:

Aug 2008

Posts:

551

TPC Rating:

0% (0)
Lightly modified 50th Contest Winner (0002-xxxxxx) project
---
For the past four years I've had to slowly sell down a bunch of firearms from the collection, due to financial hardship, it's a long, boring, and largely irrelevant story, but I'm finally done with the program.

To celebrate, I used Christmas money to add a 10/22 back to the collection, as I had to sell off both the KTP Special and the '74 vintage

I picked up a used second run 50th contest winner, and as it is a shooter, not a collectible, I'm going to slowly build it up but keep it reasonably close to stock, I'm not going to replace the barrel or bolt, I might replace the rear sight with a Tech Sights rear though

So far, I've done the following;
Kidd bolt buffer
BX trigger group
Tactical Solutions eject lever
Auto bolt release
Sanded the magwell to allow clear BX1's to drop free

I have a Raptor stock in Midnight (gray laminate) on the way

I'm going to remove the ugly Ruger flash hider and either put on a simple thread protector or a TacSol or Kidd flash hider/compensator as a muzzle protector, something that matches the lines of the barrel better

I may send the original trigger group to Brimstone, and I'm considering sending the barrel to CPC for chamber work (if it needs it, haven't shot it yet)

It won't be stock, but it won't be an Ultimate either, maybe a semi-sleeper...
01-01-2017, 05:36 PM
Join Date:

Dec 2006

Posts:

2,746

TPC Rating:

100% (1)
this sounds like an excellent plan


I've got some rifles were built up from all aftermarket parts, some rifles that are completely stock, and some that have just a few things that have been tweaked on just a little bit

seems when I go to grab one out of the rack for just a fun time or a leisurely stroll through the woods, it's usually one of the slightly modded ones that gets the nod

my current favorite is just a Compact that has a bx trigger, a 17" GM HT barrel and a old Bushnell custom .22 scope on it..all it really needs is some sling swivels installed
01-01-2017, 06:22 PM
Join Date:

Apr 2015

Location:

Peoples Republic Kalifornia

Posts:

209

TPC Rating:

0% (0)
The sights on the contest winner work well, red dot will go on and off well. Have fun with your project, I started with one and just need a bolt and receiver to finish 2nd rifle. I like the contest winner stock as well. Have fun shoot you rifle a bunch.
01-01-2017, 07:44 PM
Join Date:

Aug 2008

Posts:

551

TPC Rating:

0% (0)
Yeah, the plastic stock on the DCW isn't as horrible as I was expecting, in all honesty I could probably be okay with keeping the DCW as it is in the factory stock, but I'm a wood stock kinda' guy, and the price on the Raptor was too good to pass up, I even called PWS to check availability before ordering and they told me they only had about six left at that point, and that they're actually losing money on that stock at that price, they just wanted to clear their inventory.

Of course this means I'll have a spare trigger group and stock, so eventually I'll have to build up a second rifle to use up the parts, I'll just need a receiver, bolt, barrel and v-block...

...or I could keep them as spares/repair parts

For some reason I've got the feeling that the DCW stock may eventually end up more desirable a few years down the road, like the old "boat paddle" plastic stock or the original walnut carbine stock with the metal butt plate and barrel band....
01-11-2017, 08:11 PM
Join Date:

Aug 2008

Posts:

551

TPC Rating:

0% (0)
The Raptor has arrived, I really like the final result, the flash hider doesn't look like an afterthought anymore, and it is an excellent muzzle protector, I may just leave it on, heck, even the sporter profile of the barrel looks right for this stock.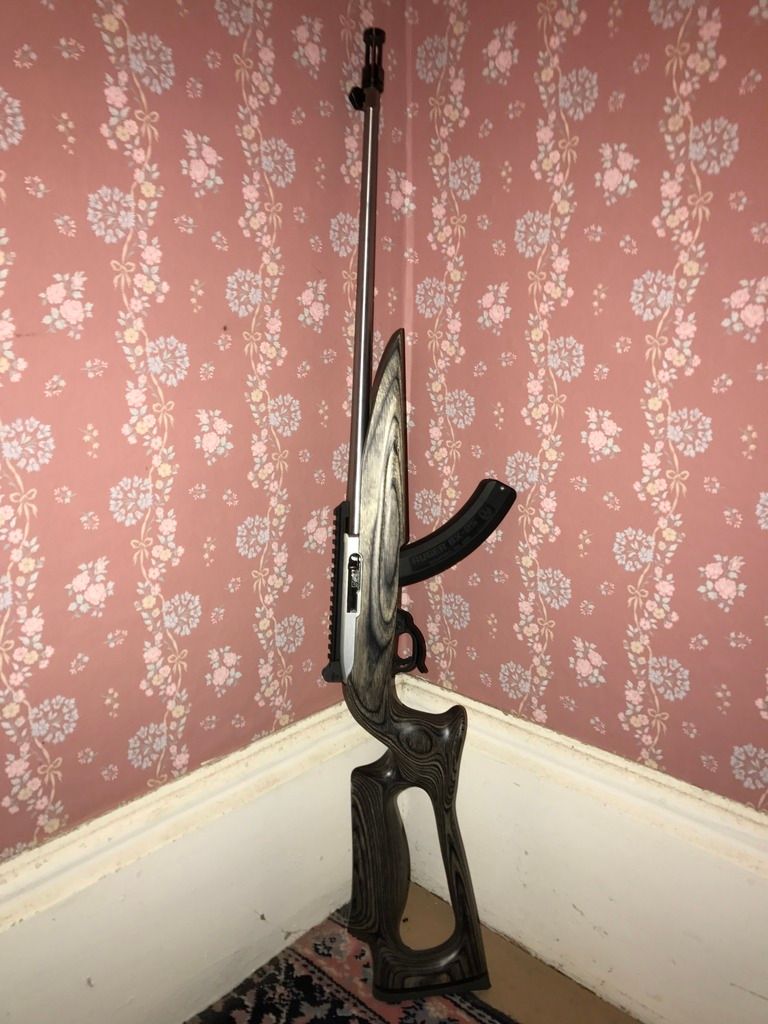 All it needs now is a suppressor, if the hearing protection act is passed, I may have to get one.
The only other mod I'd love to try, is to design some way to lock the bolt closed, a way to switch between normal semiauto operation and "straight pull" bolt action, that way I could more conveniently shoot quiet rounds like CCI Quiets/CB or Remington CBee without having to hold my thumb behind the bolt handle, or if I just wanted to shoot standard rounds a bit more quietly
---
Last edited by MacTech; 01-11-2017 at

08:15 PM

.
01-11-2017, 09:34 PM
Join Date:

Apr 2016

Location:

St. Louis, MO

Posts:

778

TPC Rating:

0% (0)
MacTech, if you replace the rear sight with a rear Tech Sight, you will have to pull the whole rail. There are two Tech Sights which work on the 10/22. One screws directly to the receiver after the rail is removed; the other fits on the stock tipoff rail section, and you don't have that kind of rail. Just FYI in case you didn't realize all this.
01-11-2017, 10:17 PM
Join Date:

Apr 2016

Location:

St. Louis, MO

Posts:

778

TPC Rating:

0% (0)
BTW you will also need a front Tech Sight, as the stock one will be too low for either rear Tech Sight. There is a taller post for the front Tech Sight that goes with the tipoff rail. All their parts can be ordered individually or as a set.
01-15-2017, 04:03 PM
Join Date:

Aug 2008

Posts:

551

TPC Rating:

0% (0)
I took it out on my backyard range over the weekend, 100% reliable with the BX-1's, and the BX-25 it came with, my older 25 had a couple FTE and one bent/mashed FTF, I'm still figuring out that mag's weirdness, then again, it could have also been the combination of cheap Winchester 333 and high 30's air temps

The Raptor stock was very comfortable and stable

I'll go for accuracy tests next weekend or so
01-27-2017, 04:16 PM
Join Date:

Aug 2008

Posts:

551

TPC Rating:

0% (0)
The "under-hood" tweaking continues, I noticed the factory extractor looks to be chipped slightly in the lower corner of the claw, so I ordered a KIDD extractor, and since I was ordering, added a pair of the oversized trigger group pins as well, the factory pins fall out far too easily

I'm also going to try reprofiling the factory extractor once I swap in the Kidd part, and hold onto it for a backup part

I'm also slowly starting to work the factory trigger group to improve trigger pull, I'm using my WorkSharp knife sharpener with the purple 3,000 grit belt to polish the mating surfaces on the hammer, and once I figure out how to make a slave pin, I'll work on polishing the sear and disconnecter surfaces as well

It takes an extremely light touch on the worksharp, and as the purple belt loads up with metal, it effectively becomes a finer grit in the process

It's a learning process, and it's fun too, I get more satisfaction working the parts myself rather than just dropping in replacement parts....
04-09-2017, 05:07 PM
Join Date:

Aug 2008

Posts:

551

TPC Rating:

0% (0)
Finally shot a couple of impromptu groups this afternoon, the target was a scrap 5 gallon bucket in front of the backstop, bucket laid on its side.
Ammo; CCI Quiets
Distance; approx 25 yards on my backyard range
Wind; none
Air temps; 60F
Sighting; Bushnell TRS-25 RDS
Positions; freehand while sitting in a chair, then kneeling with rifle supported by left arm resting on knee, no mechanical rests, I had to break cheek weld after each shot to eject the cartridge manually like in a straight pull bolt action, so each POA needed to be re-established after each shot
Results;
The leftmost vertical group was sitting freehand, center and right groups in the supported kneeling position.
I'm actually quite pleased, the RDS was dead on at 25Y with Quiets, a cartridge not known for consistency, my Marlin Model 25 hates them and gets very inconsistent loads, some are quiet, some are as loud as a full power .22 short, patterns like a shotgun, the only CCI load it hates
The 10/22 seems to like them, I also had a Fed Automatch find its way into the batch and the RDS was dead on for that at 25Y too
I'm quite happy with this 10/22
04-10-2017, 12:02 AM
Join Date:

Apr 2015

Location:

Peoples Republic Kalifornia

Posts:

209

TPC Rating:

0% (0)
The contest winner rear sight is a mini 14 sight. Tech makes a Mini 14 sight should fit.
Funny how 10/22s, change I just need a bolt and receiver and I will resurrect my contest winner in a wood laminate stock. Pic of current state.
Posting Rules

You may not post new threads

You may not post replies

You may not post attachments

You may not edit your posts

---

HTML code is Off

---
All times are GMT -5. The time now is

05:31 AM

.