Years ago I shot this with a box and a half of AutoMatch: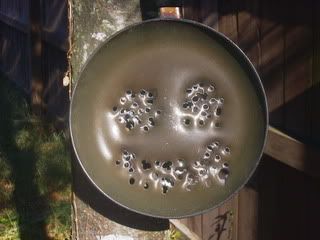 Just goofing off and trying to shoot different things. I even shot a "RFC Christmas Card" in an aluminum oven tray!
This one was meant to just say hi to Ricochet and the rest of the SuperStock guys and get a giggle. Instead Ricochet got upset with me for shooting a fry pan better than he was cooking in!!
It was actually a much worse pan than it looks like but it was a fun thing to do. Everyone in SuperStock was getting really serious about accuracy (including me) and it was just a reminder to have
FUN
shooting. Federal ammo has always been
fun
ammo for me!